WAFFLES & VARIATIONS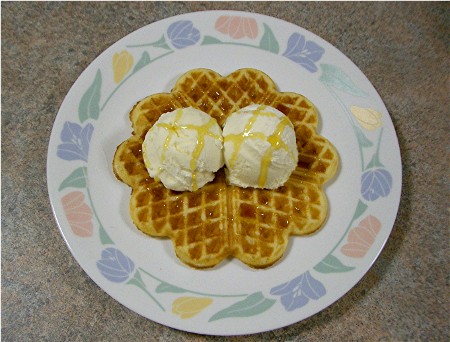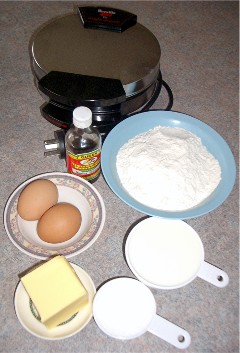 INGREDIENTS: (6 crispy waffles)
Appliance required: Waffle Maker

2 cups self-raising flour

2 tbsp cornflour

Pinch of salt

2 large eggs – separated

125gms (4ozs) butter or margarine – melted

1 tbsp sugar

180ml (3/4 cup) milk

1/2 cup water


1/4 tsp vanilla essence
METHOD:




Sift S.R. Flour, cornflour and salt into a large mixing bowl, set aside.
Beat egg whites until very stiff, set aside.
In a separate bowl, whisk egg yolks and sugar until creamy.
Add milk, water and vanilla essence.
Add to the sifted dry ingredients, mix well.
Add melted butter/margarine and mix to a smooth batter with no lumps.
Fold beaten egg-whites into batter.
Allow to 'rest' for 10-15 mins before use.
Use 1/2 cup of waffle batter for each waffle and cook as per waffle maker
instructions.
Serve with ice-cream and syrup of your choice.
SWEET WAFFLES VARIATIONS:
Apple and Spice: Omit cornflour and add 1 1/4 cup finely grated apples,
2 tbsp sugar and 1/2 tsp cinnamon to batter.
Chocolate: Omit cornflour and add 60gms/2ozs melted chocolate to batter.
Tangy Lemon: Omit cornflour and add 1 tbsp of grated lemon rind and 1/2
tbsp lemon juice to batter.
SAVOURY WAFFLES VARIATIONS:
Omit cornflour, sugar and vanilla essence for savoury waffles.
Cheese: Add 1 cup grated tasty cheese to batter.
Savoury Cheese: Add 1 cup grated tasty cheese, 1/2 tsp paprika and 1
tbsp chopped parsley or chives to batter.
Garlic: Add 2 cloves minced garlic to batter.
Onion: Add 1 cup finely minced onions to batter.
OzLadyM