TROPICAL STAIRWAY
TART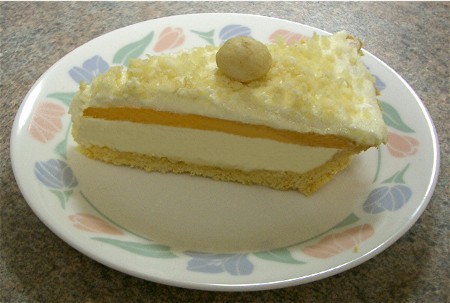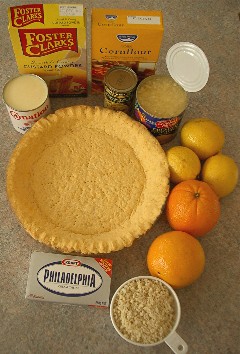 INGREDIENTS: (Makes
2 x 9″ tarts)
Pastry Shells:

160gms/5.5ozs butter or margarine

100gms/3.5ozs self raising flour

100gms/3.5ozs plain flour

50gms/2ozs custard powder

4 tbsps sugar

4 tbsps milk or iced water
Filling (First layer):

400gm/14oz can sweetened condensed milk

250gms/8oz Kraft Philadelphia cream cheese

Juice of 1 large lemon (1/2 cup)

Pulp of 2 passionfruit (2 – 3 tbsps)
Filling (Second layer):

450gms/16oz can crushed pineapple – drained, reserve juice


Juice of 2 oranges

Juice of 2 medium lemons

3/4 – 1 cup sugar

2 rounded tbsps custard powder

2 rounded tbsps cornflour/cornstarch
Filling (Third layer):

2 cups milk

2 rounded tbsps cornflour

5 dsps icing sugar

50gms/2ozs butter

Few drops vanilla essence

1 cup coarsely crushed macadamia nuts

A few whole macadamia nuts for decoration
METHOD:




Pastry Shells:

Pre-heat oven to 180C/350F.
Sift together s.r. flour, plain flour and custard powder.
Rub butter into flour mixture until it resembles coarse breadcrumbs, add sugar
and milk, mix to form a stiff dough.
Knead and roll out on floured surface and line 2 lightly-oiled tart/pie dishes.
Prick base of tart pastry with a fork in several places to prevent air pockets
from forming and bake until tart shells are cooked (approx. 15mins). Remove
from oven and allow to cool.
Filling (First layer):

Beat sweetened condensed milk and cream cheese in a mixer, gradually add lemon
juice and fold in passionfruit pulp.
Divide and pour mixture evenly into the tart shells.
Filling (Second layer):

Add drained pineapple juice to the combined orange and lemon juices to make
400mls/13.5fl ozs.
Pour combined juices into saucepan, add sugar, stir and bring to the boil.
Mix custard powder and cornflour with remaining pineapple juice (or a little
water) until smooth.
Add to boiling fruit juice mixture while stirring until mixture thickens, add
crushed pineapple, mix well and continue to cook for about 2 mins.
Cool thoroughly, divide and pour evenly over first layer of tarts.
Filling (Third layer):

Boil milk and thicken with cornflour (mixed with a little milk until smooth).
When thickened, set aside to cool thoroughly.
Beat icing sugar and butter together, add a few drops vanilla essence.
Gradually add the thickened milk mixture and beat until smooth.
Divide and spread smoothly over the second layer of tarts.
Top with 1/2 cup crushed macadamia nuts on each tart and decorate with a few
whole macadamia nuts. Serve chilled.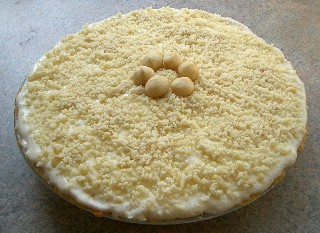 OzLadyM