STIR-FRIED BABY SQUID WITH VEGETABLES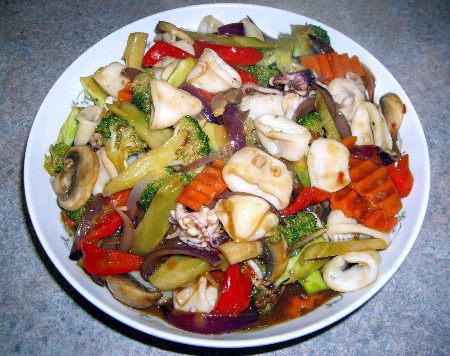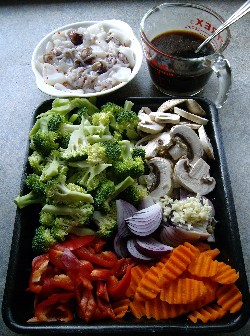 INGREDIENTS: (Serves 4)
500gm (1.1lb) baby squid, cleaned and cut into bite-sized pieces

1 fresh hot red chilli, seeded and finely minced or 1/4 tsp chilli
powder

200gm broccoli pieces (1 small head)

1 medium carrot, peeled and sliced thinly

1 small red capsicum, de-seeded and cut into bite-sized pieces

100gm fresh mushroom (approx 4-5), sliced

1 small red onion, peeled and cut into wedges

1-2 cloves garlic, peeled and finely minced

1 tbsp cornflour (cornstarch)

1/2 cup water

2 tbsps cooking oil
SAUCE:
1 tbsp hoi sin sauce

1 tbsp mushroom flavoured soy sauce

1 tbsp rice wine (optional)

1/4 tsp Chinese Five Spice powder

1/4 tsp ginger powder

1 heaped tsp chicken stock powder (or one stock cube)

1 cup warm water
METHOD:
Mix squid with minced chilli and a pinch of salt and set aside to marinate
while preparing the sauce.
Blanch broccoli pieces and sliced carrots, set aside.
Pour 1 cup warm water into a small jug and dissolve the chicken stock powder
(or cube).
Add the hoi sin sauce, mushroom flavoured soy sauce, rice wine, Five Spice
powder and ginger powder, stir and set aside.
Stir cornflour into 1/2 cup water until smooth, set aside.
Heat wok over high heat, add 1 tbsp oil and stir-fry the squid pieces briefly
(30-40 seconds), remove squid and set aside.
Add 1 tbsp oil to wok and stir-fry onions and garlic for a few seconds, add
capsicum and continue stir-frying for 1 minute.
Add blanched vegetables and mushrooms and stir-fry for a further 2 –
3 minutes.
Add chicken stock sauce mixture to wok and mix well.
Re-stir cornflour and water mixture until smooth and add to wok.
Stir continously until sauce thickens.
Add pre-fried squid pieces to wok and stir thoroughly until combined.
Serve immediately with plain steamed rice.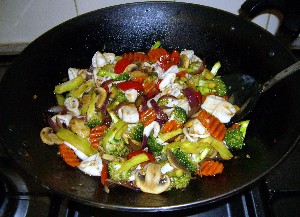 OzLadyM