HOW TO PREPARE CALAMARI/SQUID FOR CHINESE COOKING

METHOD:




Wash and cut each tube to open into a flat piece.

Using the point of a sharp knife, and starting at one 'corner', make diagonal
cuts [1/2cm (1/4″) apart] at a slant right across but not all the way through
the squid.

Turn the squid around and make similar diagonal cuts in the opposite direction.

The squid will end up with a criss-crossed diamond-shaped pattern.

Cut the squid into three sections length-wise, then each section into 1.5cm
(1/2″) pieces.

Scald the squid pieces in boiling water for a few seconds.

Drain, rinse in cold water and drain again.

The squid is now ready for use in most Chinese dishes.

This process helps to tenderize the squid.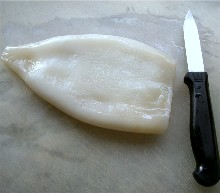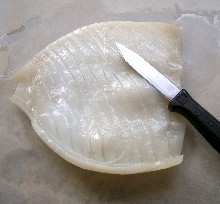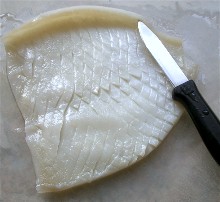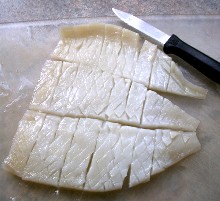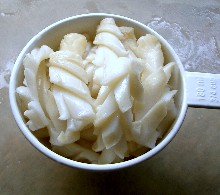 OzLadyM