SPICY COCONUT
CHICKEN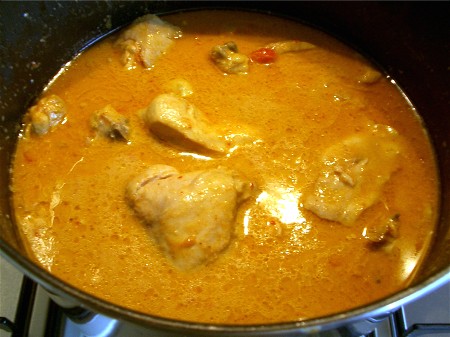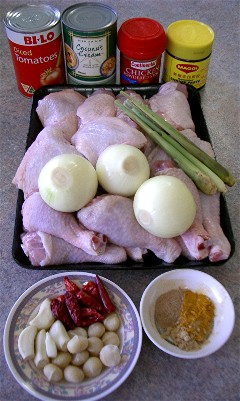 INGREDIENTS:

(Serves 6 – 8)
2.5 kg chicken casserole pieces

1 medium can coconut cream

1 medium can diced tomatoes

3 medium onions, peeled and cut into quarters

4 cloves garlic, peeled


8 – 10 fresh (or dried) red chillies or 1 heaped tsp ground chilli


2cm (1″) piece fresh turmeric or 1 tsp ground turmeric

2cm (1″) piece fresh ginger or 1 tsp ground ginger

2cm (1″) piece fresh galangal or 1 tsp laos powder

3 stalks fresh lemon grass (sliced finely) or 1 tsp lemon grass
powder

6 candlenuts or 12 blanched almonds or 12 macadamia nut kernels

2 tsp granulated shrimp paste (blacan) – optional

1 heaped tsp chicken stock powder or 1 chicken stock cube

2 tbsps cooking oil

Salt to taste
METHOD:




Trim excess fat and skin off chicken pieces, wash and drain.
Blend together the onions, garlic, candlenuts (or substitute), fresh spices and
blacan, (if used). If using ground/powdered spices, add to blended onion
mixture and mix well.
Heat oil in a large non-stick saucepan and fry blended ingredients over medium
heat until fragrant, approx. 4 – 5mins.
Add chicken pieces, stir well to coat.
Add coconut cream, diced tomatoes and chicken stock powder (or crumbled stock
cube).
Bring to the boil once and add salt to taste, reduce heat to low.
Continue cooking over low heat until chicken is tender (approx 20 – 30 mins).
Serve hot with rice, French bread or Indian "roti".






OzLadyM