SINGAPORE SATAY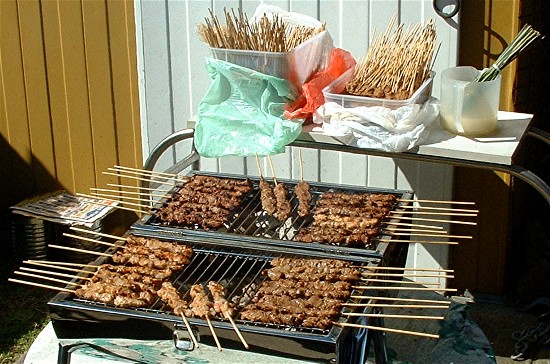 INGREDIENTS: (Serves 8 –
10)
2kg (4.5lbs) chicken, beef or lamb – cut into small bite-sized
pieces

4 medium onions, peeled and quartered


6 cloves garlic


12 fresh red chillies, seeded


5cm (2″) piece of fresh galangal (laos) root or 2 tsps. galangal
powder


5 – 6 stalks fresh lemon grass, finely sliced (reserve leaves)
5cm (2″) fresh ginger root or 2 tsps. ginger powder


24 macadamia nuts or 1/2 cup blanched almonds

2 tbsps ground coriander

1 level tbsp meat curry powder

4 tsps ground cumin

4 tbsps brown or raw sugar

6 tbsps tamarind juice or juice of 2 medium lemons

3 level tsps salt
ACCOMPANIMENTS:
1 kg (2.2lbs) cucumber – cut into bite-sized chunks
1 kg (2.2lbs) small onions – cut into bite-sized chunks
PREPARATION:




Marinate the meat in sugar for about 1/2 hour.
Blend together: onions, garlic, chillies, lemon grass, nuts, fresh galangal and
ginger.
(If using powdered galangal and ginger, add to meat in the next step.)
Add blended paste to the meat together with: ground coriander, curry powder,
ground cumin, galangal and ginger powder.
Add tamarind (or lemon juice) and salt.
Mix well and skewer about 6 – 8 pieces of meat per stick.

[Hint: Before use, soak bamboo skewers in water overnight to help prevent
burning.]
Leave to marinate overnight.
Grill over charcoal fire, basting occasionally with 50/50 oil and water
mixture, using knotted lemon grass leaves as a brush.
Serve piping hot with cucumber pieces, chunky raw onions and
SATAY SAUCE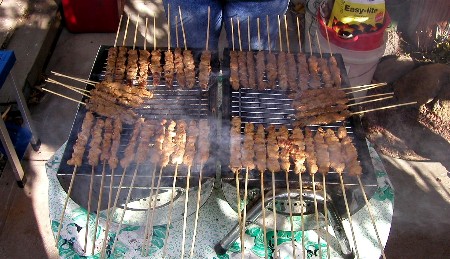 OzLadyM