SEAFOOD CURRY LAKSA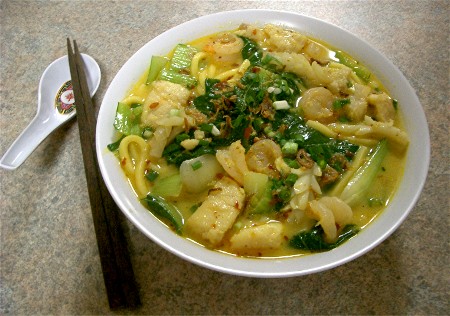 INGREDIENTS: (2 large
serves)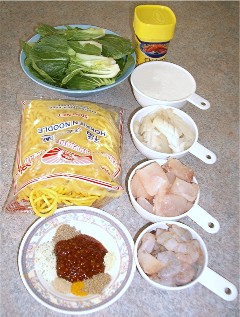 1 pkt
Hokkien/yellow noodles (500gms/1lb)

1 medium fillet of firm white-fleshed fish


1 small calamari/squid 'tube'

2/3 cup small or medium sized raw prawnmeat – (pre-shelled and
de-veined)

2 whole baby bok choy – washed and cut into bite-sized
pieces

Handful of beanshoots, if desired

1 level tsp salt or to taste

1 spring onion – chopped for garnish

Some crispy fried onions for garnish

Sliced fresh red chillies, if desired

NB: Additional seafood eg. scallops, fish-balls and seafood
extender may be added, if desired.
INGREDIENTS (For soup):
1 cup coconut cream

4 cups water

3 tsps chicken stock powder

1 medium onion – peeled, halved & finely sliced lengthways (or
2 tsps onion powder)

1 clove garlic – finely minced (or 1/2 tsp garlic powder)

1 tsp chilli powder (or 1 dsp bottled minced chillies)

1 stalk lemon grass – bruised (optional)

1 tsp granulated blacan (shrimp paste)

3 candlenuts or 5 macadamia nuts – grated

1 tsp galangal/laos powder

2 tsps ground coriander

1 tsp ground turmeric

1 tbsp cooking oil
METHOD:




Prepare squid/calamari
Cut fish into bite-sized pieces, set aside.
Heat oil over high heat in a medium saucepan and fry sliced onions, garlic and
lemon grass (if used).
When onions turn golden, add all the spices and stir well.
Add coconut cream, water, chicken stock powder and stir well.
Reduce heat and simmer for about 10 minutes.
Remove lemon grass and discard.
For added flavour, use a large strainer and poach the prawns in the soup mix
until they turn pink and translucent, drain and set aside.
Do the same with the squid and fish.
Add salt to taste and keep hot.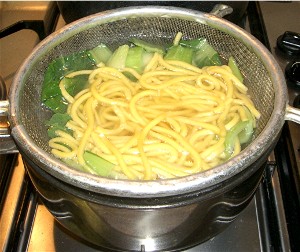 When almost ready to serve,
boil a pot of water and using a large strainer, prepare each serve as follows:
Place a handful of bok choy (and bean shoots if desired), scald for about a
minute, add one serve of noodles and cook for another minute.

Drain well and invert into a bowl with the vegies on the top.

Divide the assorted poached seafood accordingly in half and place them on top
of the drained noodles and vegies.

Ladle hot soup into the bowl and garnish with spring onions, fried onions and
some sliced fresh red chillies.
OzLadyM