SEAFOOD FRITTERS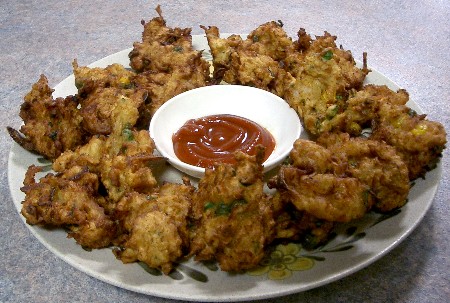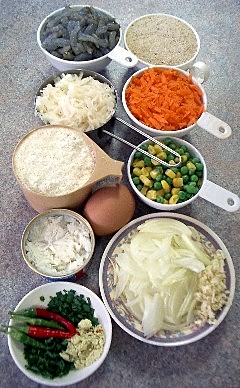 INGREDIENTS: (Makes
48)
200gm (approx 1 heaped cupful) peeled small green shrimps

1 x 85gm can crab meat

1/2 cup frozen peas & sweetcorn mix

3/4 cup coarsely grated carrot

1 cup coarsely grated potato

1 medium onion – peeled and finely sliced

1 clove garlic – finely minced

2 fresh hot red chillies, seeded and finely sliced (optional)

2 fresh hot green chillies, seeded and finely sliced (optional)

1 dsp fresh chives, chopped


1 dsp fresh parsley, chopped


1 cup s.r. flour

3/4 cup dry breadcrumbs

1 large egg, lightly beaten with fork

1 heaped tsp chicken stock powder

Salt and pepper to taste

Iced water (as needed)

Enough cooking oil for deep-frying.
METHOD: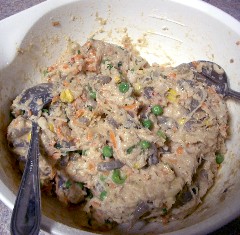 Place all the ingredients –
[except for egg, iced water and cooking oil] – in a medium mixing bowl.
Mix well, add egg and enough iced water to form a sticky, 'thick'
mixture.
Heat oil in a wok or frypan over medium high heat and fry level spoonfuls of
mixture until golden brown and crispy. (I used two dessert spoons to do this –
one to get the spoonful of mixture and the other to push it into the hot oil.)
Drain on paper towels, keep warm and serve hot with Sriracha hot chilli sauce
if desired.




OzLadyM