CRISPY SALT & PEPPER SQUID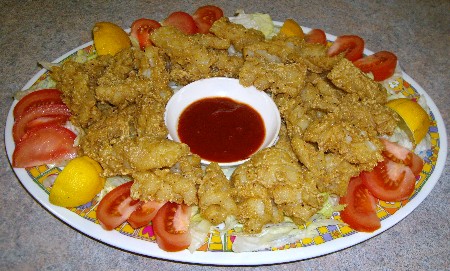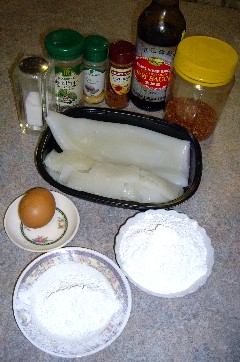 INGREDIENTS: (Serves 4 entrees –
approx. 10-12 pieces p.p.)
500gm (1.1lb) squid tubes (calamari)

1 egg white, lightly beaten with fork

1 dsp light soy sauce

1 tsp ground chilli (optional)

75gm (3oz) rice flour

25gm (1oz) cornflour (cornstarch)

1 tsp salt

1 tsp Szechuan seasoning (Hot) [or substitute with Chinese Five
Spice]

1/2 tsp garlic powder

1 1/2 tsp coarse ground black pepper

Cooking oil for deep frying
METHOD:
Cut squid tube open and score with a sharp knife in a diamond pattern. [See
photos below]
Cut scored squid into 2cm x 5cm (3/4″ x 2″) strips.
Combine squid strips, egg white, garlic powder, ground chilli and light soy
sauce in a mixing bowl and marinate for about an hour.
Combine rice flour, cornflour, salt, Szechuan seasoning and black pepper in a
small bowl.
Mix well and place mixture into a medium freezer bag.
When ready to cook, heat oil in a wok over high heat.
While oil is heating, add marinated squid strips to seasoned flour mixture in
freezer bag.
Trap some air in the freezer bag and twist top to 'seal', hold on firmly to the
twisted top and shake contents until the squid strips are well-coated.
Shake off excess flour and fry squid in 3 – 4 batches in the hot oil for a few
minutes.

[Do not over-cook or the squid strips will not be tender.]
Remove from hot oil and drain on kitchen paper, keep warm until all batches are
fried.
Serve immediately with lemon slices, sweet chilli sauce or Sriracha sauce.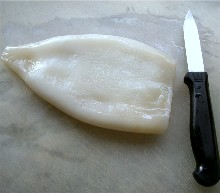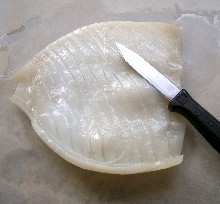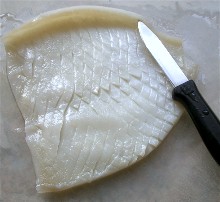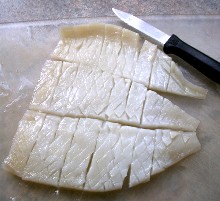 OzLadyM