SALMON PATTIES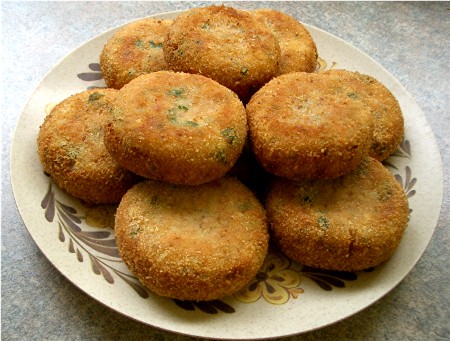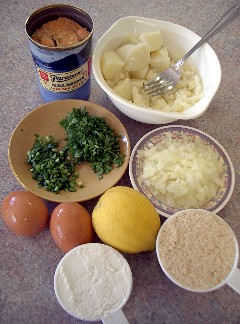 INGREDIENTS: (Makes
approx 10 patties)
1 x 415gm (14oz) can Salmon

2 medium potatoes

2 eggs

1 cup dry breadcrumbs


1 medium onion, peeled and finely chopped


1 tbsp fresh chopped parsley

1 tbsp fresh chopped chives (optional)

1 tbsp lemon juice

1/4 cup plain flour

Extra dry breadcrumbs (for crumbing)

Ground black pepper and salt to taste

Cooking oil for shallow frying
METHOD:
Peel and cut potatoes into 8 segments and steam or microwave until cooked. Mash
coarsely with a fork.




In a medium mixing bowl, empty contents of canned salmon (including the
liquid), remove bones and flake the salmon.
Add the mashed potatoes, 1 lightly beaten egg, breadcrumbs, chopped onion,
parsley, chives, lemon juice, ground pepper and salt to taste.
Mix thoroughly and form mixture into patties.
In 3 separate containers, have ready the plain flour, the second egg, (lightly
beaten with fork) and the extra breadcrumbs.
Coat each patty lightly with flour, then dip to coat with the egg, then press
lightly but firmly into the extra breadcrumbs.
Place the crumbed patties on a plate, cover with cling wrap and refrigerate for
at least an hour.
When ready to cook, heat enough oil for shallow frying in a frypan over medium
heat and fry several at a time until golden brown.
Drain excess oil on kitchen paper and serve hot with garden salad and hot chips
(French fries).
OzLadyM