ROASTED CHILLI
SHRIMP SPRINKLE (THAI)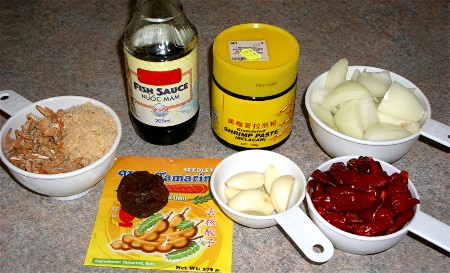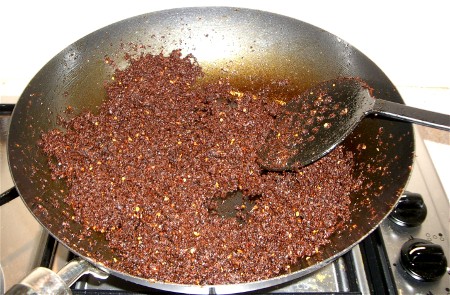 INGREDIENTS: (Makes approx
150gms/6ozs)
1/2 cup red dried hot chillies

3/4 cup dried shrimps

1 large onion


5 – 6 cloves garlic


Tamarind pulp (slightly smaller than golf ball size)
1 dsp fish sauce
1 level dsp dark brown sugar
1 tsp granulated prawn paste (blacan/terasi)
1/4 cup cooking oil


METHOD:




Peel and coarsely slice onions and garlic.
Dry fry the chillies until they darken, stirring constantly (approx 3 – 4
mins).
Remove to cool.
Dry fry the sliced onions and garlic until wilted.
Remove to cool.
Blend the dried shrimps until they resemble very fine dessicated coconut.
Add 2 tbsps water to tamarind pulp, mix well and squeeze with fingers to
extract "juice"
Blend together the chillies, onions, garlic and granulated prawn paste to a
smooth paste.
Heat oil over medium heat in a non-stick wok or frypan.
Add chilli paste, shredded dried shrimps, tamarind juice, fish sauce and brown
sugar.
Mix well and continue frying, stirring constantly until mixture darkens and
dries and form dark brown granules (approx 20 mins).
Remove from heat and allow to cool completely before storing in a glass jar.
This condiment keeps very well and is great when sprinkled on Fried Noodles and
Fried Rice or anytime an Asian dish needs a bit of a "zing".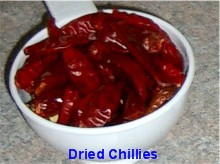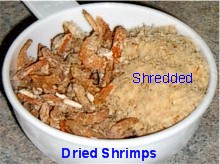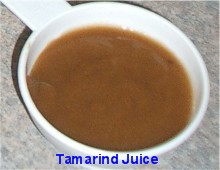 OzLadyM