RAISIN BREAD & APPLE BAKED PUDDING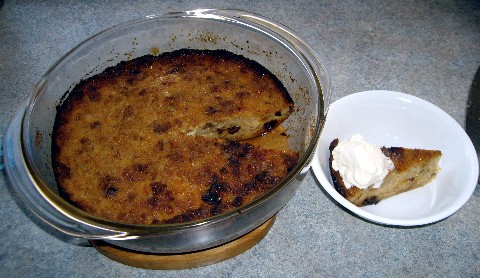 INGREDIENTS: (Serves 8 – 10)
4 – 5 slices raisin "toast" bread, torn into 1cm (1/2″) bits (day
old bread OK) [* see footnote below]

4 extra-large eggs

1 cup soft brown sugar (lightly packed)

1 heaped tbsp soft brown sugar (extra)

1 1/2 cups milk

3 cups stewed apples, coarsely mashed

2 tbsp softened butter (or margarine)

1/4 tsp ground cinnamon (optional)

1/4 tsp ground nutmeg (optional)

1/2 tsp vanilla essence
METHOD:
Pre-heat oven to 180C (350F).
Spread softened butter (or margarine) over the base and about 2/3 up the inside
of a large round ovenproof bowl.
Sprinkle about 2 tbsp soft brown sugar to stick onto the buttered surface of
bowl.
Using a hand-whisk, lightly beat together the eggs and remaining brown sugar.
In a medium-sized saucepan, heat milk to moderately warm (do not bring to the
boil).
Remove mixture from heat and stir in the eggs & sugar mixture, add vanilla
essence.
Add mashed apples and cinnamon (if desired) and mix until well combined.
Add shredded raisin "toast" bread and mix well.
Spoon mixture into prepared ovenproof bowl.
Level mixture evenly using the back of wooden spoon and sprinkle 1 tbsp soft
brown sugar over the top.
Sprinkle ground nutmeg (if desired) and bake for 40 – 50 mins or until a
skewer test comes out clean.
Serve warm (or cold) with whipped cream or vanilla ice-cream.
* [Can be substituted with 2 – 3 leftover fruity hot cross buns at
Easter.]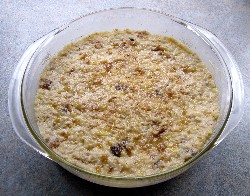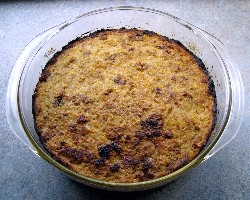 OzLadyM