ROAST PUMPKIN SOUP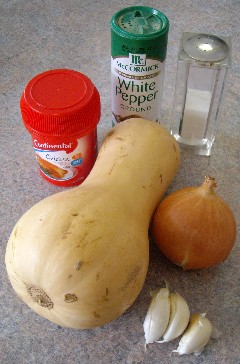 INGREDIENTS: (Makes
approx. 1.5 litres / 3 pints / 6 cups )
1 medium-sized butternut pumpkin (approx 1kg / 2lbs)

3 cloves garlic, unpeeled

1 large onion, peeled and diced

1 dsp butter or margarine

2 tsps chicken stock powder (or 2 chicken stock cubes)

5 cups hot water

1 dsp cooking oil

1/4 cup cream

1/4 tsp Chinese Five Spice (optional)

Salt and ground white pepper to taste
METHOD:
Pre-heat oven to 180C (350F).
Peel pumpkin, remove seeds and cut into even-sized chunks.
Drizzle cooking oil over the pumpkin pieces and toss to coat. place them with
the unpeeled garlic cloves in a baking tray.
Place pumpkin pieces and unpeeled garlic in a baking tray and bake for approx
15 minutes.
Remove garlic and continue baking the pumpkin pieces for a further 15 minutes
or until pumpkin is soft and cooked through.
In a large saucepan, add butter and fry diced onions over medium heat for a
couple of minutes, stirring continuously to prevent burning.
Add 5 cups hot water to the onions and sprinkle the chicken stock powder (or
crumble stock cubes) into the saucepan.
Remove skin from garlic and add garlic to saucepan.
Add the roasted pumpkin pieces to saucepan and bring mixture to the boil.
Add salt and white pepper to taste, Chinese Five Spice (if desired), place lid
on saucepan (* See footnote below), reduce heat and simmer for 15-20
minutes.
Remove from heat, pour soup into a large mixing bowl & allow to cool for
about an hour.
In a blender, puree the soup in a few batches and pour back into the saucepan.
Re-heat before serving with a little cream drizzled on top.
N.B. If thicker soup is desired, simmer the soup uncovered to
reduce the stock.
OzLadyM