PECAN PIE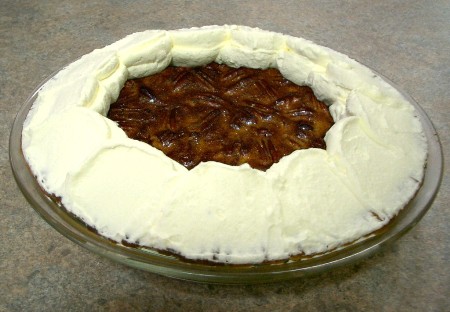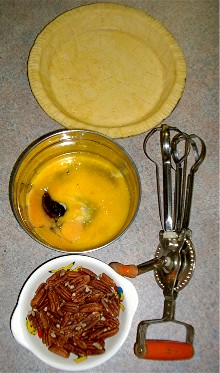 INGREDIENTS: (Serves
4 – 6)
PASTRY:
1 1/2 cups plain flour

Pinch of salt

1/2 cup (80gms/3ozs) butter or margarine

3 – 4 tbsps iced water
FILLING:
1 1/2 cups (150gms/5ozs) pecan halves or pieces


1/2 cup soft brown sugar


3 eggs

1/2 cup golden syrup (or corn syrup)

1/4 cup melted butter or margarine

1 tbsp milk

Pinch of salt
METHOD:




Pre-heat oven to 180C/360F.
Sift flour and salt.
Cut butter or margarine into flour and using finger-tips, rub in until
mixture resembles fine breadcrumbs.
Add 3 tbsps iced water and mix to form a firm dough, adding a little more water
if necessary.
Roll out pastry to line a greased 24cm/9.5″ pie dish.
Prick the pastry base and side with a fork in several places to prevent air
pockets when baking.
Break eggs into a medium-sized mixing bowl, add brown sugar, melted butter,
golden syrup, milk and a pinch of salt.
Beat mixture with a rotary beater until well combined.
Place pecans to line bottom of pastry shell.
Gently pour the syrup mixture over the top and bake until the filling is set.
(Approx 40 – 50mins)
Allow to cool.
Decorate with whipped cream.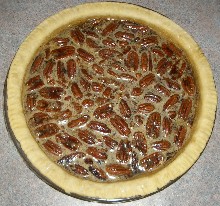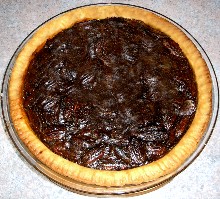 OzLadyM