PAVLOVA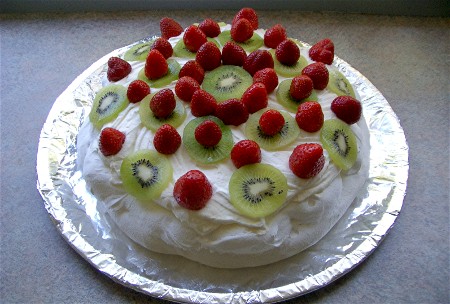 INGREDIENTS: (Serves 6 – 8)
4 egg whites (large eggs)

1 cup castor sugar


1 tbsp cornflour


1 tsp vanilla essence


2 tsp white vinegar
FILLING/TOPPING:
1 cup thickened cream – whipped

1 punnet fresh small strawberries

2 Chinese gooseberries, (kiwi fruit)
OR (If making a "nest" shaped pavlova):
1 pkt jelly crystals (to compliment canned fruit of your choice)

1 medium can fruit of your choice

1 cup thickened cream – whipped


METHOD:




Pre-heat oven to 110C/230F
Beat egg-whites until fairly stiff.
Add sugar gradually and continue beating until mixture is stiff.
Fold in cornflour, then the vanilla and vinegar.
Pile on a lined round oven-proofed tray either into a round flat shape (easy
method) or using a spatula, create a hollow in the centre to form a "nest"
shape.
Make sure to allow space on the tray for pavlova to expand during baking.
Bake for approx 80 – 90mins.
DO NOT OPEN OVEN DOOR.
Turn oven off and allow pavlova to cool completely (with oven door shut).
When cooked, the pavlova should be crisp and white.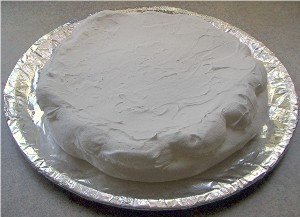 FINAL DECORATION (Easy method):
Using a spatula, carefully spread the whipped cream evenly over the top of the
pavlova.
Choose even-shaped strawberries – wash and hull them and allow to dry on a
paper towel.
Peel and thinly slice the kiwi-fruit, discard the ends.
Arrange the fruit decoratively on the pavlova.
FINAL DECORATION ("Nest"-shaped pavlova):
Prepare jelly according to instructions on packet but reduce recommended amount
of water by approximately half.
Add in canned fruit together with the juice/syrup, mix well and pour into a
shallow bowl.
Refrigerate until set.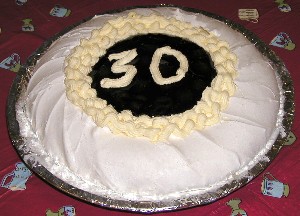 When ready to assemble pavlova "nest",
carefully remove from the bowl "mould" by sitting the bowl briefly in warm
water to loosen the jelly, wipe the bottom of bowl dry and gently slide the
jelly into the hollow in the pavlova. (Flat side up and about level with the
"nest".)
With whipped cream in a piping bag, pipe a decorative pattern to fill the gap
between the hollow and jelly.
NB: I used 1 can of pitted cherries with Port Wine flavoured jelly
crystals (for the pavlova in the photo on the right). I have also made several
using 1 can of fruit salad with pineapple flavoured jelly crystals. The options
are many for you to "mix and match".




OzLadyM