OXTAIL STEW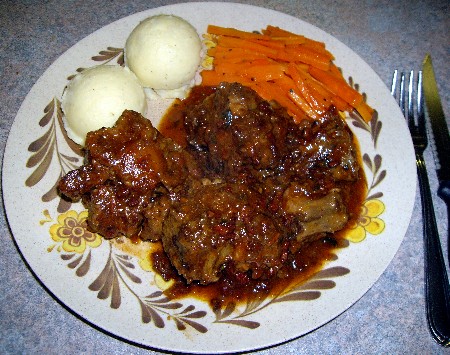 INGREDIENTS: (Serves 10 – 12)
4.5kg (10lbs) oxtail,
chopped up at joints

1/2 cup plain flour

1/2 – 2/3 cup cooking oil

5 sprigs fresh thyme

5 sprigs fresh parsley

3 sprigs fresh rosemary

2 bay leaves

2 medium onions, finely chopped

4 – 5 cloves garlic, finely chopped or crushed

1 medium carrot, finely grated

5 sprigs fresh Chinese celery (or 1 stick celery), finely chopped

200gm (7oz) Sucuk* (Spicy Turkish beef sausage made from
combination of beef and hen), finely chopped.

5 – 6 level tbsp tomato paste

6 cups hot water

5 tsp beef stock powder

3 tsp French Onion Soup powder

1/2 cup medium dry sherry

2 tbsp extra cooking oil
METHOD:



Trim fat off oxtail, toss them in flour and shake off excess flour.
Heat oil in a wok or frypan and fry the floured oxtail pieces in batches until
nicely browned and transfer to a large baking tray (or into 2 large ovenproof
dishes).
Dissolve the beef stock powder and French Onion Soup powder in the hot water,
set aside.
Pre-heat oven to 160C (320F).
Add 2 tbsp extra oil to remaining oil in the wok or frypan, heat and add onions, garlic, grated
carrots, chopped Chinese celery and chopped Sucuk.
Fry until lightly browned before adding stock liquid and sherry.
Add bay leaves, whole sprigs of fresh herbs and tomato paste.
Stir well and bring to the boil, reduce heat and simmer uncovered for about 10
– 15 minutes.
Pour stock mixture evenly over the browned oxtail pieces and cover with
aluminium foil.
Bake for 1 1/2 hours, take it out of oven, carefully uncover, remove and
discard bay leaves and sprigs of herbs and skim off excess fat and oil.
Turn over oxtail pieces, re-cover with aluminium foil and return to oven to
bake for another 2 hours or until meat is tender.
Serve hot with mashed potatoes and julienne carrots or vegetables of your
choice.
N.B. Sucuk* may be substituted with lean cured ham.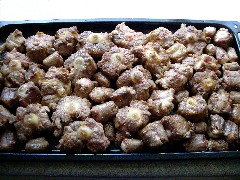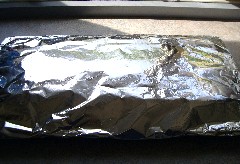 OzLadyM