MULBERRY PIE
INGREDIENTS: (Serves 8)
PIE PASTRY:

1/2 cup plain flour

1/2 cup self-raising flour

1 heaped tbsp custard powder

100gm (approx 3.5oz) butter

2 level tbsp sugar

2 – 3 tbsp milk
PIE FILLING:
3 punnets fresh ripe mulberries (approx 750gm / 1lb 10oz) * (See
footnote below)

1 cup sugar

1/4 cup plain flour

1 heaped tbsp. cornflour / cornstarch
METHOD:




PIE SHELL:
Pre-heat oven 190C (375F).
Sift together the flours and custard powder into a medium mixing bowl.
Cut butter into flour mixture and rub in until mixture resembles breadcrumbs.
Add sugar and mix well.
Add enough milk to form a stiff dough and shape into a ball.
Roll out on lightly-floured pastry sheet (or board) to fit a 24cm (9 1/2″)
greased pie dish.
Trim pastry to slightly extend (.5cm / 1/4″) over rim of pie dish and push
gently to neatly fit on the rim.
Using thumb and forefinger, flute pastry edge by 'pinching' gently to form a
decorative edge.
Using a fork, prick the base and sides of pie pastry in several places to
prevent trapped air pockets.
FILLING:
1. Wash mulberries,
remove stems and dry on paper towels.
2. Sift together plain flour and cornflour/cornstarch and mix well with the
sugar.
3. Add to mulberries and mix thoroughly.
4. Spoon mulberry mixture evenly into prepared pie shell and bake for 10
minutes.
5. Reduce heat to 170C (approx 340F) and bake for a further 35 – 40 mins or
until filling is 'set'.
6. Remove from oven, allow to cool and serve with a dollop (or lashings, if
preferred) of whipped cream.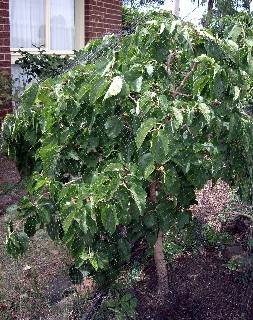 * N.B.
I have a small mulberry tree (a metre in height) that produced its first decent
crop this year. I picked the berries as they ripened. As mulberries do not keep
well, each 'harvest' (over a cupful) was washed, stemmed, dried & weighed
before I preserved them thus:
Place mulberries into a medium sized non-stick saucepan with 1/4 cup sugar
(this amount is not included in the recipe above).
Gently stir continuously with wooden spoon (over medium heat) and as soon as
sugar has been dissolved by the released mulberry juice, remove from heat, cool
and refrigerate. (Do not add water to mixture.)
As more mulberries ripen, pick, clean and weigh them before adding them to the
first batch.
Without adding any more sugar, mix the combined mixture, bring it to the boil
once, cool and refrigerate.
When enough mulberries have been picked and cooked, bring mixture to room
temperature while making the pie pastry.
Use the cooked mulberries as though they are fresh, and continue from step # 2
in the recipe above.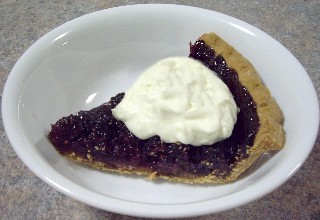 OzLadyM