LAMB TOMATO CURRY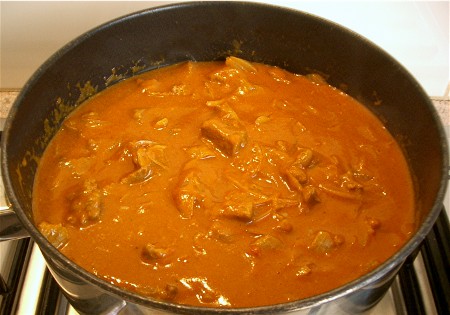 INGREDIENTS: (Serves
4)
1 kg/2lbs diced lamb, (or beef or chicken)

2 medium onions – peeled and finely sliced

2 cloves garlic – peeled and finely minced

1/2 cup meat curry powder (or less if preferred)

1 cup milk


2 tbsps tomato paste


2 tbsps tomato sauce (ketchup)

2 tbsps lemon juice

2 tbsps ghee (clarified butter)/butter/margarine

1 heaped tsp chicken stock powder (or beef stock powder if using
beef)

1 tsp salt (or to taste)
METHOD:




Dry fry curry powder to increase the aroma and flavour: Heat a saucepan over
medium heat, add curry powder and shake the saucepan continously until curry
powder is aromatic.
Remove from heat and place curry powder into a small bowl. Add enough water to
mix into a thick paste.
Add ghee into saucepan and fry onions and garlic for about 2 – 3 minutes.
Add the curry paste and fry for a further 2 mins.
Stir in tomato paste and tomato sauce.
Add the meat and mix well to coat with sauce.
Add milk, lemon juice, stock powder and salt, stir well.
Cook over medium heat for 10 mins, stirring occasionally.
Reduce heat and simmer until meat is tender, stirring occasionally to prevent
burning and sticking.
Serve hot with boiled/steamed rice or with Indian roti (bread).
OzLadyM