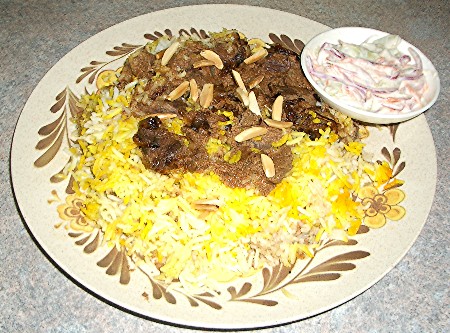 CURRY INGREDIENTS: (Serves 6 – 8)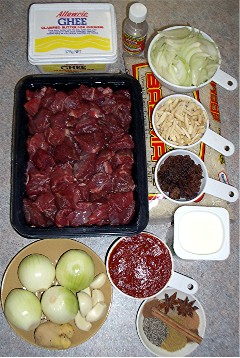 1.1kg/2.5lbs boneless lean lamb (or beef)
4 small onions – peeled and quartered
6 cloves garlic – peeled
5cm/2″ knob fresh ginger – skin scraped off (or 1 tsp ginger
powder)
2 tsps ground cumin
1 tbsp meat curry powder
1 – 2 tsp(s) ground black pepper
1 tsp ground nutmeg
1 tsp ground cinnamon
1/2 tsp ground cardamom
1/2 tsp ground cloves
1 x 175gm/6oz tub natural yoghurt
2/3 cup tomato paste
1 tsp salt (or to taste)
2 tbsps ghee (clarified butter), butter or cooking oil
RAITA Accompaniment: (optional)
1 small onion – peeled, finely sliced, scalded and drained well.
1 medium carrot – peeled and coarsely shredded
1 small cucumber – skinned, cored, coarsely shredded and liquid
squeezed out.
1 x 175gms/6ozs tub natural yoghurt
1 tbsp milk
1 tsp lemon juice
1/4 tsp ground cumin
1 tsp finely chopped fresh mint leaves – optional
Salt and ground white pepper to taste
Put all ingredients in a small mixing bowl, mix well and refrigerate until
needed.
CURRY PREPARATION:
Trim excess fat off lamb and cut into bite-sized pieces (approx 2.5cm/1″
cubes).
Blend/grind together, onions, garlic and ginger until smooth.
Add all the dry spices, yoghurt, tomato paste and salt. Mix well.
Add to lamb, mix well and allow to marinate for a couple of hours.
Heat ghee (or butter or cooking oil) in a large saucepan on high heat, add
marinated lamb pieces, stir well and cook until curry comes to a boil.
Reduce heat and simmer uncovered until lamb is tender and curry rather thick,
stirring occasionally to prevent burning (approx 30 – 40 mins).
N.B. – Curry can be cooked the day before and re-heated when
cooking the rice.
BRIYANI RICE INGREDIENTS: (Serves 6- 8)
1 kg/5 cups Basmati rice
4 tbsps ghee (approx 100gm)
1/2 cup blanched almond pieces
1/3 cup sultanas or raisins – (optional)
1 cup (2 medium onions) – peeled, halved and finely sliced
lengthwise
2 whole star anise
1 x 9cm/3.5″ piece cinnamon bark
2 tsps. rosewater essence
3 rounded tsps chicken stock powder
A generous pinch of saffron powder
Salt to taste
BRIYANI RICE PREPARATION:

Wash rice and drain in colander for about 15 mins.
Prepare chicken stock by dissolving the chicken stock powder in 2 cups of hot
water, add rosewater essence and 1/2 tsp salt (or to taste). Set aside.
Heat ghee in a wok over medium high heat and fry almonds until golden, set
aside.
Fry sultanas very briefly (25 – 30 secs), set aside.
Fry onion slices until golden and crispy, drain and set aside.
Add star anise and cinnamon bark to remaining ghee and stir fry for approx
30-40 secs, add rice and stir fry for about 5 mins until rice is well-coated
with the ghee.
At this stage you can continue as for cooking the rice for
Chicken Briyani, adding enough water to cover the rice by approx
.5cm(1/2″) and serve the Lamb Curry on a bed of the Briyani Rice.
OR –   do the following:
Half fill a large saucepan with boiling water and boil the rice for about 5
mins, drain and set aside.
Pour the drained partially cooked rice back into the large saucepan, level
evenly and sprinkle a few dashes of saffron powder.
Drizzle the chicken stock mixture over the rice.
Spoon the lamb curry mixture evenly to cover the rice, top with the fried
onions and raisins, cover and simmer on lowest heat for about 25-30 mins.
You can serve it now by carefully spooning each serve onto a plate and garnish
with almonds and side accompaniment of the Raita, if desired.
OR
Tip the whole potful of rice & curry mixture into a wok and without
over-stirring, mix it all up before serving. This method allows a more even
distribution of the curry through the rice.
Serve hot.