INDONESIAN BEEF
CURRY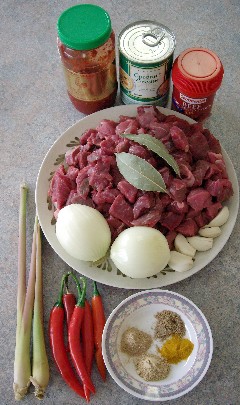 INGREDIENTS: (6
– 8 Hot Serves)
1.6 kg/3.5lbs cubed gravy/stewing beef

2 large onions – peeled

5 cloves garlic – peeled

5 fresh red hot chilies

1 dsp Sambal Oelek (Optional)

2 stalks fresh lemon grass, sliced finely

1 x 400ml can coconut cream + 1 can water

2.5cm (1″) fresh galangal or 1 tsp ground galangal (laos)

2.5cm (1″) fresh ginger or 1 tsp ground ginger

1 level tsp ground coriander


1 level tsp ground turmeric

1 heaped tsp beef stock powder (or 1 cube)

2 bay leaves

2 – 3 kaffir lime leaves (optional)
METHOD:




Blend sliced lemon grass until very fine, using a little coconut cream to
facilitate the process.
Add remaining fresh spices (chilies, onions, garlic, fresh ginger and galangal)
with a little more coconut cream and blend well. (If using ground ginger and
galangal, add later.)
Pour blended mixture into a medium mixing bowl, add remaining ground spices and
mix well.
Add the cubed beef, mix well to coat with the blended spices and allow to
marinate for about 2 hours.
Place marinated beef mixture in a heavy based saucepan, add remaining coconut
cream and 1 can of water. Add bay leaves (and kaffir lime leaves if used) and
beef stock powder (or crumbled beef stock cube), mix well and bring to the
boil.
Reduce heat to low and simmer uncovered for approx 1 hour or until beef is
tender and curry has thickened, stirring occasionally to prevent sticking and
burning.
Add salt to taste.
Serve hot with boiled rice.
OzLadyM