INDIAN FISH BALLS
(Thank you, Barrie D.)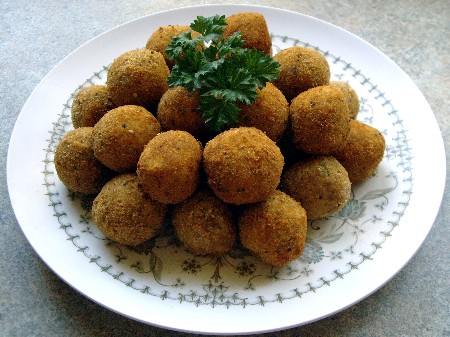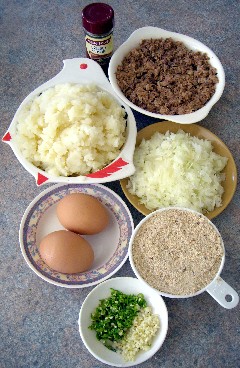 INGREDIENTS: (Makes 40 balls)
1 x 425gm can mackerel

5-6 washed small potatoes

2 medium onions, peeled and diced or chopped very finely

2 cloves garlic, peeled and minced finely

2 extra large eggs, separated

1 cup dry breadcrumbs

2 fresh green chillies, stalks removed and minced finely

1/2 tsp garam masala

Salt & pepper to taste

Oil for deep frying
METHOD:
Boil potatoes in their jackets in salted water until cooked. (Potatoes are
cooked if fork or skewer pokes through easily.)
Drain the potatoes, allow to cool slightly, peel off skin, mash well and set
aside.
Drain mackerel, remove bones and flake finely with a fork.
In a mixing bowl, combine mashed potatoes, mackerel, onions, garlic, green
chillies, garam masala, salt, pepper, egg yolks and 1 heaped tablespoon dry
breadcrumbs.
Mix thoroughly until well combined.
Reserve remaining breadcrumbs for crumbing.
Using the palms of your hands, lightly roll small portions of mixture to form
into little balls (slightly smaller than ping-pong balls) and place them on a
plate.
(If mixture is too moist and sticky, add a little more breadcrumbs and mix
well.)
In a small bowl, lightly beat egg whites with fork until slightly frothy.
Place breadcrumbs in a shallow bowl.
Dip fish balls (a few at a time) into the egg white, roll them in breadcrumbs
until well-coated and place on a plate.
Refrigerate for about an hour.
When ready to cook, heat oil in a frypan over medium heat and fry in batches of
8-10 until golden brown and crispy.
Drain on kitchen paper and serve hot with (or without) chutney of your choice.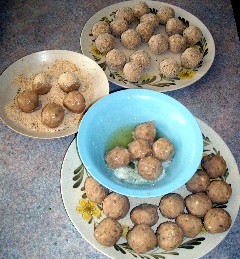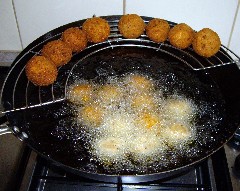 OzLadyM