FRIED HOKKIEN
NOODLES WITH SEAFOOD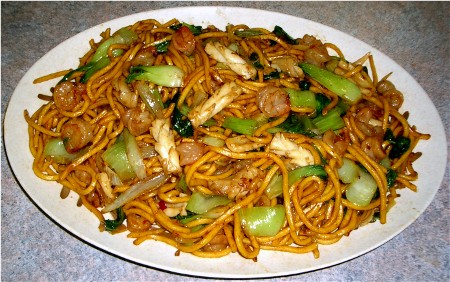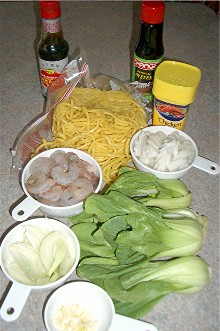 INGREDIENTS: (3
Generous serves)
1 pkt (500gms) fresh Hokkien noodles

180gms small raw prawns/shrimp meat (approx 1 cup) – de-veined
1 small squid/calamari "tube"

1 bunch baby bok choy


1 medium onion – peeled and sliced


1 clove garlic, peeled and minced lightly with a fork

1 tbsp oyster flavoured sauce

1 tbsp sweet chilli sauce

1 dsp dark soy sauce

1 tsp chicken stock powder

1 tbsp cooking oil
METHOD:




Prepare Squid
Pluck the larger leaves off the bok choy at the base and wash thoroughly.
Cut these into bite-sized pieces and the bases with the smaller, younger leaves
into halves or quarters, lengthways.
Break the Hokkien noodles into pencil length pieces. If noodles had been
refrigerated and are compacted, prick a few holes in the bag and heat in
microwave for about a minute to soften so they're easier to separate/loosen.
Heat oil in a wok over high heat and using a spatula, stir-fry the onions and
garlic.
Add the bok choy and stir-fry until slightly limp.
Add squid and prawns, stir well.
Add chicken stock powder and various sauces, stir well.
Add the separated/loosened noodles to the wok and continue to stir-fry until
noodles are heated through.
Remove from heat and serve immediately with
Roasted Chilli Shrimp Sprinkle, if desired.




OzLadyM