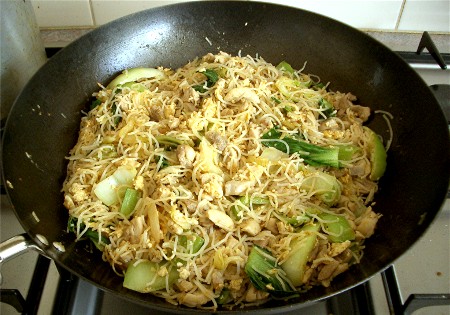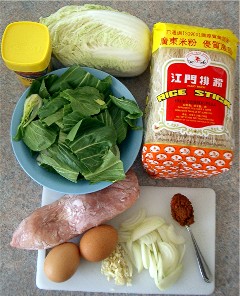 INGREDIENTS: (2
Generous serves)
Half pkt "Rice Sticks" (rice vermicelli)
1 whole chicken breast fillet
2 eggs
1 large baby bok choy
Several leaves of Wong Bok (Chinese cabbage)
1 small onion – peeled and finely sliced
1 clove garlic – peeled and finely minced
1 tsp chicken stock powder
1 generous tsp chilli paste
dash of dark soy sauce
1 1/2 tbsp cooking oil
METHOD:
Soak rice sticks in water until softened, drain in colander.
Cut chicken into strips.
Wash and cut bok choy and wong bok into bite-sized pieces.
Heat oil in wok over high heat, fry sliced onion and garlic for about a minute.
Break eggs into the wok, and scramble with the onion and garlic.
Add chilli paste, chicken stock powder and dash of soy sauce, stir well.
Add chicken strips, stir fry until chicken is cooked through.
Add vegetables, and stir fry until vegetables are limp.
Add the softened rice sticks and mix well.
Continue to stir fry until the rice vermicelli is well heated and cooked,
adding a little water if mixture is too dry.
Serve hot with Pickled Green Chillies
or Thai Roasted Chilli Shrimp Sprinkle.
OzLadyM