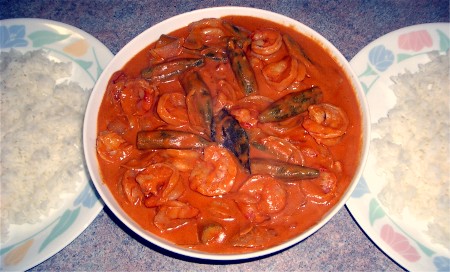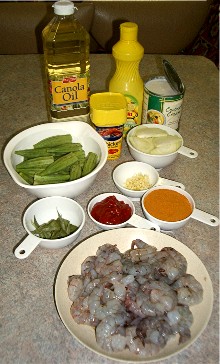 INGREDIENTS: (Serves 4)

400gms/1lb raw medium-sized ready peeled prawns – de-veined
2 heaped tbsps curry powder for seafood –
less if you cannot handle the "heat"
(My personal favorite is Alagappa's Fish Curry Powder)
1 tbsp tomato paste
1 medium onion – peeled and sliced
1 -2 cloves garlic – peeled and minced
1 cup coconut cream
1 rounded tsp tamarind pulp or 1 – 2 tbsps lemon juice.
1 rounded tsp chicken stock powder
1 cup water
150gms small young okra – topped and tailed or
2 medium tomatoes – cut into wedges
10 – 12 curry leaves (optional)
1 tbsp cooking oil
Salt to taste
METHOD
If using tamarind pulp, soak the pulp in 2 – 3 tbsps warm water, break and mix well with fingertips and squeeze to extract the "juice", set aside.
Heat oil in medium non-stick saucepan over medium heat, fry onions and garlic for approx 1 min.
Sprinkle curry powder over the onions & garlic and add curry leaves if available.
Stir quickly to prevent burning.
Add coconut cream, tomato paste, tamarind/lemon juice, chicken stock powder and water.
Add tomatoes or okra, stir well.
If curry is too thick, add a little more water.
Reduce heat, cover and continue to simmer until the okra or tomatoes are 'just' cooked (approx 5 mins).
Increase heat to medium high, add the prawn meat, stir and bring to the boil once.
Stir, add salt if needed and bring to the boil again before removing from heat.
Serve immediately with steamed rice or Indian "roti".
This deliciously spicy dish is also great when eaten with French breadstick or Vienna loaf.