CRISPY FRIED
CALAMARI/SQUID TENTACLES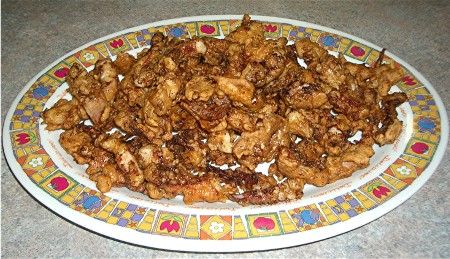 INGREDIENTS: (4 – 6
Entrees)
500gms/1lb calamari (squid) tentacles

3 heaped tbsps rice flour

3 heaped tbsps cornflour

1 large egg – whisked lightly

2 cloves garlic – peeled and crushed using a garlic press


1 tbsp Sriracha chilli sauce


1 tbsp rice wine

1 dsp fish sauce

1 tsp chilli powder – (optional)

1/4 tsp ground coriander

Pinch of salt

Oil for deep frying
METHOD:




Clean, wash and prepare squid tentacles by making shallow cuts with a sharp
knife through the length of each tentacle, then cut each tentacle into 5cm/2″
lengths.
Place all the other ingredients into a mixing bowl, except for the cornflour
and cooking oil.
Mix just enough to combine.
Add the squid tentacles and mix well to coat.
Cover and refrigerate for a few hours.
When ready to cook, heat oil in a wok over high heat.
While oil is heating up, stir the cornflour into the marinated tentacles.
Cook in small batches until golden brown – (approx 2 minutes).
Drain well on paper towels and serve hot with Sriracha chilli sauce, if
desired.
N.B. – Calamari "tubes" may be used instead. Follow instructions on
how to prepare squid but do not scald.

OzLadyM