CREAM PUFFS WITH
CUSTARD AND CREAM FILLING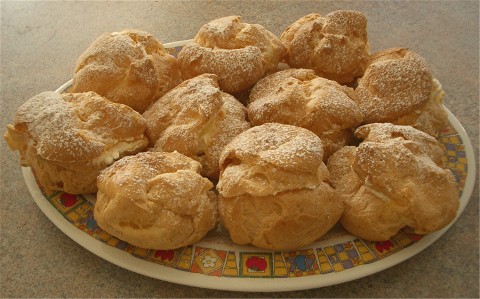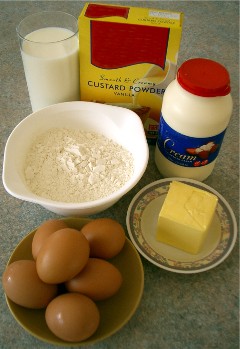 CHOUX
INGREDIENTS: (Makes 24)
1 1/2 cups plain flour – sifted

1 1/2 cups water

100gms/4ozs butter

6 large eggs
FILLING INGREDIENTS:
4 heaped tbsps vanilla custard powder


4 cups milk


2 heaped tbsps sugar

600ml/20fl ozs thickened cream

2 dsps icing sugar (confectioners sugar)

1/2 tsp vanilla essence
METHOD:




Preheat oven to 220C/425F.
Line oven trays with baking paper.
Combine water and butter in a medium saucepan and bring to the boil.
Add flour all at once and and stir vigorously with a wooden spoon until mixture
leaves side of saucepan and form a smooth ball.
Tranfer mixture to a mixing bowl and spread mixture up the sides to cool
slightly for about 5 mins.
Beat in the eggs, one at a time until mixture is smooth and glossy.
Drop rounded dspfuls of choux onto baking tray, spacing mixture about 4cm/1.5″
apart to allow for expansion.
Bake in preheated oven for about 12mins, reduce heat to180C/350F and bake for a
further 15 mins or until puffs are lightly brown and crisp.
With a sharp knife, make a small slit in the side of each puff to allow steam
to escape and return to oven for another 5 mins to dry.
Allow to cool completely, cut the top half off each puff and remove any soft
bits from the centre, if desired.
Prepare the custard by mixing custard powder with about a cup of milk to form a
smooth runny paste.
In a saucepan, heat up the remaining milk with the sugar, pour in the custard
mixture and stir constantly until custard thickens.
Remove from heat and allow to cool completely.
Pour cream into mixing bowl, add icing sugar and vanilla essence and beat until
mixture is fully whipped.
Assemble the cream puffs by putting a generous dspful of custard in the bottom
half and a generous dspful of whipped cream on top of it. Put the top half back
on.
Sift some icing sugar over the cream puffs or drizzle some melted dark
chocolate, if desired.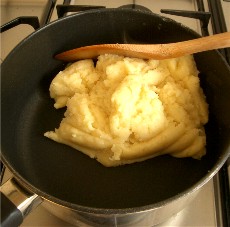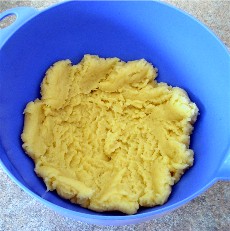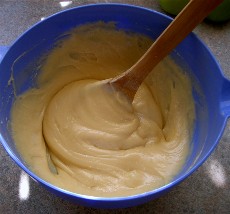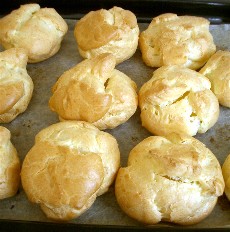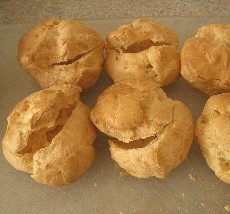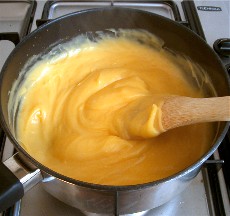 OzLadyM