COCONUT MACAROONS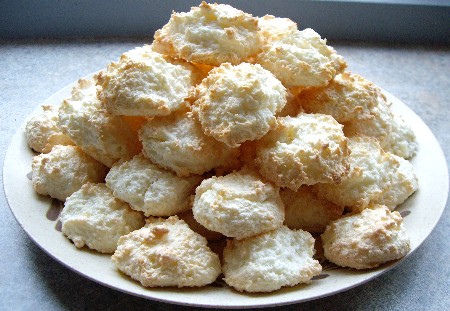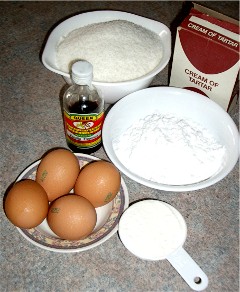 INGREDIENTS: (Makes
approx 4 dozen small macaroons)
4 egg whites
1 1/4 cup icing sugar
2 cups desiccated coconut
1/4 cup plain flour
1/4 tsp salt
1/8 tsp cream of tartar
1/2 tsp vanilla essence
METHOD:
Pre-heat oven to 150C/300F.
Beat egg whites, cream of tartar, salt, and vanilla until thick.
Add sugar gradually and continue to beat until very thick.
In a mixing bowl, mix together coconut and flour.
Fold into the egg white mixture.
Pile in teaspoonfuls (or dessertspoonfuls) on baking-paper lined oven tray.
Bake for 15 mins (or a bit longer if making bigger macaroons) until macaroons
are slightly coloured.
Remove from oven, allow to cool completely before storing in an airtight cookie
jar and see how long they last!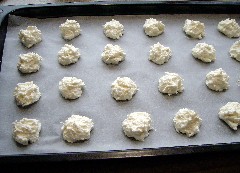 OzLadyM