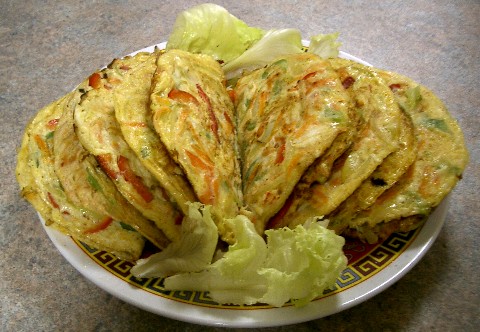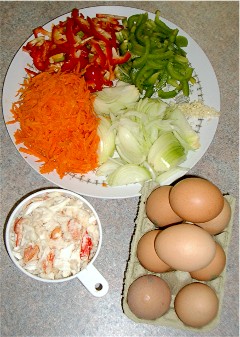 INGREDIENTS: (Makes
6 Omelets)
8 large eggs
1 cup crab meat
1 cup coarsely grated (2 medium) carrots
1 cup finely sliced onions
1 clove garlic – finely minced
1 cup finely sliced (1 med) red capsicum
1 cup finely sliced (1 med) green capsicum
1 tsp salt or to taste
1 tsp ground white pepper
Cooking oil
METHOD:
Place all ingredients (except cooking oil) into a large mixing bowl and mix
well.
Heat a small non-stick fry-pan (with lid) over med-low heat and add about 1 dsp
cooking oil.
When oil is heated up, put 3/4 cupful of omelet mixture and spread evenly.
Place lid over fry-pan and when the top of omelet is 'set', gently flip over to
cook on the other side.
Fold omelet in half to form a semi-circle shape and arrange on serving platter.
Repeat frying process, using 1 dsp cooking oil per omelet.
Garnish with chopped spring onions, if desired.
Serve hot – with  Fried Rice With Shrimps