CHILLI GARLIC
PRAWNS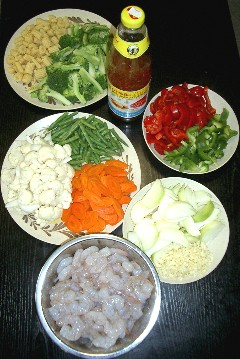 INGREDIENTS: (Serves
6 – 8)
1 kg (2.2lbs) shelled green (raw) medium-sized prawns

3 medium onions – peeled and cut into wedges

6 cloves garlic – peeled and chopped finely

3 cups broccoli pieces

3 cups cauliflower pieces

3 medium carrots – peeled and sliced thinly, diagonally

2 small red capicums – cut into bite-sized pieces

1 medium green capsicum – cut into bite-sized pieces

1 cup cut green beans [4cm (1.5″) length]

1 medium can (425gm) baby corn cuts – drained

2 cups Sweet Chili Sauce For Chicken


2 tsp chicken stock powder or 2 chicken stock cubes – optional

1 tbsp cornflour/cornstarch

1/3 cup water

2 – 3 tbsp cooking oil

Salt to taste (if not using chicken stock powder/cubes)
METHOD:
Cut each prawn along the top to de-vein, rinse if necessary, drain and set
aside.
Scald sliced carrots, green beans, broccoli and cauliflower pieces for approx.
2 mins. in boiling water, drain and set aside.
Mix cornflour with 1/3 cup water until smooth.
In a large wok, (or electric frypan or large saucepan) heat oil over high heat.
Add garlic and onion wedges and stir-fry until onions are just translucent, add
capsicums and stir-fry for a minute.
Add all the remaining prepared vegetables and sprinkle chicken stock powder (or
crumbled stock cubes), or salt, if preferred.
Continue to stir fry until well-mixed (approx 1 min.)
Add Sweet Chili Sauce For Chicken, stir-fry to mix well, then add the prawns.
Stir-fry until prawns start to become translucent.
Re-stir the cornflour and water, drizzle over the prawns and vegetables mixture
and stir-fry until the sauce is thick and glossy.
Remove from heat and serve immediately over plain steamed/boiled rice.
N.B. Do not overcook the prawns or they will lose their succulent
"crunchy" taste and become tough instead.
OzLadyM