CHILLI CRABS –
(SINGAPORE)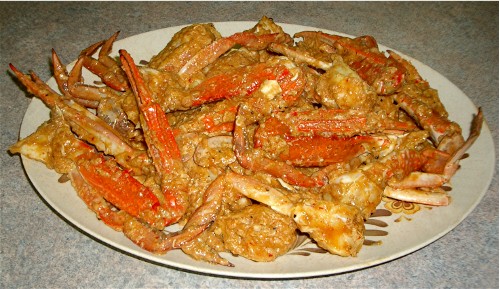 INGREDIENTS: (Serves 3 – 4)
1 kg/2lbs fresh mud crab (or 4 large blue swimmer crabs)

4 fresh red "hot" chillies (seeded) or 1 tsp chilli powder

1 large onion – peeled and quartered

2 cloves garlic


1 cm fresh ginger or 1/2 tsp ginger powder


2 eggs – lightly beaten with fork

1 cup chicken stock (dissolve 1 tsp chicken stock powder in 1 cup
hot water)

2 tbsps tomato sauce/ketchup

2 tsps cornflour – mixed with 1/4 cup water

2 tsps vinegar

1 tsp sugar

1/4 tsp ground black pepper

3 tbsps cooking oil

French bread stick
METHOD:




If using live mud-crab, place crab in freezer for about an hour before
preparing. If using blue swimmer crabs (sand crabs), remove shells and gills,
clean and chop crabs into approximate quarters.
Lightly smash large claws with handle of kitchen knife.
Blend together chillies, onion, garlic and ginger.
Heat oil in wok over high heat, fry crabs for a few minutes, remove and set
aside.
Fry blended ingredients in the remaining oil for 2-3 mins.
Return crabs to the wok, pour in chicken stock, tomato sauce and black pepper.
Mix to coat crabs, place lid on wok, reduce heat and simmer for about 12 – 15
mins.
Increase heat to medium high, add cornflour mixture, mix well.
Add vinegar and eggs.
Stir well for a few more minutes to ensure crabs are well coated and the sauce
has thickened.
Serve hot with French bread to dunk in the yummy sauce.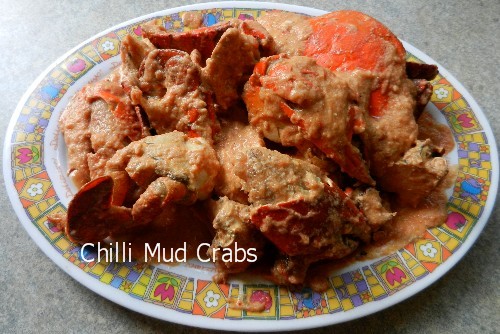 OzLadyM