CHILLI CHICKEN & OYSTER MUSHROOM STIR-FRY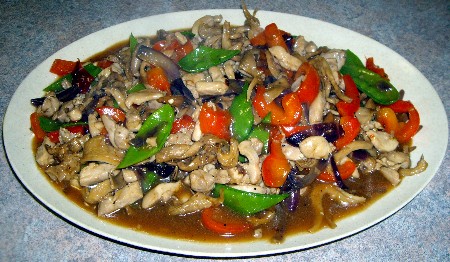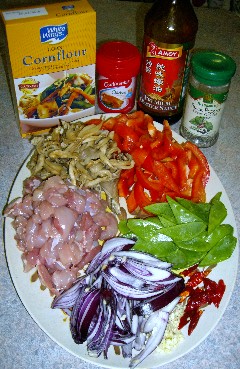 INGREDIENTS: (Serves 4)
500gm (1.1lb) skinless chicken breast or thigh fillets

200gm fresh oyster mushrooms [or 1x400gm (14oz) can oyster
mushrooms or mushrooms of your choice] [* See footnote below]

1 large red capsicum, seeded and cut into bite-sized pieces

100gm fresh snow peas, topped and tailed and cut into half
diagonally

1 medium onion, peeled and cut into wedges

2 cloves garlic, peeled and finely chopped

2-5 dried hot red chillies, seeded and broken into 2cm (1″) lengths
[Omit for those with sensitive taste-buds]

2 tbsps oyster sauce

1 heaped tsp chicken stock powder (or 1 chicken stock cube)

1/2 cup warm water

1 heaped dsp cornflour (cornstarch)

1/2 cup water

1/4 tsp coarse ground black pepper

2 tbsp cooking oil

Salt to taste
METHOD:
Remove all visible fat from chicken fillets and cut into bite-sized pieces.
If using canned mushrooms, drain and tear or cut the mushrooms into bite-sized
pieces.
Dissolve chicken stock powder (or cube) in 1/2 cup warm water, set aside.
Mix cornflour in 1/2 cup water till smooth, set side.
When ready to cook, heat wok over high heat, add oil and stir-fry the dried
chillies for a few seconds until they darken in colour.
* N.B. [I suggest you open your kitchen windows first (or turn your
range hood exhaust fan on) before frying the dried chillies as the 'fumes' can
knock your socks off! Hubby was coughing and spluttering during this frying
period while he was watching me cook. LOL]
Add onions and garlic, continue to stir-fry briefly, add capsicum, stir until
well-mixed.
Add chicken, stir to mix, add chicken stock and continue stirring until
chicken is almost cooked (approx. 2 minutes).
Add mushrooms, snow peas, oyster sauce and black pepper, mix well.
Re-stir cornflour and water mixture until smooth and add to wok.
Stir continously until sauce thickens and becomes glossy.
If sauce is too thick, add a little hot water.
Add salt to taste.
Serve immediately with plain steamed rice.
* I decided to use dried oyster mushrooms and despite soaking them
in boiling water for 1/2 hour as directed, they were still rather chewy. I then
repeated the soaking process but it didn't make much difference so I wouldn't
recommend using dried oyster mushrooms.
OzLadyM