CHICKEN TOMATO
CURRY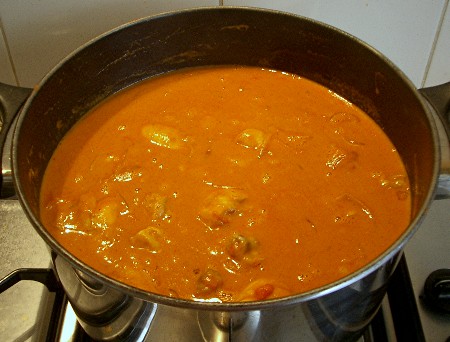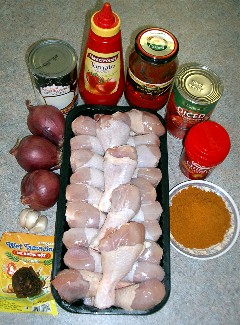 INGREDIENTS:

(8 serves of 3 drumsticks per serve)
24 small chicken drumsticks

3 medium onions – finely sliced

3 cloves garlic – finely minced

4 – 5 tbsps meat curry powder

1 tsp chilli powder – (optional)

2 generous tbsps tomato paste

2 generous tbsps tomato sauce (ketchup)

1 medium can diced tomatoes

1 medium can coconut cream

Tamarind pulp (size of ping-pong ball)


Hot water


1 heaped tsp chicken stock powder (or 1 chicken stock cube)

1 tsp salt (or to taste)

2 tbsps cooking oil
METHOD:




Trim excess fat and skin off chicken drumsticks, wash and drain.
Soak tamarind pulp in 1 cup hot water, allow to cool slightly, squeeze to
extract juice and set aside.
Dissolve chicken stock in 3/4 cup hot water, set aside.
Heat oil in a large saucepan and fry onions and garlic until onions are limp.
Sprinkle curry powder over the onions and garlic and stir fry until aromatic
(approx 1 min).
Add diced tomatoes, tomato paste and tomato sauce.
Add drumsticks and stir well to coat with curry mixture.
Add coconut cream, tamarind juice, chicken stock and salt.
Stir well and cook over high heat for about 10 mins.
Reduce heat and simmer until chicken is tender (approx 20 – 30 mins).
Serve hot with rice, French bread or Indian "roti".








OzLadyM