CHICKEN SPRING
ROLLS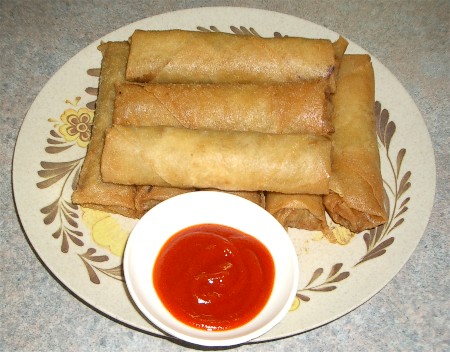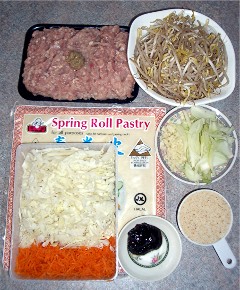 INGREDIENTS: (Makes
20)
I pkt Spring Rolls skins (20 sheets)

1/2kg (1lb) ground chicken (mince)

2 cups finely shredded cabbage

250 gms (9ozs) bean shoots (tailed if desired)

1 cup shredded carrots

1 cup finely sliced onions

1 small can bamboo shoots – finely shredded – (optional)

1/2 cup finely chopped mushrooms – (optional)

1 stick celery stem – finely sliced – (optional)

2 cloves garlic – peeled and finely minced

1/2 cup breadcrumbs


1 dsp (Chinese) fermented black beans


1 dsp dry sherry (optional)

1 tsp grated ginger

1 tsp sugar

2 tbsps cooking oil

Extra oil for deep frying

1 tsp chicken stock powder

1/2 tsp ground pepper

1/4 tsp salt (or to taste)
PREPARATION METHOD:



FILLING:
In a small mixing bowl, combine chicken mince, dry sherry, sugar and ginger.
Heat oil in a wok over medium heat and fry onions, garlic and mashed black
beans until onions are wilted.
Add chicken mince and stir until cooked through.
Add all the prepared vegetables, chicken stock powder, salt and pepper.
Stir fry the ingredients until vegetables are cooked.
Sprinkle breadcrumbs over filling mixture, mix well to combine, remove from
heat and allow to cool. (Extra breadcrumbs may be needed to thicken the
filling.)
SPRING ROLLS PREPARATION:
Separate spring roll skins and place 2 tbsp filling diagonally across each
sheet.
Fold lower end over the filling, then the two sides (like an envelope), and
roll up firmly.
Seal the end with a little milk or water.
Deep fry a few at a time until crisp and golden.
Serve hot with dipping sauce of hot Sriracha sauce, if desired.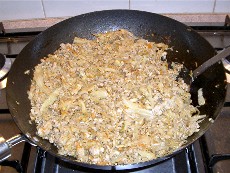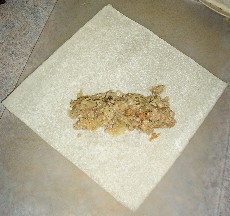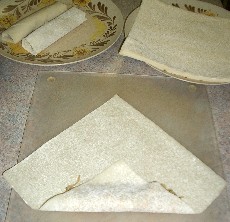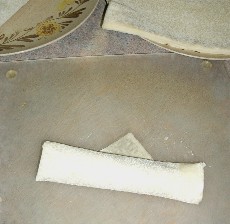 OzLadyM