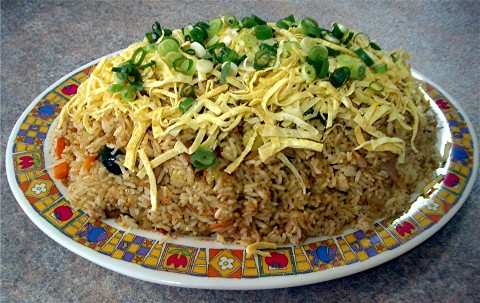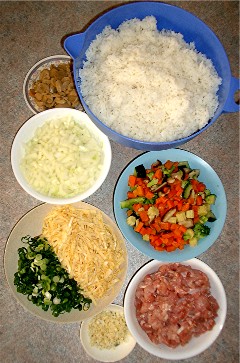 INGREDIENTS: (Serves 8 – 10)
500gms chicken meat – finely diced
12 cups cold cooked rice (preferably cooked the day before)
4 eggs
400gms/1lb mixed diced vegetables
2 small cans champigons (pieces & stems) – drained
2 large onions – peeled and diced
4 cloves garlic – peeled and finely minced
1/2 cup cooking oil
2 heaped tsps chicken stock powder
Approx 2 dsps dark soy sauce
Ground white pepper and salt to taste
2 – 3 spring onions/green onions – chopped (for garnish)
METHOD:
N.B. – Easier to cook this in two batches by halving all the ingredients or
halve all the ingredients for 4 – 5 adults.
Break eggs into a small mixing bowl and season with a pinch of salt and ground
white pepper.
In a small non-stick frypan over med-low heat, make very thin omelets (4 eggs
make 10 thin omelets) and cut into strips (see pics below) or using a medium
frypan, scramble the eggs and set aside.
Heat 1/4 cup oil in wok over high heat and fry approx half the onions and
garlic.
Add half the chicken meat, 1 heaped tsp chicken stock powder, 1 dsp dark soy
sauce, half the mixed vegetables, 1 small can champignon pieces, a generous
dash of ground white pepper and a pinch of salt. Mix well.
When chicken and vegetables are cooked through, add half the rice.
If using scrambled eggs, add half to the rice mixture now and keep stirring
until the rice is heated through, remove to a large heat-proof dish and keep
warm.
Repeat the frying process with the remaining ingredients for the second batch.
The fried rice can be served individually or in a very large serving dish.
Serve hot, garnished with sliced omelet strips (if you had taken the time to
make them) and chopped spring onions.
This dish is a meal in itself but extra yummy if served with
Sweet & Sour Chicken.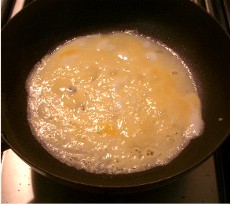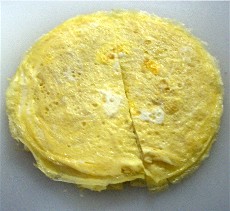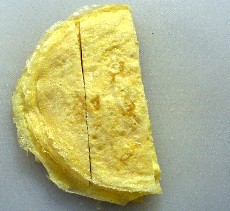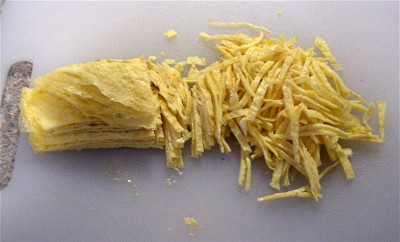 OzLadyM