CHICKEN BRIYANI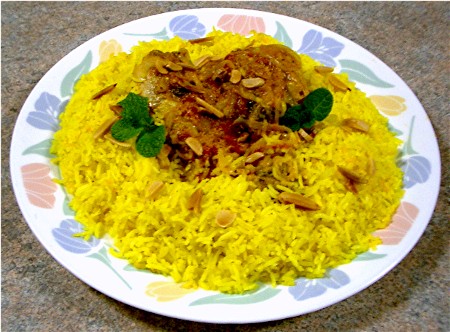 CHICKEN CURRY
INGREDIENTS: (Serves 6)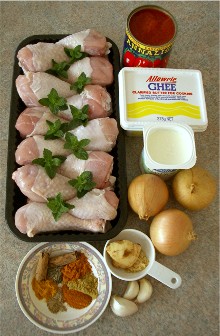 12 big chicken drumsticks (approx 1.8kgs/4lbs)

2 – 3 tbsps ghee (or butter or cooking oil)


3 large onions – finely sliced


4 cloves garlic – finely minced


1 x 400gm canned diced tomatoes

1 x 175gms/6ozs tub natural yoghurt

10 sprigs of fresh mint tips


1 heaped tsp grated fresh ginger (or 1 tsp ginger powder)

1 tsp chilli powder


1 level tsp ground black pepper

1 tsp ground turmeric

1 tsp meat curry powder

2 tsps ground cumin

3/4 tsp ground cardamom

7cm/3″ piece of cinnamon bark

1 1/2 tsp salt
RAITA Accompaniment: (optional)
1 medium onion – finely sliced, scalded and drained

1 medium carrot – peeled and coarsely grated

1 x 175gms/6ozs tub natural yoghurt

1 tbsp milk

1/2 tsp cumin

1 tsp lemon juice

Salt and pepper to taste
Combine all ingredients in a small mixing bowl, mix well. Keep refrigerated and
serve as accompaniment to Chicken Briyani if desired.
CURRY PREPARATION: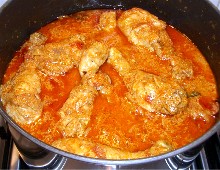 Trim excess fat off drumsticks and
clean by rubbing in a tbsp of cooking salt, rinse and drain well.
Heat ghee in a large pot over med-high heat and fry onions, garlic and ginger
(if using fresh ginger).
Add all the dry spices, salt and tomatos, stir well.
Add yoghurt, mint and cinnamon bark.
Cook over med heat for about 5 mins, add chicken and stir well to coat with
spice mixture.
Reduce heat and cook uncovered over low heat until chicken is tender and curry
rather thick, stir occasionally to prevent burning.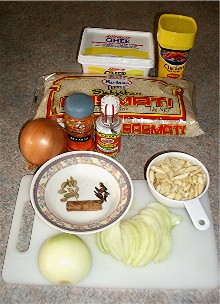 BRIYANI
RICE INGREDIENTS: (Serves 6)
1 kg/5 cups Basmati rice

4 tbsps ghee (approx 100gm)

1/2 cup blanched almond pieces

1/3 cup sultanas – (optional)

2 medium onions – finely sliced length-wise

10 – 12 cardamom pods

6-8 whole cloves

5cms/2″ cinnamon bark

2 tsps. rosewater essence

3 – 4 rounded tsps chicken stock powder

A generous pinch of saffron powder

Salt to taste
BRIYANI RICE PREPARATION:


Wash rice and drain in colander for about 15 mins.
Prepare chicken stock by dissolving the chicken stock powder in 4.5 cups of hot
water, add rosewater essence and 1/2 tsp salt (or to taste). Set aside.
Heat ghee in a wok over medium high heat and fry almonds until golden, set
aside.
Fry sultanas very briefly (25 – 30 secs), set aside.
Fry onion slices and spices until onions are golden. Remove and discard spices
if desired.
Add the rice and stir fry until rice is well-coated with the ghee (approx 5
mins).
At this stage you can transfer the rice mixture into a rice-cooker/steamer if
you have one, with additional water to cover rice by .5cm (1/2″), stir and auto
cook OR alternatively, transfer into a deep thick-based non-stick
saucepan.
Add the chicken stock mixture and additional water to cover rice by .5cm
(1/2″).
N.B. – If you wish for an even-coloured saffron rice, add a generous
pinch of saffron and stir before cooking. If you wish for a speckled effect,
read further.
If using saucepan, place lid and cook for about 15-20 mins over low heat.
Sprinkle a few generous "dashes" of saffron powder and stir briefly with a
skewer or fork through the almost cooked rice for a speckled effect. Do not
over-stir.
Replace lid and continue cooking for a further 5 mins or until rice is cooked.
If using rice-cooker, set to 'cook' until auto turn-off, sprinkle saffron
powder, stir quickly with skewer or fork (for speckled effect), and replace
lid. Do not overstir.
Serve the Chicken Curry on a bed of Briyani Rice, garnish with almonds and
sultanas and accompany with the Raita, if desired.
OzLadyM