CARROT CAKE
(with Cream Cheese Icing)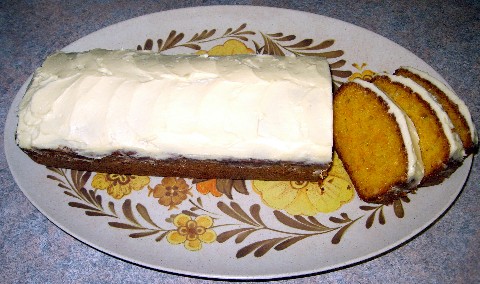 INGREDIENTS: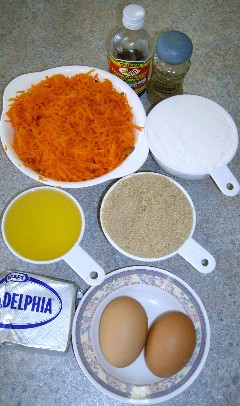 CAKE:
1 cup self-raising Flour (sifted)

1 1/2 cups grated Carrots (use 2 medium sized carrots)

3/4 cups Soft Brown Sugar (packed)

2 extra-large Eggs

1/2 cup Corn Oil (or vegetable oil)

1/2 cup Chopped Nuts (optional)

1/2 tsp Vanilla essence

1/2 tsp ground Cinnamon (optional)
CREAM CHEESE ICING:
125gm (4.5oz) Cream Cheese (or smooth Ricotta) at room temperature

2 heaped tbsp icing sugar

1 – 2 tsp Orange Juice (or Lemon Juice)
METHOD:



CAKE:
Pre-heat oven to 190C (375F).
Line a loaf or round cake pan with baking paper.
In a mixing bowl, combine oil, eggs and brown sugar, mix well.
Add grated carrots, s.r. flour, chopped nuts, vanilla essence and cinnamon and
mix well.
Pour into prepared cake pan and bake for 50 mins or until cake is done. (Cake
is done if a skewer stuck in the middle comes out clean.)
Remove from pan and cool completely on a wire cake rack.
CREAM CHEESE ICING:
Beat cheese and gradually add icing sugar.
Add orange (or lemon) juice if necessary, beat well.
Using a spatula, spread icing mixture evenly over the top of cake.
OzLadyM