BRAISED LAMB IN SOY
SAUCE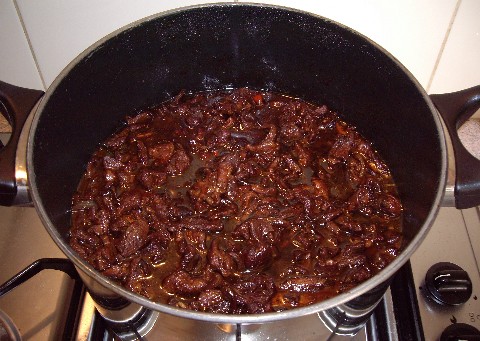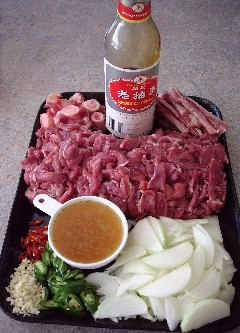 INGREDIENTS: (Serves
8 – 10)
2 kg (4.4 lbs) lamb chops

1 1/4 cup dark soy sauce

1 heaped tsp chicken stock powder (or 1 cube)

3/4 cup hot water

4 medium onions, finely sliced

2 cloves garlic, minced


2 fresh hot green chillies, finely sliced diagonally


1 fresh red chilli, finely sliced diagonally

1/2 tsp ground white pepper

1 tbsps cooking oil
METHOD:




Remove excess fat off lamb chops and slice meat into thin strips, set aside
bones.
Dissolve chicken stock powder (or cube) in 3/4 cup hot water.
In a large saucepan, heat oil and fry onions, garlic and chillies until onions
are limp.
Add sliced lamb (including bones) and stir for approx. 5 minutes.
Add chicken stock, soy sauce and ground white pepper, stir well.
Bring to the boil, stir well and cover saucepan with lid.
Reduce heat to low and simmer for approx. 20 – 25 minutes.
Serve hot with boiled or steamed rice.
OzLadyM