BEGEDIL

(INDONESIAN MEAT & POTATO PATTIES)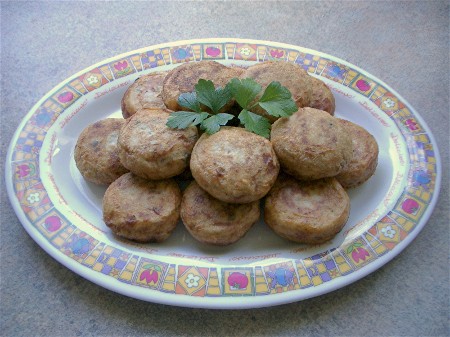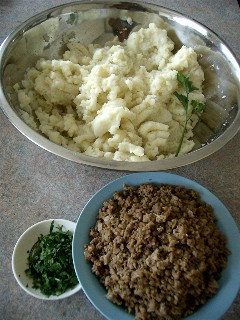 INGREDIENTS: (Makes
approx 24 patties)
1 kg potatoes

500gms/1lb ground beef, chicken or lamb

3 eggs

2 tbsps fried onion flakes

1/2 tsp garlic powder – (optional)


2 sprigs Chinese celery, finely chopped


1 cup dry breadcrumbs

Ground white pepper and salt to taste

1 heaped tbsp plain or rice flour

Cooking oil for deep frying
METHOD:




Peel and cut potatoes into quarters and steam or microwave until cooked
through. Mash and place into large mixing bowl.
In a non-stick frypan, "dry fry" (no oil used) the ground meat until cooked
through. Drain off excess fat.
Add the meat, 1 egg, fried onion flakes, garlic powder, breadcrumbs and Chinese
parsley to the mashed potatoes.
Mix thoroughly and season with salt and pepper to taste.
Using both hands, form mixture into patties and lightly coat with flour.
Refrigerate for at least two hours.
When ready to cook, heat oil in a wok or frypan over medium high heat.
Break remaining 2 eggs into a small bowl, and beat lightly with a fork.
Dip each patty into the beaten egg and fry until golden brown.
Place patties on kitchen paper to absorb excess oil.
Serve hot as snacks or appetizers with chili sauce if desired.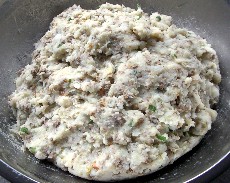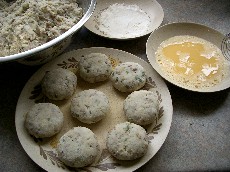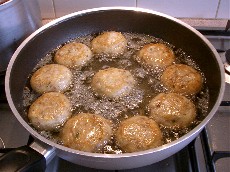 OzLadyM