BEEF VINDALOO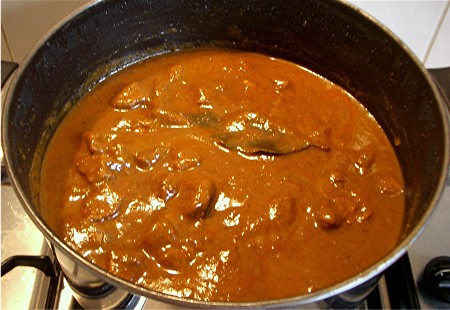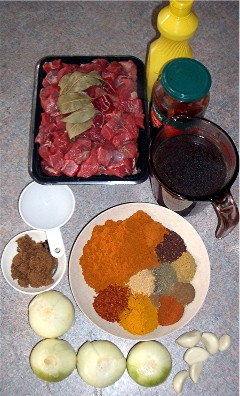 INGREDIENTS: (8
– 10 Hot Serves)
1.6 kg/3.5lbs cubed gravy/stewing beef

4 large onions – peeled, halved & thinly sliced

6 cloves garlic – peeled and coarsely sliced

3 – 4 tbsps cooking oil

4 – 5 tsps beef stock powder

1/2 cup vinegar

5 tbsps tomato paste

1 tbsp lemon juice

5 bay leaves

4 – 5 tsps brown sugar


4 rounded tbsps meat curry powder


4 level tsps ground turmeric

2-3 tsps ground chilli

1 – 2 tsps ground cayenne

1 tsp ground black pepper

2 tsps ground cloves

2 tsps ground coriander

2 tsps ground cinnamon

2 tsps ground ginger

2 tsps ground cumin

2 tsps dried, ground basil

1 – 2 tsps mustard seeds

1 tsp salt or to taste
METHOD: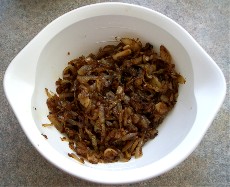 Heat oil in a frypan over
high heat and stir fry onions and garlic until deep golden brown.
Remove onions and garlic from oil, allow to cool slightly and puree in a
blender with 3/4 or 1 cup water.
Pour onion & garlic puree into a mixing bowl, add all the dry ingredients
[excluding mustard seeds, brown sugar, bay leaves and salt] and mix well to
form a thick paste.
Add the cubed beef, mix well to coat with curry paste and allow to marinate for
about 2 hours.
Dissolve 4 or 5 tsps beef stock powder in 1/2 litre (18 fl ozs) warm water for
the beef stock.
When ready to cook, re-heat remaining oil (from frying onions and garlic) in a
large saucepan over medium heat and fry the mustard seeds briefly for about a
minute.
Add the marinated meat and stir fry over high heat for about 5 – 8 mins.
Reduce heat to medium and add beef stock, tomato paste, vinegar, lemon juice,
brown sugar and bay leaves.
Stir well and bring to the boil once.
Add salt to taste, cover saucepan with lid, reduce heat to low and simmer until
meat is tender (approx 1 hour), stirring occasionally.
This delicious hot curry is best served with boiled rice.







OzLadyM