BEEF STROGANOFF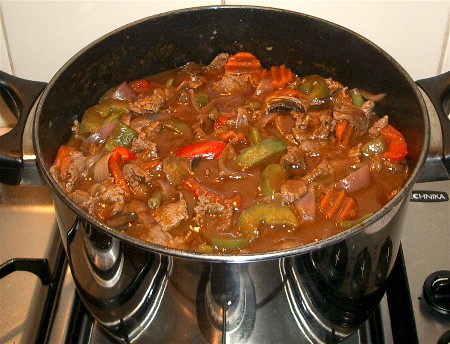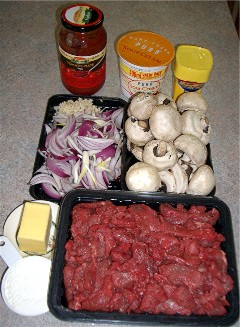 INGREDIENTS:
(Serves 8 or 10 with optional vegetables added)
1.25kg (2lbs 12ozs) fillet or tender rump steak

1/3 cup plain flour

4 tbsps butter or margarine

3 medium onions – peeled and sliced

3 cloves garlic – peeled and minced

250gms (9ozs) fresh mushrooms – sliced

4 generous tbsps tomato paste

3 – 4 cups beef stock

300gm (10ozs) sour cream

1/2 tsp ground black pepper


Cooked rice or pasta of choice


1 – 2 tbsps cooking oil

1/4 cup cooking sherry – (optional)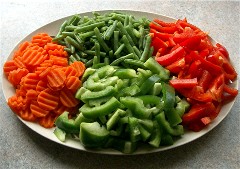 1 medium red
capsicum – (optional)

1 medium green capsicum – (optional)

2 medium carrots – (optional)

250gms/9ozs green beans – (optional)
METHOD:




If using optional vegetables, cut them into bite sized pieces and set aside.
Cut steak into thin, narrow strips (easier done if meat is partially frozen).
Put flour in a large freezer bag, add the beef strips, 'trap' some air, twist
top of bag and shake vigorously to coat meat with flour.
Heat butter/margarine in a large frypan and brown the floured meat quickly over
high heat. Set aside.
Heat the cooking oil in a large saucepan and fry onions and garlic until onions
are limp.
Add mushrooms (and optional vegetables, if used) and stir fry for a few
minutes.
Pour in some of the beef stock and continue cooking until vegetables are almost
cooked.
Add the browned meat strips, remaining stock, tomato paste, sherry and black
pepper.
Stir well and continue cooking until vegetables are cooked through.
Prepare rice or pasta.
Just before serving, add the sour cream and gently stir in and heat through
without boiling (to prevent sauce from curdling).
Serve immediately on a bed of rice or pasta.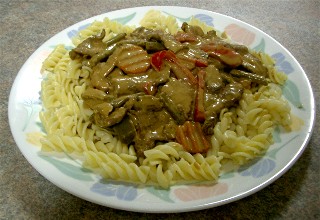 OzLadyM