BEEF & PEPPERS
IN BLACK BEAN GARLIC SAUCE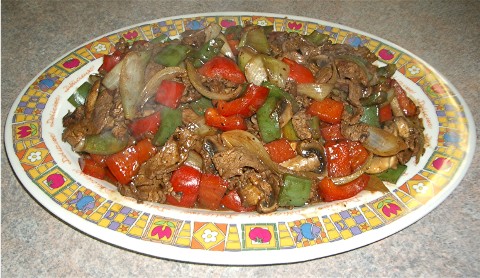 INGREDIENTS: (Serves 4)
500gms/1lb skirt
steak or any tender beef cut

1 large red capsicum – cut into bite-sized pieces

1 large green capsicum – cut into bite-sized pieces

1 large yellow capsicum may be added if desired

120gms/4ozs fresh mushrooms – sliced into 4 – (optional)

2 medium onions – peeled and cut into 8 wedges each


1 (or 3) clove garlic – minced


1 heaped tbsp Black Bean Garlic Sauce

(If unavailable, use Black Bean Sauce and 3 cloves garlic instead)

2 – 3 slices fresh ginger – finely minced (or 3/4 tsp ginger
powder)

2 tbsps cooking oil

1 heaped dsp cornflour

1/2 cup water

1/2 tsp coarse ground black pepper
MARINADE FOR BEEF:
1 tbsp dark soy sauce

pinch of sugar

pinch of bicarb soda (baking soda)

1 dsp cooking oil

1 heaped tsp cornflour

1 tbsp water
METHOD:
Slice beef into thin strips.
In a small mixing bowl, mix all the marinade ingredients, add beef strips, mix
well and leave to marinate for about an hour.
When ready to cook, heat oil in a wok over high heat and stir fry the beef
strips until almost cooked (about 2 – 3 minutes).
Drain and remove the beef, set aside.
To the remaining oily sauce in the wok, add the onions, minced garlic, minced
ginger and Black Bean Garlic Sauce (or Black Bean Sauce) and stir fry for about
a minute.
Add the capsicums and mushrooms, stir fry for another couple of minutes.
Add the beef and stir until well-mixed and heated through.
Add coarse black pepper, stir well.
Mix cornflour with 1/2 cup water and pour over contents of wok.
Stir until sauce thickens and serve immediately with hot boiled rice.
OzLadyM