BANANA CAKE
(Rich & Moist)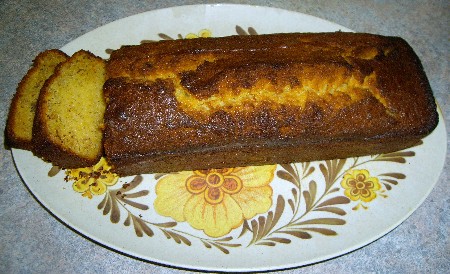 INGREDIENTS: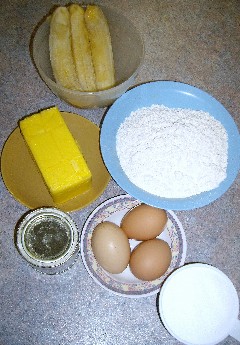 250gm (1 cup) butter, softened

3/4 cup caster sugar (baker's sugar)

2 cups self-raising flour

1 tsp bicarbonate of soda

Pinch of salt

3 jumbo eggs (or 4 large eggs)

3 ripe bananas
METHOD:



Pre-heat oven to 180C (350F).
Line a 22cm (9in) round cake tin or 30cm (12in) loaf tin with baking paper.
Sift together the flour, bicarbonate of soda and pinch of salt, set aside.
Peel and mash bananas, set aside.
Break eggs into a small mixing bowl and beat lightly with a fork.
In an electric mixer, cream butter and caster sugar, gradually add the beaten
eggs and mix well.
Add the mashed bananas and mix well.
Reduce speed of mixer to low and add sifted flour mixture, about a third at a
time, mixing well after each addition.
Increase mixer speed to medium-high and mix for another minute.
Pour mixture into cake (or loaf) tin and bake for approx 1 hour.
Gently insert a skewer in centre of cake to check if cooked through (skewer
should come out clean, otherwise cook for further 10 – 15 minutes).
Remove cake and allow to cool on a wire cake rack.
OzLadyM