ASAM PEDAS IKAN KURAU

(THREADFIN SALMON IN HOT & SOUR SAUCE)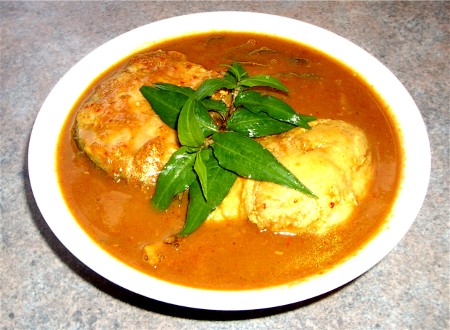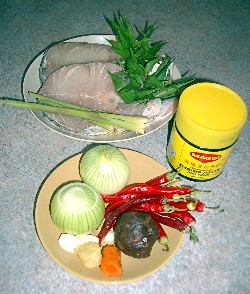 INGREDIENTS: (2
generous serves)
2 threadfin salmon cutlets (or mackeral or skate)

12 – 14 red chillies, fresh or dried – seeded

2 small onions – peeled and quartered

2 cloves garlic – peeled

Several sprigs Daun Kesom (Polygonum odoratum)


1 stalk lemon grass – smashed with a pestle


1 small piece fresh turmeric or 1/2 tsp ground turmeric

1 small piece fresh ginger or 1/2 tsp ground ginger

1 tsp blacan (paste or granules)

Tamarind pulp – slightly bigger than golf ball size

2 cups warm water

2 tbsps cooking oil

Salt to taste
METHOD:




If using dried chillies, soak in warm water to soften, then drain.
Soak tamarind pulp in 2 cups warm water, squeeze to extract "juice".
Blend together, chillies, onions, garlic, turmeric, ginger and blacan until
fine. (If using ground spices, add after blending.)
Heat oil in a saucepan over medium heat and fry blended ingredients and smashed
lemon grass until fragrant.
Add tamarind juice and daun kesom, bring to the boil and add salt to taste.
Add fish, stir just once to mix in the sauce, reduce heat to simmer until fish
is cooked. Do not stir any further as this may cause the fish to fall apart.
Gently ladle into a serving bowl and serve hot with steamed/boiled rice.
OzLadyM