APPLE COBBLER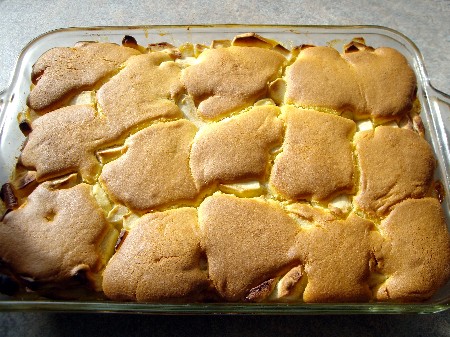 INGREDIENTS: (Serves 12)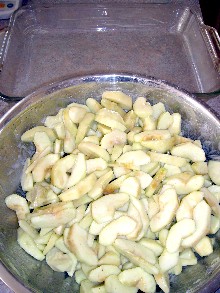 Baking utensil:

1 large Pyrex ™ Rectangular Baking Dish (15″ x 10″ x 2″)
FILLING:
2 kg (4.5 lb) crisp apples (eg. Granny Smith)

1/2 cup sugar

4 tbsp. plain flour

1/4 tsp salt

1/2 tsp cinnamon (optional)

1/2 cup water

75 gm (3 oz) butter (or margarine)

a few drops vanilla essence
TOPPING:
1 1/2 cups S.R. Flour, sifted

1/4 tsp salt

4 tbsp. butter, softened (or margarine)

1/2 cup sugar

2 eggs, lightly beaten with fork

1/4 cup milk
METHOD:



Heat oven to 190C (375F) and lightly butter the baking dish.
Peel, core and slice apples into thin wedges and place in a large mixing bowl.
Add sugar, flour, salt, cinnamon, vanilla essence and water.
Mix well and turn into baking dish and dot evenly with butter (or margarine).
Bake for 12 – 15 minutes.
Combine all the topping ingredients in a mixing bowl and beat with electric
mixer until batter is smooth.
Remove apples from oven and while still hot, drop 15 dollops of batter over the
apples, evenly spaced. (Batter will spread during baking.)
Bake for approx. 35 minutes or until the crust is golden brown.
Serve warm with whipped cream or vanilla ice cream.