Richard B came into my life in late June of '69. Rosemary, whom
I had met when I was doing my secretarial course, had arranged to meet me
outside the Lido Cinema one Saturday afternoon after work but failed to show
up. After kicking my heels for about 15 minutes or so, I popped 10 cents into a
public phone box and rang her home. Her mother had been expecting my call and
gave me a telephone number to ring. I rang the given number and an Australian
male voice answered. I was too angry to speak to Rosemary so I told him to
simply tell her that I would kill her the next time we meet, for standing me
up. This chap obviously had a sense of humour as he responded by inviting me
around to the apartment so he could watch the murder! My whole afternoon was
already ruined anyway, so I thought, "What the heck! I've nothing else to do".
I found my way to the given address in River Valley Road and rang the door
bell.
An Australian guy answered the door, introduced himself as Richard and
explained he was on his way out to collect his laundry before inviting me in.
My eyes were immediately drawn to Rosemary and an "Ang Moh" (Hokkien
Chinese for "Red Hair", meaning Caucasian) in a tight clinch, doing a spot of
spit-swapping on the couch. Upon seeing me, she untangled herself and
introduced me to Dudley (the guy who answered my phone call). She explained to
me in Malay that they met while she was on her way to meet me and she decided
to go with him because he was "just sooo cute!". By this time, I have had just
about enough of everything and wanted to go home. Dudley persuaded me to stay
for a quick drink and while enjoying my Coke, Richard returned and chatted with
me while the amorous pair resumed their game of tonsil hockey. As it was
getting late, I decided to wait for Rosemary so we could share a taxi back to
town. Finally, she got the hint and we left shortly afterwards.
Back to work on Monday morning, I was surprised when the operator announced an
outside call for me. "G'day, this is Dick." "Dick who?" I enquired, while
furiously racking my brains out wondering who the blazes it was. It then dawned
on me that Dick is short for Richard! Somehow he had made a mental note of my
workplace and got the phone number because he was interested in seeing me
again. He seemed such a nice young fellow so I agreed to take the afternoon off
to show him around the city.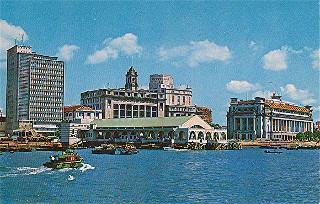 He
told me about himself – that he only recently found employment as a surveyor
with a subsidiary company of Texas Instruments, in the oil exploration
industry. They work in various regions of oil-rich Indonesia for 6 weeks at a
time and enjoy their 2 weeks' leave in Singapore. When I learnt of his
approaching 23rd birthday and that he would be going back to work in a few
days' time, I impulsively lashed out and bought him a Tabac ™ men's toiletry
gift set as I felt sorry for him having to spend his birthday far away his
family and friends. He wanted to have an evening date with me but I told him it
was out of the question as my mother was far too strict with me and any
"hanky-panky" was out of the question as I was expected to remain a virgin
until my wedding night. I jokingly said that the only way he could take me out
at night was to marry me first! He responded by saying, "Let's get married
then." I laughingly agreed and thought no more of it.
Rick left for Indonesia a few days later and I settled back to my working life.
A letter from him arrived about a week later asking me how the wedding plans
were getting on! All of a sudden, it hit me – I realized that he was dead
serious about marrying me. That was when temptation set in. I visualized about
being a married woman… I could smell freedom! No more having to answer to
Mother for every move I make. I did not fall head over heels in love with Rick
as I had become rather cynical about love after the "Proof of Virginity"
episode. I liked him and somehow sensed that he would be a good husband. I
decided to seriously consider marrying him. I nervously broached on the subject
of marriage with Mother and told her all I knew about Rick and his proposal.
Her reaction? She got me to write down his personal details, and headed for the
nearest fortune-teller with the relevant information, hoping to foresee my
future with Rick. Obviously it was quite favorable and Mother was prepared to
meet Rick on his next time off in Singapore.
He was back in Singapore in the first week of August and after warning him of
Mother's highly inquisitive and super suspicious nature, and to bring his
passport with him, I brought him home and nervously introduced him to Mother.
He must have been reading up on how to suck up to your future mother-in-law as
he had brought her a gift of a piece of genuine hand-printed batik sarong and
greeted her by calling her "Mak" (Malay word for mum). I think that
pleased her somewhat. However, Mother was not so easily swayed and insisted on
seeing his passport anyway – pulling Brother aside for an in-depth explanation
of the term "Single" in the Marital Status column. As far as she was concerned,
the word "Bachelor" meant a guy is not married so Brother patiently explained
to her that "Single" means the exact same thing. Of course no explanation from
me would have been acceptable as I would naturally be "covering up", wouldn't
I? Finally, though somewhat suspiciously, Mother accepted this fact and moved
on with her "interrogation process" – more questions about his intentions,
ability to support her one and only daughter, etc, etc, etc… After answering
more questions than in a 'Who Wants To Be A Millionaire?' quiz show, and upon
learning that Rick was willing to renounce his Church of England faith and
embrace our Islamic faith, mother kind of showed her approval by agreeing to
allow me to attend a little party with Rick that night, provided I was home by
11 p.m.
Mother and Brother went about making the necessary arrangements to get Rick
converted to a Muslim and it was formalised on 12th August at the All Malaya
Muslim Missionary Society in Lorong 12, Geylang Road. He took on the Muslim
name of Mahmoud bin Abdullah (meaning "The Praised One, Slave of God").
According to our religion, Rick must be circumcised to become a true Muslim so
he told the family that he would have it done in Indonesia before the wedding.
Rick went back to work soon afterwards. Before leaving, he gave me my dowry of
S$1000 (quite a respectable amount for a dowry back in those days) and a black
star sapphire engagement ring. The wedding was set for Sunday, 28th September
to coincide with the Chinese Moon Cake Festival and also the Lantern Festival.
Why Sunday? Well, Saturday had always been considered as an unlucky day because
Mother said so but seriously, it would be a bad choice for a wedding day as
just about everyone in Singapore works until lunchtime on a Saturday.
I felt so sorry for him but at the same time couldn't help being pleased when I
received his letter describing his agonizing circumcision procedure. I took
that as further proof of his sincerity. Only much later did I find out that
Rick was too chicken to have the circumcision done and instead had paid for a
fake medical certificate when he returned to work! Although rather disappointed
by his deceit, I understood and kept his secret from my family. All my
relatives and friends were astounded to hear of my impending marriage and most
of the relatives naturally suspected that I must be pregnant!
In between working, I had to make all the wedding arrangements on my own as it
suddenly hit Mother that she was about to "lose" her daughter and decided she
was too crushed to get involved. With so much to do and so little time to get
everything done, I didn't waste much time and immediately set the wheels in
motion. I contacted a former classmate of mine, Rohanna, who also happened to
be the niece of my Malay teacher at school and happily she agreed to be my
bridesmaid. Off we went one Saturday afternoon to be measured for our bridal
outfits.

Being
on a tight budget meant that I had to stick to a fairly simple design so I
chose a simple empire line wedding dress with a detachable train only half a
mile long. Together with a tulle veil and the bridesmaid's knee-length outfit,
the total cost came to S$200. The bridal bouquet with real cattleya,
phalaenopsis and dendrobium orchids cost me all of S$25 and that included a
corsage for my bridesmaid, buttonholes for the groom, bestman, Brother and Mr
Ismail, too. I arranged for the wedding invitations to be printed out and made
reservations for approximately 80 guests for an 8 course dinner at a Chinese
Muslim restaurant in Joo Chiat Rd. I shudder to think what that would have cost
at today's prices but back then, it cost S$6 a head. A limousine was booked for
the whole day (S$180) to pick up the groom and his bestman from River Valley
Road thence to Jalan Rumah Tinggi to pick up the bride and bridesmaid, from
there to the All Malaya Muslim Missionary for the "nikah" (wedding)
ceremony, to and from the reception, etc…
In the meantime, Mother, although displaying absolutely no interest in my
wedding preparations, began planning on getting an embroidered "baju kebaya
Peranakan" (intricately embroidered long sleeved blouse) custom made
for herself. With too much time on her hands, she started lamenting the fact
that it would be so "malu" (embarrassing) for her to have to wear the
same outfit for both the wedding ceremony as well as to the reception that
night! I was left with little option but to give her additional money to get
another "baju kebaya" made, as well as yet another "sarong batik asli"
(genuine hand-printed batik sarong). It would have been a waste of breath for
me to mention that I myself would be wearing the same wedding dress (minus the
train) for the reception! I was just so thankful that she had her own set of "kerongsang"
(fancy gold & diamond set of 3 matching brooches linked by short chains) to
use as fasteners at the front of the baju kebaya". Brother, on the
other hand, being his usual considerate self, flatly refused my offer to buy
him a suit. Instead, he headed off to Sungei Road (Malay word for 'River Road')
"thieves market" [a street flea market open 7 days a week] and bought himself a pre-loved suit and a pair of shoes for
about S$25.
I thought everything was running smoothly until one night when mother made the
announcement that she had changed her mind about my marriage and that it should
therefore be called off. I had doubts within my heart about marrying Rick but I
had made up my mind to make the best of things and try to be a good wife. It
was way too late to call the wedding off as all the invitations were sent out,
most of the dowry had been spent and there was no way I could get enough money
to repay Rick. Besides, I did not want Rick to think that I had swindled him. I
was at my wit's end and I decided to end it all by jumping off one of the
apartment blocks nearby. With tears streaming down my cheeks, I made my way to
the top floor and tried to gather enough courage to jump. The couple living
there had been watching me and the husband brought me inside their flat and
managed to talk sense into me. He walked me home and when Brother learnt what
had happened, he consoled me by saying that as my legal male guardian, he would
give me the necessary permission to marry.