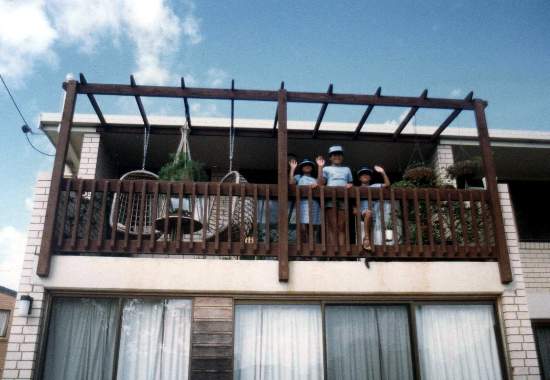 If Rick realized our marriage was on the rocks, he certainly didn't show any concern and behaved as though everything was hunky-dory. My unhappiness kept mounting up until I finally couldn't take anymore and decided to lay my cards on the table. I waited until the kids were at school one day and before his daily drinking session began, I asked Rick if he was happy within the marriage. My heart finally broke that morning when he vehemently insisted that there was nothing wrong with the marriage and that the unhappiness I felt was all in my head! As he ran his finger over the dust on the TV cabinet, he added that I should be doing more housework instead of feeling sorry for myself and keeping company with Bev. When I tried to justify the friendship and explained how much it meant to me to have a confidante, he sneeringly said that maybe Bev and I were having a lesbian relationship! I then blurted out that I was seriously thinking of leaving him. "Huh! You won't leave me! Where would you go? Who would want you?" he replied scornfully. Before I could bite my tongue, the words spilled out of my mouth. "Wayne would!" "Oh yeah? I'll bet you anything you won't last a year with him! As for me, if you leave me, there'll be dozens of women who would be queueing up to take your place. You're worth nothing!!! If you leave me, I know you'll come crawling back and then I will have the satisfaction of kicking you out!" I angrily replied, "I'd rather scrub floors for a living than come crawling back to you!" before marching out of the house and going over to the dunes. I spent time looking out at the ocean through tear-filled eyes until it was time for school to be out.
I timed my return with the kids' arrival from school and both Rick and I carried on as if our earlier "discussion" never took place. That night after the kids were asleep, an alcohol-fuelled Rick began groping me and was completely taken aback when I recoiled from his advances and tersely said, "Don't you ever touch me again!" It wasn't long before he again tried to touch me as he slurred, "I can bed (not his exact word) you anytime I want because you are my wife!" Although scared out of my wits, I bravely countered with, "You touch me, mate, and I'll charge you with rape!" Oh how thankful I was that he took my threat seriously as he got up and staggered off to bed. I spent the rest of the night in the loungeroom.
A couple of days later, he casually suggested that we drive to Brisbane so he could celebrate his birthday with Wanda and her family. I knew it would be an impossibility for me to once again put on a happy face and act as if nothing was wrong in front of his family so I suggested that he went ahead and take the kids with him so I could have some alone time. He agreed and left the day before his birthday, with the kids in tow. I invited Bev over for a cuppa so I could cry on her shoulders. Within minutes of sitting down with our coffee, the doorbell rang to reveal a delivery man with a floral arrangement for me. It was from Rick – a guy who never believed in sending flowers for no reason at all and insisted that husbands who send flowers to their wives outside of birthdays and anniversaries only did so because they're guilty of having affairs! I think that was the straw that broke the camel's back – I burst out sobbing uncontrollably and dear Bev quickly hugged me like a big sister that I don't have. I poured my heart out to her and told her that I had to leave before Rick's return. I rang Wayne up and told him that the marriage was over and that I would be coming down on the first available flight out of Brisbane if he would have me… Calmly, he told me that he would be waiting. With that assurance, I hastily packed a few of my belongings into a suitcase and threw it into Bev's car. I rang Rick up at his sister's place and told him that I was leaving for Melbourne. Surprisingly enough, he didn't sound perturbed and merely asked if I got the flowers! She then drove me to the bank where I withdrew enough cash for a plane ticket and from there it was straight to the airport to catch the next flight to Melbourne. Bev and I clung to each other and with tears in our eyes, she wished me luck and we said goodbye.


A man of his word, Wayne was waiting for me when I arrived and we went straight to his apartment where he tried to calm me down with a couple of stiff drinks. No questions were asked, he just held me tight until my trembling stopped and he put me to bed like a child. I finally succumbed to a disturbed sleep and was told that I kept waking up crying during the night. The next morning, we sat down and began discussing the next step that I should take. I rang Rick the following day to tell him that I was with Wayne and they spoke briefly with Wayne assuring Rick that he would take good care of me. I then spoke to my children and explained that I would be away for awhile and would be back when I was more settled. Rick was gracious enough to give me $50 allowance a week and told me that his mum would mind the kids when he returned to work. At the time, while waiting for a proper job in the aviation industry, Wayne was working with a crew that was busy with the restoration of an old Hercules aeroplane at Laverton RAAF Base. He insisted on taking me along to be his gofer just so I wouldn't have time to mope around while he was at work. Gradually, I began to see a glimmer of light at the end of my dark tunnel. The guys made me feel right at home and I was more than happy to be the drinks lady when I wasn't gofering in the plane. We continued with this relaxed lifestyle for about 6 weeks until the job was completed. I was to stay on my own for a few days while Wayne joined the crew to ferry the Hercules to France. On the morning of their departure, not long after Wayne left, I received a phone call from Air Niugini to inform Wayne that his application for the post of a Flight Engineer Officer with the airlines was successful and he was to report a.s.a.p. for further instructions. I managed to get through to the Richmond RAAF Base and left an urgent message for Wayne to return my call when the Hercules aircraft lands for a check enroute to France. After hearing the good news, he hastily passed on the ferrying job to a mate of his and got on the first commercial flight back to Melbourne. Thus began the mad rush to pack everything up and clean the apartment before driving back to Queensland in preparation for Wayne to move to Port Moresby to start on his new job. We both felt a mixture of joy and sorrow – joy at the prospect of a better job and therefore a better future, sorrow that we would soon be apart again. After his departure to New Guinea, I headed back home to Kawana Waters, resolving to sort out my life once and for all.
When I reached my marital home, there was no car to be seen and worse still, nobody was around. My keys wouldn't open the front doors – Rick had changed the locks and I couldn't get inside! Anxious and desperate, I raced over to Bev's place to find out if she knew anything. Nope, she didn't know anything except for the fact that the house had been locked up for the past few days and she hadn't seen Rick's mum nor my kids since then. Together, we somehow managed to pry loose a few louvres off a back window leading to the laundry so I could climb inside to unlock the keyless laundry door. (Thereafter, the laundry door was left unlocked as it was to be my only means of entry and exit until the kids' return.) Failing to find any message that would explain the kids' disappearance, there was only one thing left to do so we headed off to the nearest Family Law solicitors to seek help. Legal wheels were put into motion straightaway – the solicitor who was assigned to my case promptly contacted Rick in Alice Springs and was told that the kids were with him. Apparently, he didn't want me to get custody of the children as he considered me to be an unstable parent. My solicitor immediately informed him of my legal rights and that the children had to be returned to me on the first available flight out of Alice Springs or he would face kidnapping charges. Well, that didn't go down very well but reluctantly he had to comply. I was a nervous wreck for the next couple of days as Rick tried many, many delaying tactics to prolong my agony. I had to deal with anger-filled late night phone calls telling me to commit suicide as it would be easier to tell our kids that their mother was dead then to tell them that she had run away with another guy! I dutifully wrote down details and contents of the phone calls and informed my solicitor. She assured me that all would be well and within minutes, she had everything organized, right down to the flight details of a domestic airline that had plenty of seats available. She then contacted Rick with the flight details, giving him no other option but to get the kids home to me. I was informed that my car was at Wanda's place as was the half-dingo puppy that Rick had bought for Deej as a birthday present that he didn't ask for nor want! Wanda would meet me at the airport so I could get my car back. I was prepared to catch the Greyhound bus to get to the airport as Bev couldn't leave her kids home alone. By this time, news of my predicament had reached Nancy and her husband, Des, who insisted on driving me to the airport to get the children. The date was Saturday,, September 17th – Deej's 10th birthday, so before leaving for the airport for the evening arrival of the plane that would bring my kids back to me, I baked a cake for the occasion.
When we reached the airport, Wanda and John were already there with the keys to my car and a spare set of keys to my marital home. Needless to say, it was a rather awkward moment for us all but we managed a polite exchange of words without being melodramatic. I was also told that Deej's dog was in the car as they didn't want it at their place after it killed a couple of their chickens. They soon left the scene and Nancy, Des and I headed for the arrival lounge to welcome my kids. My heart remained in my mouth as Nancy held my hand comfortingly until my dear children appeared. What a sorry sight met our eyes – all three kids looked like they had recently tumbled out of bed and had dressed in a hurry in the dark! But the joy of finally seeing them in the flesh again was indescribable. After hugs all around, we went over to the baggage carousel to collect their luggage which incidentally included two pet cages with our pet cats, Ashy and Smokey. While waiting, I had a good look at my three kids – all three could definitely do with a hair-cut, the clothes they had on were all badly crumpled and little Nina had her shoes on the wrong feet… Apart from that, they seemed to be well-nourished and happy enough. With all baggage collected, we headed out to the car-park and with the kids, cats, dog and luggage crammed into the car, we started on the journey home. By this time it was raining pretty hard and it was decided that I would lead the way home with Nancy and Des following, in case of any emergency. So I put the key into the ignition, turned on the engine and first thing I noticed was the low fuel warning light. Oh great! I signalled to Nancy and Des to tell them that I needed to find the nearest petrol station before pulling out of the parking lot. With the rain lashing down mercilessly, I switched on the windshield wipers but to my utter dismay, they were not working! Now what? Des came over and we scratched around for a piece of string long enough to tie to the wiper on the passenger side and for Deej to grab a hold of while seated beside me. At long last we were ready to hit the road for home. Everytime I needed the wipers to work, I'd say, "Pull!" and Deej would give the string a tug. We soon reached a petrol station for a fill-up and a couple of hours later, we arrived at my place. Nancy and Des stayed for coffee and a slice of Deej's birthday cake before heading home. A few days later, Des took the half-dingo puppy to the pound before our two cats became its victims. I thank God for blessing me with such wonderful friends…
The next day, I lined the kids up for their long overdue hair-cuts so they once again looked presentable. Afterward, they insisted that I accompanied them to visit a couple of friends that they had made during my absence. Somewhat reluctantly, I agreed and was warmly greeted by the Wenzelmaiers, an Austrian family with a son in the same class as Deej and a younger daughter who also attended the same school. We immediately hit it off and it wasn't long before their home ( short block away) became a haven for me when I needed to get away from Rick when he was in town. Naturally, I dreaded his homecoming but knew that I had to deal with it, sooner or later. The day finally arrived and thankfully, we both managed to behave civilly in front of our children. By this time, the kids were back at school so we were able to try and sort out our affairs out of their earshot. Rick flatly refused to leave the marital home and it was decided that we continued to live under the same roof but would lead separate lives. We attended the compulsory counselling session in accordance with the Family Law regulation in the breakdown of marriages where there were children involved. What a waste of time that was – the counsellor that attended to us was so blatantly biased that it sickened me. As soon as she found out that I am a Muslim, she turned her full attention to Rick and totally ignored me! Rick lapped up the attention and as we left the office, he smiled and told me how much he liked her. "Good for you!" I muttered under my breath, vowing that I would definitely not be attending future sessions. After an exhausting two weeks of sharing a house with Rick, I was mighty glad to see the back of him when he left to return to work. After his departure, I discovered to my horror that he had broken the lock to my camphorwood chest and had rifled through the contents, taking with him a small stack of girlie magazines that I had agreed to store for Wayne before he left his mum's place to move to Melbourne. He called that night and asked, "Noticed anything missing?" before threatening to use his find against me as proof of my unsuitability as a good mother. This worried me big time so off I went to my solicitor to seek advice. To my great relief, she merely laughed and told me to not worry about it – it would be different if I had the magazines scattered around the coffee table!
If I was uncertain before, this incident removed all doubts from my mind – this living under the same roof while going through a separation would never work. Since Rick was adamant in his refusal to leave, I decided that I would move out of the marital home. Money shouldn't be a problem as we had a savings account with a fair bit of money in it, so off to the bank I went. Oh woe is me, the account had been practically cleaned out, with only the minimum amount remaining! The cheque account we had had been closed, too! Now what? I had a few hundred dollars cash saved up for a rainy day but it wouldn't be enough to cover the bond money, one month's rent in advance and removal costs. I had no choice but to bide my time while I furiously saved every cent that I could spare. I tightened my belt for the next few weeks and by the time I began receiving the Supporting Parent payment from the government in my new bank account, I had enough money to cover the costs of the big move. When Wayne was finally able to contact me, I told him of my impending move. He was so supportive and insisted that I take his washing machine, bar fridge and whatever else that I needed from his mum's place where he had his belongings stored. Should I need financial help, I could always count on him, too. I gladly accepted his offer of the whitegoods, his small TV and queen-sized bed but clung to my pride when it came to financial aid. I was so fortunate to find a sympathetic realtor who was a single parent herself. She waived the references required for new tenants and approved my application for the rental of a two-bedroom (plus a study) unit in Mooloolaba. Just before Rick was due back in town, I hired the services of a removalist to go and collect Wayne's whitegoods, small TV and bed from the house he shared with his mum in Geebung and then to the marital home to pick up several pieces of treasured furniture, including the children's beds. The removalist was amazed when I told him to leave most of the furniture behind and remarked on my "generosity". He said when his wife left him, she cleaned the house out leaving him with only a card table and the family cat! The kids continued attending Buddina State School until the end of the school year and I enrolled them in Mooloolaba State School the following year, as it was a mere 5 minutes walk away from my unit. This meant saving a few precious dollars in petrol costs which was quite a big deal when every dollar counted. It wasn't long before the kids and I settled in the unit – Deej was quite happy to make the study his bedroom, the two girls shared the bigger of the two bedrooms whilst I took the smaller one.
I didn't realize it but the stress had taken its toll on me… One morning, I went into my solicitor's office to keep an appointment and as usual, she cheerily asked, "Hello Mona, how are you today?" "F-ffine, I think," I responded and promptly burst out sobbing! She took one look at me and immediately reached for the phone to arrange a visit by a social worker to help me deal with my breakdown. I was advised to see a doctor for sedatives to calm me down and help me sleep but not being one who's keen on popping pills, they remained untouched in my medicine cabinet… Slowly but surely, I recovered from the emotional breakdown and eventually succeeded in conquering my insecurity, fears and anxiety to once again lead a fairly happy life as a single parent of three kids and two cats.