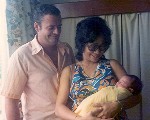 After the excitement of Brother's wedding, I became excited for a different reason – I raced out and bought a home pregnancy test kit but alas, it gave me a negative result. Unsatisfied, I went out and bought another test kit a couple of weeks later and that too proved negative. By this time, I had worked myself to such a state that I was convinced I had developed a fatal "feminine" disease of some kind. Then again, maybe I had fallen victim to the dreaded cancer! Upon Rick's return on home leave a couple of weeks later, he suggested that we go to our local GP for consultation and a referral to see a specialist. Our GP, Dr. Wong,
also did a pregnancy test and when that proved negative, he immediately referred me to a top gynaecologist and obstetrician, Dr. Richard Lee. You can imagine my state of mind by this time – I thought for sure, "I am going to die!"
Rick didn't appear too concerned so I immediately took my worry and frustration out on him, accusing him of being eager to see me die so he could marry someone
"healthier". An appointment was made the very next day and after a sleepless night on my part, we set off. Dr. Lee turned out to be a wonderful doctor who
had a wicked sense of humour. He did an external examination which involved pressing my abdomen here and there while listening with his stethescope before
calmly saying, "Well, the news can be bad or good, depending on your expectations…" My heart began pounding even harder than before as we anxiously waited for Dr. Lee to continue. "…if you expect to lead a carefree life, then the news is not good… no, no, don't be alarmed, it isn't cancer AT ALL!…. you are going to have a baby!!!" "That cannot be!" I exclaimed, "All three pregnancy tests had given negative results!" Without further ado, he proceeded to do an ultrasound and lo and behold, we heard the baby's heartbeat!
After congratulating us, Dr. Lee asked me if I had noticed any unusual changes, for example, fuller breasts, food-craving, thicker waistline, etc. I replied I
was never in the habit of admiring my body, and as for food-craving, nothing unusual at all, as I always love food. Both Rick and I agreed for me to be under Dr. Lee's care for this pregnancy and childbirth and after appointments were made for antenatal classes and so on, we left his surgery, grinning like apes! We practically waltzed our way across the road to our stomping ground – the Pebble Bar at the then Hotel Singapura Intercontinental. Upon seeing his mates there, Rick happily announced for all to hear, "I'm going to have a baby!"
We had been scheduled to fly to Brisbane, Australia, at the end of the month (March) for 6 weeks' holiday so we decided the good news to Rick's family could
wait until our arrival. Everything went smoothly until the BOAC (British Overseas Airways Corporation) plane landed at Brisbane Airport. Due to an oversight by BOAC, I had been allowed to fly into Australia even though my smallpox vaccination had expired. I was therefore to be held in quarantine for about a week (or was it two weeks?) at Lytton Quarantine Station, near the mouth of the Brisbane River. Rick was given the option of either staying with me or be with his family and thankfully, he chose to stay with me. We were allowed to send word to waiting relatives about the situation and shortly after, a rather curious airport employee came up to me and asked if I was on good terms with my in-laws. It seemed that Rick's folks upon being told that I was going to be quarantined because I was pregnant, were delighted with the news!
The time spent at Lytton was pretty good – all our needs were catered for, with a live-in nurse being employed to take care of me in case of any complication
with my pregnancy. It was a comfortable set-up – we were housed in a furnished cottage with everything we needed and a fridge full of food. Newspapers were
delivered every morning, the latest magazines supplied and best of all, our main meals were cooked to order and delivered right to the doorstep. We occupied our time playing card games, watching tv or reading. Now if there had been a spa, swimming pool and gym, we would have enjoyed it all even more. I don't know if they would have been able to cater to any strange food cravings on my part though so it was just as well I didn't develop a hankering for some durians! Before we realized it, we were free to leave and commence our holiday.
As it turned out, my sister-in-law, Wanda, was also pregnant with her first child so we were able to shop for baby stuff and maternity outfits together, which turned out to be a lot of fun. Wanda, her husband John, Rick and I also enjoyed a holiday together in Maroochydore on the Sunshine Coast. [Maroochydore was probably named after the local Aboriginal word 'marutchi' meaning 'black swan' or 'marutchi dora' meaning 'water where the black swan lives'.] We had great fun fishing and getting oysters off the bridge pylons at Bli Bli, (Aboriginal word meaning many swamp oak trees) along the Maroochy River. It was great that we got on so well together and that they were able to spend a lot of time with us. Apart from the initial "excitement" of being in quarantine, our holiday went smoothly and all too soon, it was time to fly back to Singapore, armed with baby stuff and the family's best wishes.
Shortly after our return, unbeknownst to me, Prudence organized a baby shower for me, pretending it was just another of our usual mahjong sessions. I
received gifts galore from our mahjong clique – from baby clothes to nappy pins! What a surprise it was and I was very grateful for having such a thoughtful, wonderful friend. Is it any wonder that we remain good friends to this day?
The months quickly flew by and by July, the nursery was fully set-up in soft neutral colours of yellow and white. Soon it was September 7th, the estimated
time of birth of our first-born but alas, not even a hint of a contraction! Dr. Lee decided that the birth should be induced so I was admitted into Gleneagles
Private Hospital on the morning of September 10th. I could hardly contain myself, excited at the prospect of coming home with a baby in my arms. Lunch time came and went but not a single sign that the induction was working. Finally, at about 3pm., Dr. Lee gave me the ok to go home and wait for Mother Nature to do her job. By this time, I was hungry and miserable so it was off to a restaurant for a feed of steak before going home.
On September 16th, I decided that I would give my baby a bit of a shake up so he/she would be only too happy to leave the comfort of my womb. Refusing to heed Rick's adamant advice to rest, I decided to scrub the floor – none of the gentle mopping and such, it was straight down on my hands and knees with detergent, bucket of water and a scrubbing brush! By late afternoon, I was not only feeling a little tired but also hopping mad as there was still no sign of a labour onset. Well, I thought to myself, I will indulge in a huge serve of Rojak from the Chinese Rojak man doing his round of the neighbourhood and give the baby something nice and spicy for a change. After consuming the delicious Rojak, I didn't feel like dinner that evening, so after a shower, I sat in bed and played solitaire with a deck of cards while Rick, who was probably exhausted from watching me work, fell asleep soon after 9pm. Oh no! It was 2am, sleep was still evading me and I began to experience some discomfort – probably too much Rojak, methinks! Rick woke up and was concerned that I was still wide awake and when I told him of my discomfort, he leapt out of bed like he was on fire. He was dressed in a flash and grabbing my hospital bag, a paperback novel and the car keys, he bounded down the stairs as if the devil himself was after him. Meanwhile, I sighed and reluctantly got changed out of my nightclothes visualizing in my mind the embarrassment we'd feel when we get to the hospital
– I just KNOW it was just a touch of indigestion, really! Rick came bounding up the stairs, this time to get me and practically carried me downstairs! After we
got in the car, I was surprised to see Rick leaping out again – he had forgotten to put his shoes on! We then set off towards the city but I thought
it rather strange that the car was practically crawling down Geylang Road so anxiously enquired if something was mechanically wrong with the car. "Oh no,
nothing's wrong, I'm looking for a coffee shop that's open as I'm almost out of cigarettes!" came the hasty reply. Well anyway, after buying a carton of
smokes, we went on our way to the hospital as planned. Upon arrival at about 4.30am, Rick raced into the reception and announced loudly, "My wife's having a baby!"
The next thing I knew, I was put into a wheelchair amidst loud protestations that I was perfectly capable of walking the short distance from the car-park.
By the time they had settled me into my private room, all the discomfort had left me which of course made me even more embarrassed at the "false alarm",
fully convinced that it was DEFINITELY a case of indigestion! Matron came bustling in and convinced me to stay for a few hours anyway, "…at least until Dr.
Lee does his round at about 9am." In the meantime, I wasn't allowed any breakfast, "just in case…" No choice for me except to sit in the hospital bed playing solitaire (yep, I remembered to grab my deck of cards!) while Rick made himself comfortable in the room, trying to start reading his paperback novel while puffing away like a chimney, quickly filling up the ashtray. Dr. Lee sauntered in nonchalantly at about 9.15am and did a quick examination on me, then with a beaming smile, announced, "Today's the day!" He then left instructions with the sister-in-charge to contact him later on before waving a cheery goodbye to us. Lunchtime came and I could only watch dejectedly while Rick tucked into the delicious smelling hospital meal while I drooled longingly. Shortly after lunch, I felt slight contractions and a few minutes
later, I just about cried with shame when I thought I'd peed in bed. Rick went to get the nurse and upon seeing what had happened, she calmly said, "Oh, excellent! Looks like your waters broke!" Dr. Lee was immediately contacted and within minutes of me being wheeled into the delivery room, he appeared. At 2.29pm, Derrick James was born!
Dr. Lee later related to me Rick's reaction upon hearing the news. "When I entered the room, your husband was sitting transfixed in his chair, staring at page 1, Chapter 1 of his upside down book! I said, 'Congratulations, Mr. B., you are the father of a healthy baby boy!'" Rick then bounced out of his chair and exclaimed, "What??? Already??? Bloody great! Thanks!" and just about wrung Dr. Lee's hand off in an exuberant handshake! I was wheeled back into my room with baby Derrick in my arms. Of course as soon as the medical staff left the room, I opened up my bundle of joy to closely examine every part of his anatomy to see for myself how perfect he was. I am at last a mum!