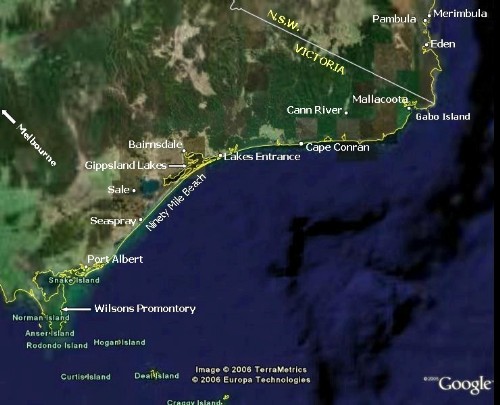 Click on map for larger image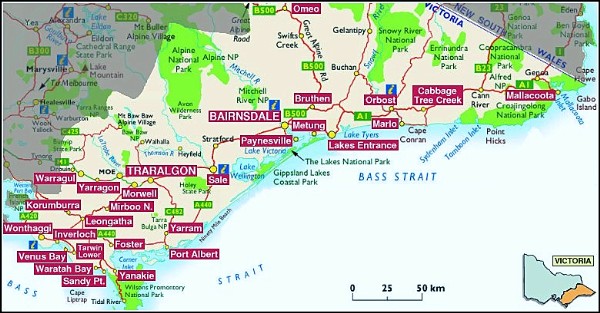 My MOTH (Man Of The House) decided to take a week's break from work so we could once again experience life as Grey Nomads. This meant that I had to tear myself away from home duties and prepare for the road-trip (mind you, it wasn't easy taking leave from my favourite 'past-time' (i.e. housework) and required a LOT of will-power – NOT!). 

  After half the contents of our fridge and freezer were transferred to the fridge/freezer of our motorhome, "Just Trip'n", we threw in some clothes, our fishing gear, some movies on dvds, grabbed my iPod on the way past and headed out the door. 

After a leisurely drive with various stops at all the Foodworks supermarket franchises on the way, in the hope of getting some smoked beef sausages that we had sampled on a previous roadtrip to Lake Eildon, in between snacking on curry puffs that I had made, we arrived at Lakes Entrance in the late afternoon and decided to spend the night at the Sunnyside Caravan Park.

As I was about to head off to take a shower, my MOTH stormed in the door and muttered something about a fornicating tree branch having an altercation with our fornicating tv antenna! He was so not happy that I thought it best to postpone my shower plan and see what the problem was. The host, Eileen, seeing the two of us staring at the roof of Just Trip'n, ambled over and upon seeing our predicament, ambled off a little quicker to get a ladder for us. My MOTH scaled up the ladder like a spritely teenaged boy and proceeded to try and shake the offending branch free from our antenna but to no avail. I offered my sharpest knife to the MOTH so he could saw off the branch but of course that effort failed, too. Next to join the happy group was the host himself, Paul. He came bounding out with a pair of bolt cutters and handed it to my MOTH. 

That certainly did the trick and while he was perched precariously on the topmost rung of the ladder, Paul cheekily told my MOTH that while he was up there, he may as well lop off as many branches as he wished. He then went back to his residence to carry on watching footy on tv. 

After footy was over, he came up to us, full of apologies for the inconvenience and offered two complimentary discounted dinner vouchers for the Bowls Club which we declined anyway. Our dinner that night was prawn sandwiches using yummy cooked and ready-peeled prawns we had bought from a roadside seafood vendor in Pakenham earlier that day. Dessert consisted of fresh strawberries and cream that I had brought from home.


The next day, we checked out the township of Lakes Entrance before continuing on our trip. The picturesque Lakes Entrance (originally known by Europeans as Cunninghame after a prominent squatting family in the area), is 319 km east of Melbourne via the Princes Highway. As its name suggests, Lakes Entrance is situated at a man-made channel that links Bass Strait and the Tasman Sea and is the gateway that allows ocean-going vessels access to the Gippsland Lakes, the largest navigable inland waterway in Australia. Fed by five major rivers (Mitchell, Nicholson, Tambo, Avon & LaTrobe) and linked by narrow channels, the Gippsland Lakes cover 400 square kilometres and extend 90 km down the coast. 

These coastal lagoons were formed when the ocean's sand deposits created long sandspits, low-lying sand islands and dunes which eventually formed a barrier known as the Ninety Mile Beach, separating Bass Strait from the calmer waters they enclosed. The rivers which flow into the area deposited silt and clay which divided the inland water into a series of lakes and swamps.

From Lakes Entrance, we headed off to the township of Buchan which is set within the pretty Snowy Mountains and the Baw Baw National Park. A perfect place from which to explore the Buchan Caves, a honeycomb of caves full of spectacular limestone formations. Buchan Caves were formed by underground rivers cutting through limestone rock. The formations are created by rain water seeping through cracks and dissolving some of the limestone. As each droplet comes through the roof it deposits calcite which crystallises in a small ring. In time, stalactites are formed on the roof of the cave, and stalagmites build up from droplets which fall to the floor. There are tours of the numerous caves including Fairy Cave, Moon Hill Caves and Royal Cave but at the time, we were preoccupied with a problem at hand. As we were driving into the Buchan Caves Reserve carpark, my MOTH noticed that the brake warning light had come on so he naturally became quite concerned. As a result, we both lost interest in doing a tour of the caves – besides, we felt disinclined to go tramping around in the by then steady downpour. There's always next time, we said…

We back-tracked to the Princes Highway to the country town of Orbost, named for the first cattle run in the area settled by a Scot, Norman McLeod, who hailed from a village of the same name on the Isle of Skye. Orbost is the service centre for the primary industries of beef, dairy cattle, and sawmilling. From Orbost, we continued driving on Marlo Road, passing contented cattle lazily grazing in lush pastures along the Snowy River on the way to the tranquil seaside resort and fishing town of Marlo, where the Snowy River meets the sea. Marlo developed into an important port between the 1850s and the 1880s, before the arrival of the railway at Orbost. 

During that period, paddle steamers, schooners and ketches plied the lower reaches of the Snowy River and the produce of the Snowy River valley (reputedly one of the richest river valleys in the world) was carried by sea to Melbourne. Thinking that we would be back in a couple of days to fish the Snowy River and with our minds still pre-occupied with the warning brake light, we put off taking photos of the area so I 'pinched' a couple of photos from Travel Victoria website. Please visit this website for more beautiful photos of Victoria by selecting a city, town or suburb in the "Please select" box.


My MOTH decided to push on with our travel plans anyway with every intention of getting the brake problem fixed as soon as possible. He drove cautiously, taking care not to use the brakes too much. From Marlo, we traveled on to Cape Conran Coastal Park (11,700 hectares in area) where I scrambled around the rocky shores looking at small mussel colonies in the rock crevices, growing in harmony with clusters of Neptunes Necklace seaweed. While busy picking up some tiny but pretty sea-shells, I lost my footing and almost fell arse over head into one of the numerous rock pools! Luckily no harm done, only a slightly sore big toe and wet sandals resulted from this little mishap. 


After spending some time finding and scrambling my way back to level ground, I told my camera-clicking MOTH about my near accident. The ever-caring darling was greatly relieved that I didn't fall into the pool as my camera would have gotten wet!!! After checking out the jetty, we went back to Just Trip'n for a refreshing drink before continuing on to Cabbage Tree Creek to get back on the Princes Highway.

We turned off the Princes Highway at Manorina for a 23 km drive to Bemm River

 where we stopped at Luderick Point for a late lunch of fried chicken wings that I had brought along for the trip. 

As soon as we got to the memorial park, I spotted a flock of waterbirds sunning on rocks on the riverbank and quickly grabbed my camera to snap some photos. Unfortunately, as soon as I approached for a closer shot, the whole flock flew off! Bemm River is a small riverside town without any petrol station. Like many Victorian rivers, Bemm River filters through a sand bar to get to the sea. Occasionally, when the water level in the inlet becomes too high, the entrance to the river is blasted to allow more water to flow out. 

This bream capital boasts a nominal population of about 70 residents with one hotel/pub, a general store, community centre, two caravan parks and several accommodation houses. From Bemm River, we back-tracked to the Princes Highway, travelled on to Genoa where we turned off to Mallacoota. 

Feeling slightly dispirited and not finding much of interest to us in Mallacoota, we got back on the highway and travelled on to Eden to spend the night at the 4-star rated Garden of Eden Caravan Park. A beautiful place indeed, set amongst shady trees, spacious lawns and sculptured gardens. We were amazed to find that they even have heated floors in the showers! We had a 'murtabak' each (Indian flat bread filled with egg, spiced lamb mince and onions and shallow fried in a little ghee) with lamb curry – leftovers from Father's Day lunch the Sunday before. Dessert was mulberry yoghurt. Yum!


The next morning, we went to the port of Eden for a bit of a look-see. Eden is

 the most southern port in NSW, and services the South Coast towns of Bega, Merimbula, Bombala and Cooma. 

This port is home to one of the largest fishing fleets in NSW with a 200 metres long main wharf and approximately 6,000 sq metres of paved storage area. Eden, a former whaling town situated on the deep natural harbour of Twofold Bay, is rich in fishing and whaling history and is the southern gateway to the Sapphire Coast. We had been there many, many moons ago and tried our luck fishing near the wharf. 

All we caught at that time were slimey mackeral by the bucket-load and seeing no anglers around, we figured it would be a waste of time and bait to wet our lines. After snapping a few photos, we went looking for a gas station to enquire about a brakes repair centre. We were advised that our best bet would be to enquire at the township of Merimbula, so off we went.


Located 34 km north of Eden, Merimbula is a popular seaside town rising on the tree-clad hills around Lake Merimbula which is actually the wide mouth of the Merimbula River. There are a few Aboriginal translations for the name Merimbula: "Two Lakes" (Top Lake and Merimbula Lake) or "Two Waters" (place where two waters meet) and "Big Snake" (because of the shape of the river/lake, perhaps?). 

The town was discovered by Bass and Flinders in 1797, first as a private village before opening as a port in 1855. 

Its main 6km beach is popular for water sports, in particular, surfing, sailboarding and swimming. We located a Mercedes Service centre but unfortunately their mechanics were fully booked so we were re-directed to a commercial truck service centre in Pambula.

Pambula is situated approximately 5 km south of Merimbula. 

This historic village was discovered by George Bass on 18 December 1797. Meaning "Twin Waters" in the Yuin Aboriginal language, Pambula was spelt "Panboola" or "Panbula" in the past. It became popular for a very lucrative off-shore whaling industry, as part of the Imlay Brothers empire at Twofold Bay in the early 1800's. 

It has also been a rich farming area for growing maize and oats as well as 

gold mining until cyanide for dissolving the quartz became too expensive. Present day Pambula is a quiet little rural township with craft shops and several historic buildings. I would dearly love to know what the dilapidated wooden structure (pictured right) used to be. Maybe it was a small grain silo?
We arrived at Southern Trucks Pambula workshop only to find out that the mechanics would not be able to attend to us until lunch time which was almost an hour away. 

Not wanting to twiddle our thumbs for that long, we decided to drive to Pambula Beach to get a feed of fish and chips. We were out of luck as the only takeaway shop's kitchen was closed as it was a Monday! No choice but to go back to Pambula town centre to get a feed. We did end up with fish and chips after all and drove back to Southern Trucks workshop to enjoy a leisurely lunch in the comfort of Just Trip'n. While the mechanics were checking the brakes of our motorhome, I got bored with inhaling the workshop odours and wandered off with my camera. 

I walked around in the workshop compound and discovered several peach trees in full bloom with bees busily buzzing around doing some pollinating and a couple of apple trees riddled with woolly apple aphids. I seriously thought of going back there in about three months' time so I can get some of them peaches when they have ripened! Back to the mechanical side of things – upon inspection it was confirmed that the front brake-pads needed replacing – the bad news was they didn't have stock of Mercedes brake-pads and a set had to be air-freighted overnight from Melbourne. We were to come back first thing the next morning for the job to get done. From Pambula, we went back to Merimbula to do a spot of sight-seeing.


There is a 3km boardwalk around the edge of Top Lake which commences at the Merimbula Lake Bridge and ends at the Merimbula Top Lake Boat Hire, which we thought we would check out. Minutes into the walk, we spied about a zillion oysters growing happily on the rocks which were exposed as the tide was out. As we approached a jetty, I noticed a regal-looking White-faced Heron perched on it and after snapping a photo of it before it flew off, 

I turned around and noticed the MOTH had gone missing. 

I looked around and saw that he had jumped down to the rocks to pick a few oysters. Of course not to be outdone, I also jumped down to join him and after getting about half a dozen oysters, we realized that we had no way of transporting them back to the motorhome. Using what little was left of my feminine charm, I got the MOTH to volunteer to walk back to Just Trip'n to get a plastic bag and while he was there, he might as well get our oyster knives out, too. 

We collected about three dozen oysters between us before continuing our walk, enjoying the various sights and sounds of many species of birds. We stopped to read the information boards located along the walk and noticed benches had been placed here and there for those who needed to rest awhile. During the course of our walk we also came across a couple of the many oyster leases which grow the famous Sydney rock oysters. 

Apparently fishing is excellent as the lake has an abundance of fish like flathead, bream, trevally, mullet, sting-rays, tailor and luderick. I also read that prawns can be easily caught in the lake during the warmer months when the moon is "dark". About halfway through our walk, we noticed the time and realized that we had better make tracks to get back to Eden before sunset. On the way back, we saw a skink nonchalantly sun-bathing on a nearby rock, oblivious to the growing number of humans walking to and fro. Back we drove to the Garden of Eden Caravan Park for another night's stay. Our entree of painstakingly shucked oysters before a dinner of beef hot-dogs was absolutely delicious!



We were back at Southern Trucks in Pambula at the appointed time of 9am to get the new brake-pads fitted before sallying forth to an oyster farm just up the Princes Highway towards Merimbula, thinking the oysters there would be nice and cheap. Wrong! I can buy them much cheaper at Footscray Market in Melbourne! We very quickly changed our minds and bought half a kg of cooked king prawns instead. 

We then proceeded south-bound and stopped at Nullica River picnic area for a leisurely lunch of prawn sandwiches. 

The Nullica River enters Twofold Bay through a permanently open but often shallow entrance at its most western point. The predominantly forested and steep catchment is relatively small extending only about 12 km west of its entrance. After lunch, we walked out to Twofold Bay to admire the sapphire blue water with a distant view of Eden to the left and a ship being towed possibly to the deep waters of the Department of Defence Wharf in Edrom, to the right. 

Of course the scenery called for a few photos to be snapped, after which, we made our way back to the picnic area. I couldn't resist taking several photos of Clematis aristata (sometimes called Traveller's Joy, Goatsbeard or Old Man's Beard) blooming profusely all over the area. We then hopped back into Just Trip'n and drove on back to Lakes Entrance, spending the night once again at Sunnyside Caravan Park. Dinner that night was bbq'd rib-eye fillet steak with home-made marinated roasted capsicum, fried onions and gravy. Mmmm…

We spent the best part of the next day sitting on the bank of the Tambo River,

 flinging our baited hooks into the water at regular intervals in the hope a big fish or two would commit suicide. 

I caught a 30cm flathead that would have delighted a hungry dwarf but we weren't terribly disappointed as we knew we were about a month too early for the fish to start biting. I was kept entertained watching the antics of my MOTH – each time a fish surprised him with a nibble while he was nodding off, he would jump out of his chair and give his rod an almighty jerk – strong enough to cleanly rip out the skeleton of the fish if he had hooked it, I'm sure! 

  Later that afternoon, I got rather excited when I spied a water dragon swimming by so I quickly dropped my fishing rod and raced down the bank following it with my camera on the ready, ever hopeful of snapping an interesting photo or two. We headed back to the caravan park before sunset for another night's stay, settling in after a hot shower and a simple meal of sausages bbq'd to perfection by the MOTH. I don't know if it was the wonderful sea air or the age factor 

 but we both experienced difficulty following the plot of the movie we were watching through closed eyelids! Eventually, we gave up trying and surrendered to sweet slumber.

On the road again the next morning to check out the Ninety Mile Beach – destination for the night: Port Albert. Driving through Bairnsdale, we heard on the radio that there was going to be a Tribute Ride within the next half hour in memory of the late Barry Sheene, so we stopped by the roadside and joined many other motorcycle racing fans to wait for the Tribute Ride. Barry Sheene, MBE (Member of the British Empire) [September 11, 1950 – March 10, 2003] was a British former Grand Prix dual world motorcycle champion. After his retirement from racing in 1984 he moved to Australia where he became a prominent and popular sports commentator on television. 

He helped to launch many Australian riders including the world champion Mick Doohan. Some 900-strong motorcycle racing fans gathered in Bairnsdale for the 300km memorial ride to the Phillip Island Grand Prix Circuit to start off the MotoGP weekend. After watching the motorcyclists ride past, we continued on our way to various beaches along the Ninety Mile Beach. Just as we entered the holiday village township called The Honeysuckles, I spotted an echidna ambling along the side of the road. 

I excitedly pointed it out to the MOTH who then obligingly turned the motorhome around into a beachside carpark just to satisfy my camera-clicking hunger. I managed to get one fairly good photo of it before it burrowed into the grassy roadside. Yay!!! Afterwards we walked over the sand dunes just to see if there were any keen anglers on the beach. Not a soul was in sight, so we hopped back into Just Trip'n and continued on our way. We stopped for a late lunch of hamburgers from the general store at a quiet little seaside village called Seaspray. From there, we drove on to Port Albert.


We booked into the Port Albert Tourist Park and got a foreshore site. "You beauty!" 


I exclaimed delightedly as it was only a hop and a skip to Rutters Jetty where I could fish to my heart's content. (The photo above was taken from Rutters Jetty.) 

We bought a packet of salted whitebait and spent the rest of the afternoon fishing from the jetty before enjoying a dinner of the last couple of murtabaks and lamb curry. All of the next day was spent fishing and even though most of our catches were not keepers, we had a wonderful time just chillin' and enjoying the fresh sea breeze. While I was busy untangling my line from a piece of icky-looking sea sponge that I had managed to snag and pull in, I was delighted by the sight of a small brittle starfish that fell off it, so instantly, out came my camera! 

Unfortunately, that was the only highlight of the fishing scene for the day. Dinner that night was a thick and juicy T-bone steak each, once again, expertly bbq'd by the MOTH, accompanied by the leftover roasted capsicums and fried onions with gravy. Who cares about cholesterol? Certainly not us while on holidays! On the last morning, I was up with the larks and as soon as the sky lightened, I was off to the jetty with my fishing rod, bait, bucket and camera. I didn't catch any fish worth mentioning but did manage to get a pretty good photo of the wharf in the morning sun from Rutters Jetty. Port Albert will definitely be seeing us again.

Our last point of interest on this trip was the 50,000 hectare Wilson's Promontory National Park which juts out into Bass Strait and constitutes the southernmost point of the Australian mainland. 

To the Aborigines, Wilsons Promontory is known as 'Wamoon', (also known as Yirik or Woomom), watched over by 'Loo-errn', the spirit ancestor of the Brataualung (or Boon-Oor-Rong) people, the guardian of his people. These people had been spending at least part of their year on the Yanakie Isthmus/Peninsula for approximately 6500 years prior to the arrival of navigator George Bass in 1798. George Bass named the area Furneaux's Land but it was later renamed in honour of a prominent London businessman, Thomas Wilson. 

It is believed Wilsons Promontory was once part of a "land bridge" connecting mainland Australia with Tasmania. In another age the Prom is thought to have been an island. The gradual build up of a 20 kilometre stretch of sand dunes, known as the Yanakie Isthmus, is said to have reconnected the Prom with the mainland. 

The Promontory is comprised of imposing granite mountains, sweeping plains, thick forests and some of the finest beaches in the country. These range from sheltered little coves to long surf beaches. The Prom is the ideal place for bushwalking and a full appreciation of the magnificent array of native wildlife Australia has to offer. The friendliest are the Crimson Rosella parrots which flock around anyone offering food at Tidal River. Tidal River is the "capital" of the Prom. It is made up of an information centre, museum, caravan and camping grounds with some cabins.

From Tidal River, we wandered off to Norman Beach to admire the ocean view before going further on to walk on the white squeaky quartz sand of the aptly named Squeaky Beach. 

From there we drove up a steep and winding road to the Telegraph Saddle Carpark but found it to be full of parked vehicles so did not get a chance to park and look around the area. Somewhat disappointed, we decided to call it a day and start on the journey back to Melbourne. 

On the way down Promontory Road, we stopped at Glennie Lookout for a final look at the surrounds before bidding farewell to this amazing landmass. We arrived home in the late afternoon to resume our normal routine but we are already looking forward to the next road-trip.