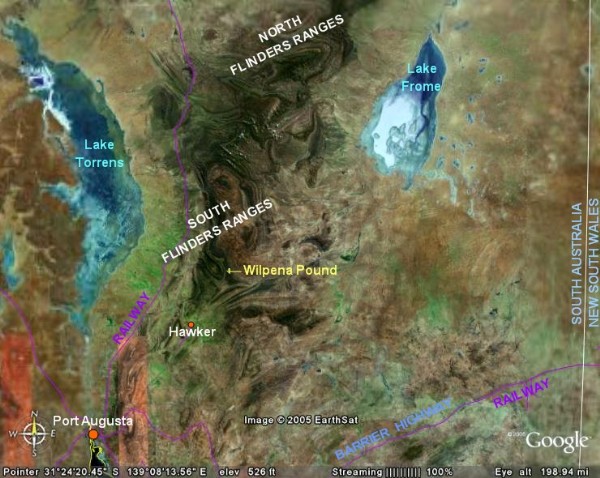 Having wasted hours of gentle persuasion, my MOTH finally lost his patience, prised my fingers from my keyboard and bundled me into our 4WD for our road-trip to the South Flinders Ranges. Once the temptation of being online was removed, I settled back in my car seat and immediately began to look forward to our little getaway from bustling suburbia.

I am very fortunate as my MOTH is an expert organizer and packer and he made sure there was plenty of snack food and drinks to keep me happy for the duration of the trip. I, on the other hand, have always been in charge of entertainment and had spent weeks prior to the trip to upload almost 1600 songs from my CD collection to my latest toy – an iPod. To ensure that nights in remote country towns wouldn't be spent just gazing short-sightedly into each other's bleary eyes, I had also gathered a dozen DVD movies to be played on the MOTH's portable DVD player that he had purchased in Singapore. Thus well-armed, we gaily set off on our little adventure 'drove out of suburbia on the Calder Highway to Mildura and stopped briefly to check out Lake Tyrrell. [Lake Tyrrell is a shallow, salt-crusted depression of 70 sq miles (180 sq kms), in the Mallee district, north-western Victoria, Australia, 195 miles (314 kms) north-west of Melbourne, just before the town of Ouyen. Usually dry, it is occasionally fed by Tyrrell Creek. An extraction plant at Sea Lake, a town on the lake's south shore, harvests the salt deposits. The lake was visited (1838) by Edward Eyre, who was seeking new grazing lands, and was named after an early settler in the Port Phillip area of South Australia.] From Mildura, we continued on our journey, passing pastures with fat grazing cattle and sheep and headed for South Australia on the Sturt Highway. We remembered the time difference between the two states and adjusted our watches back half an hour during one of our drink stops. It was late in the afternoon when we reached the town of Renmark, made the compulsory stop at the quarantine station for an inspection and removal of any fruit and vegetables (we made sure we had none as we had a lot of fruit confiscated from a previous trip 'and they say a fool never learns'). No, this is not a madcap idea of a crazed politician; it is done to protect the citrus growing region of the Riverland area against the dreaded Fruit Fly. Only minutes after being cleared by the quarantine officers, we drove through a storm – the pouring rain, thunder and lightning kind of storm but it wasn't long before we were bathed in sunshine again. We spent the night at Renmark Motor Inn. Dinner consisted of a takeaway feed of a fat juicy hamburger each, with enough chips (fries) to feed an entire village in Ethiopia.

Bright and early next morning we enthusiastically jumped into our 4WD and continued on our way to the South Flinders Ranges via Hwy 64. We stopped at the railway town of Morgan located on the West Bank of the River Murray, just below the North West Bend, where the river changes course to flow Southwards towards the sea. The site of the town was passed by Charles Sturt on his voyage down the Murray back in 1830. Known originally as North West Bend, the Great Bend or the Great Elbow, it became a point for overlanders, on their way to Adelaide with stock, to leave the Murray and make for Adelaide. In 1878 the town was proclaimed and the Kapunda to Morgan railway officially opened. The purpose of the railway was to tap the river trade from the Darling and Upper Murray regions by providing quicker access to a coastal port and thereby forstalling similar efforts by the Victorian Government. In its heyday as a port, Morgan was the second biggest port in South Australia, behind Port Adelaide, dispatched six trains a day to Port Adelaide and saw long queues of laden steamers and barges stretching downstream from the Morgan wharf awaiting their turn to unload.

We left the quiet town of Morgan and drove on through the historical town of Burra, a significant copper mining town from 1845 until 1877 when the copper production diminished and much of the mining labour scrambled to the lure of gold at the new fields in Victoria. We headed north on the Barrier Highway and stopped at a roadhouse cafe in Terowie, near Peterborough, to throw down a juicy hamburger each into our bellies to satisfy the worms. Peterborough is an agricultural and historic town, which took the business from Terowie when the broad-gauge (1600 mm) line from Adelaide was extended to Peterborough. From Peterborough, we drove north-west to Hawker but on the way there, my MOTH accidentally took the wrong road out of the heritage town of Orroroo and that was when we spotted a tourist sign with "Giant Red Gum" on it, which intrigued us enough to check it out. I was half expecting to see a huge gimmicky red bubble gum theme park to attract kids but instead found myself staring in awe at a gigantic gum tree. It is South Australia's largest river red gum tree which has a 10 metre girth and is over 500 years old! Between my MOTH and I, we snapped 17 photos of this old giant before we departed to get to Hawker.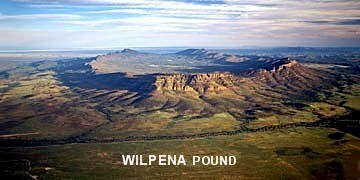 Hawker is a historic railway town which describes itself as 'The Hub of the Flinders Ranges'. This piece of self-promotion is based on the fact that it is at the junction of roads from Port Augusta, Marree, Orroroo and Wilpena Pound. Having decided to spend the night there, we booked into the Outback Chapmanton Motel at $95 a night. We had thought of having dinner at the motel restaurant but the manager/owner regretfully informed us that it was fully booked for that evening. Not giving it a second thought and seeing how it was too early to call it a day, we jumped back into our Landcruiser (after unloading our gear into the motel room) and went to check out Yourambulla Caves, located 10 km south of Hawker on the Quorn Road.

The name Yourambulla is derived from the Aboriginal Adnyamathanha phrase "yura bila", meaning two men, and is related to the two peaks (to the east of the painting sites). In Adnyamathanha legend two men of different kinship, "Arraru" and "Mathari", camped where the two peaks now stand, to eat part of a man they were carrying. It is thought that the smaller peak is the "Mathari" man and that the larger peak on the left is the "Arraru" man. A number of paintings and etchings occur in this area, housed in rock shelters or caves accessible by marked walking trails. So there we were at 4pm, at the foot of the Yourambulla Caves, with yours truly wearing appropriate footwear for a spot of trail-walking – a pair of thongs (strapless sandals)! As our luggage had been transfered to our motel room, I couldn't change into my runners but I insisted we carried on as planned, so off we went, me with not only my camera but also my handbag that holds everything from calculator to medication for my blood pressure and hayfever, right down to foot cream! After some not-too-elegant clambering on my part, we made it up a steep flight of stairs to the first site where we saw (and took photos of) some examples of Aboriginal rock art. Most of the 'paintings' were executed in black pigment and are of a non-figurative nature, some have been done in red ochre. All in all, it was a fairly easy walk up the trail with what appeared to be wild white statice growing in competition with the vibrant blue hues of Patterson's Curse (Salvation Jane) and various wildflowers. As sunset was fast approaching, we decided to call it a day so it was back to Hawker with both of us practically salivating at the thought of having a pizza for our dinner that night. Alas it was not to be…

Reluctant at the thought of a shower and change to go out for dinner, we thought it would be a great idea to just pick up a pizza on the way back to our motel room for a leisurely dinner dressed in our PJs. We joined several other tourists driving around in mad circles to check out the little town centre. There were only two takeaway shops and would you believe that BOTH were closed for business! Suddenly with a gleeful shout, I spotted and pointed out a little corner store and best of all, it had a sign advertising pies and pasties. By this time we had of course resigned ourselves to the fact that a pizza for dinner that night was totally out of the question. A couple of pies or pasties would have to sufffice we decided, as we rocked into the joint but immediately noticed with dismay that the cafe part of the place was unlit and the oven to keep pies and pasties warm had been turned off. We enquired of the girl behind the counter and were told that the only place where we could expect to get our dinner was the local pub as the takeaway places and restaurants are closed on Mondays. Having driven past the pub a few times only minutes before and noticing the car park full of patrons' vehicles, we didn't like our chances of being served before Christmas. I hastily put my thinking cap on and decided that we would have to improvise and have a carpet picnic in our motel room instead. My MOTH agreeable as always, readily went along with my plan so we did a quick lap of the little store and picked up a 250 gms vacuum-sealed pack of corned beef, a frozen sliced loaf of bread, a wee tub of margarine, an onion and a tomato – all for the princely sum of $10.40. We were disappointed that the little store did not carry any salt and pepper but at least we wouldn't starve that night. After a refreshing shower, I set about preparing our dinner of corned beef, onion and tomato sandwiches, using a pen knife to work with and, as there were no cutlery and plates available, the coffee cup saucers served as our dinner plates that evening. It turned out to be a very yummy dinner, albeit a rather unusual one.
The next morning, we left the motel and drove north to Rawnsley Park viewing area to be rewarded with magnificent views of parts of the South Flinders Ranges. I had wisely put runners on my feet this morning, fully prepared to do some heavy duty walking so from there we decided to check out Arkaroo Rock, another Aboriginal Adnyamathanha rock painting site dated as being 5000 years old and depicts the formation of Wilpena Pound. All went well until we got to the entrance of the 2 hour walking trail and saw a sign warning tourists not to leave valuables in cars as thefts have occurred there. Not at all comfortable with leaving our valuable possessions unattended, we decided to forego the Aboriginal paintings of bird tracks, snake lines, waterholes and people, created in red, yellow and white ochre and charcoal and go directly to Wilpena Pound instead.

We filled in the appropriate application form for a National Park entry permit, popped the required $7 in the provided envelope and placed it in the locked box in the un-manned roadside booth. With the receipt stuck to our windscreen, we were on our way to Wilpena Pound, a rather remarkable rock basin within the Flinders National Park, which covers 80 sq. kms and reaches a height of about 500 mtrs. It is a huge flat plain covered in scrub and trees and totally surrounded by jagged hills which form a rim. From the ground it looks like a rugged low mountain range which can be easily traversed. When you reach the top you look across the plain and can clearly see the hills around the edges. The real meaning for Wilpena may have been lost with the Aboriginal people who originally occupied the area. It is suggested that the word 'wilpena' means 'place of bent fingers' or 'cupped hand' or 'curled up kangaroo skin' but the name most commonly used for Wilpena by the Adnyamathanha people today is Ikara meaning 'meeting place'. Pound is an old English word meaning 'an enclosure for animals', which was how the Pound was in fact used by early pastoralists.



There are about 13 different walks and we chose the one on top of the list, i.e. The Hills Homestead and Wangara Lookout. It took us over two hours to get to Wangara Lookout with many stops during the walk so I could take photos of the native flora. We went on a relatively easy walk for the young and not too old that meanders through the Pound Gap, past the old Hills Homestead and came upon a rock carving depicting two Aborigines with the illustrated dreamtime legend of Wilpena Pound on the other side of it. Transcript of this Dreamtime legend is as follows:
Yurlu's Journey

Aboriginal people tell how giant semi-human creatures that were created at the beginning of the world were responsible for all the creeks, hills, gorges and mountains in Australia. Of these, one of the most beautiful parts of the Flinders Ranges is Ikara (Wilpena Pound), and the most valuable is the Leigh Creek coalfield.
Long ago there was an old Kingfisher Man called Yurlu who lived in the west near Kuyani territory. Yurlu journeyed south from his home at Kakarlpunha (Termination Hill) to attend an important malkada (corroboree and initiation ceremony at Ikara (Wilpena Pound).
On the way, Yurlu lit a big signal fire to let people know he was on his way to the ceremony. The charcoal remaining from this fire formed the coal deposits at Leigh Creek and several small deposits in other places on the way down. Aboriginal people called it Yurlu's coal long before white man ever came into the country.
When Yurlu was passing through Brachina Gorge on his way down to the ceremoney he saw two Akurra (powerful Dreaming serpents) travelling in the same direction.
Yurlu reached the ceremony, but in the meantime the Akurra Valadupa (male and female) had entered Ikara through Vira Warldu (Edeowie Gap). When Yurlu arrived the ceremony was well under way. Yurlu snatched the firestick from Walha the Wild Turkey Man and threw it up into the sky. This stick turned into the red star Wildu (Mars).
Akurra came up to the ceremonial ground in whirlwinds and caught and ate all the people they could find. Yurlu and Walha managed to escape and flew off southwards. Also managing to escape were a Wilyaru (newly initiated man) and a Vardnapa (partly initiated man). They both escaped eastwards.
The Wilyaru kept on going until he went too far over the border. Aboriginal people there told him he had come too far, so he had to turn back towards Mt Chambers. He kept on travelling until he could go no further. He stopped south of Mt. Chambers. There he turned into a large rock on the side of a small hill. The rock, reddish-black in colour, is now known as Wilyaru Rock.
The Vardnapa stopped at a creek near Wirrealpa Station and transformed into a stoney hill.
The two Akurra were so full after eating the people that they lay still and willed themselves to death. Their bodies form the walls of the Pound and it is said that St. Mary's Peak is the head of Ngaarrimudlunha, the female Akurra.
We then climbed to the lower edge of the Pound to reach Wangara Lookout to be rewarded with panoramic views across the Pound. After this leisurely walk, we ran out of time to tackle the other recommended walks so we left Wilpena Pound and finding nothing more up the road that evoked our interest, we decided to turn around and head south for the coast, taking with us a few hundred hitchhiking bush flies.
We spent the night at Port Pirie, located just off the Princes Highway on Spencer Gulf, 225 kms. north of Adelaide between Crystal Brook and Port Augusta. Port Pirie began as a small settlement in 1845 and today is a major port and one of the state's largest commercial and industrial centres. Known as the 'Country Music City' it is host to the Great Country Music Awards each September. The only Budget chain motel there had no vacancy so we drove around until we located a motel advertised on a billboard that caught my eye as we drove into the town. It didn't look too flash from the outside, no fancy swimming pool and on-site restaurant to boast of but we decided to take a chance and stay there for the night. We were pleasantly surprised to find the room was well beyond our expectations – almost all the comforts of home were provided – air-conditioning, a big stereo tv, a video player, microwave oven, queen sized bed, hair dryer, shampoo and so on – all that for a mere $63 a night! Despite the motel owner/manager's recommendation to try the Chinese restaurant next door, we decided to satisfy our craving for a pizza. We walked to the pizza shop about 30 yards down the road and indulged in their special of 2 x 8″ pizzas of our choice, 2 cans of soft drinks and a large garlic bread – all for $15. We pigged out big time before a shower and a quiet night watching a couple of movies on DVD.


Bright and early the next morning, we leisurely drove to Victor Harbor, the main town on the Fleurieu Peninsula, overlooking Encounter Bay. Victor Harbor is a thriving modern holiday destination which was once the main port of the South Australian coast and the access point for all goods travelling up and down the Murray River. It was originally named Encounter Bay by Matthew Flinders in 1802, after his encounter with French Captain Nicolas Baudin. The Victor Harbor area was a major location for the whalers and sealers who plied the waters of the Southern Ocean, and by 1837 there was a whaling station on Granite Island. Today Granite Island, home to lots of little penguins, is connected to the mainland by a mile-long causeway and for $5 (one way), tourists can get across to or from the island on a double decker tram pulled by a Clydesdale horse. By now, we had become seasoned walkers so we jauntily crossed the causeway on foot, helped along on the way there by a blustery wind but struggled somewhat walking against the wind on the return journey.

After Victor Harbor, we were on the road again, crossing the Murray River by ferry at Wellington and ending up in a charming little town called Meningie on the shores of Lake Albert. With modern agricultural methods of irrigation and cropping, the Meningie district is a successful dairy area as well as producing substantial acreage of irrigated crops. The town also has a large fishing fleet. We stayed at Pritchards Meningie Waterfront Motel which boasts absolute lake frontage but we decided against enjoying a few drinks in their beer garden for fear of being blown into the lake by the strong winds. Noticing the microwave oven in our room, we mutually agreed to have tv dinners that evening so off we went to the local supermarket to purchase some – curried beef and rice for me and curried prawns for my MOTH. While in the supermarket, we purchased a couple of forks and a small jar of Vegemite to spread on our toasts the next morning. The TV reception was rather poor but that was of little consequence as we still had lots of movies to watch to while the night away.

We were back on the road again the next morning, taking the Princes Highway along the coast to Kingston South East, which is a substantial port famous for its lobsters. It also happens to be the home of the Big Lobster, one of those wonderfully quirky 'bigs' which Australians seem to love to erect. The town of Kingston (it only became Kingston South East to distinguish it from Kingston-on-Murray) was named after the government surveyor, George Strickland Kingston, by the Governor of South Australia, Governor McDonnell, in 1858. To appease the worms yet again, we stopped for an early lunch of "Fisherman's Basket" from a tiny seafood shop named Lacepede Seafood near the Kingston Jetty – very yummy indeed!

From Kingston S.E., we went on to Robe, a port surrounded by sea on three sides, situated on the Limestone Coast of S.E. South Australia. The port of Robe was proclaimed in 1847 and provided a safe port to export wool, which was rapidly developing as a major industry during the early years of European settlement. I was totally amazed at the multi-coloured Gazanias and Pigface (Carpobrotus modestus – a cactus-like groundcover with purple edible fruit) growing in wild abundance in the coastal sand dunes. To think that I had cheerfully paid $2 per Gazania plant for my garden and that's because they were on special! There they grow prolifically to greet residents and tourists alike with their bright colourful blooms. After numerous photos (just so I can compare them with my humble home collection when I get home and weep), we went on to look at the Cape Domby Obelisk, a historic landmark built in 1855 by a local builder at a cost of 230 pounds with the stone quarried locally and carted to the site by a team of 32 bullocks. It served as a daytime nagivation guide for ships and in the early days of settlement, as a storehouse for rockets used by the local volunteer life-saving crews who rescued people on board ships wrecked along the coast. The rockets were fired from shore, with a line attached and a strong rope was hauled on board and secured, and people were carried to shore in a large basket. The Obelisk was originally painted white but in 1862 was painted red and white for better visibility. During fine weather, it can be seen from sea for a distance of up to 20 kms. Due to natural erosion of the coastline around the Obelisk, this landmark is becoming increasingly unstable and will eventually collapse into the ocean.


Another tourist attraction is the Doorway Rock, defiantly standing in the ocean while wave after wave pounds mercilessly on it. Then there is the Old Robe Gaol not far from the Obelisk – not much of it to interest us – just the roof-less, wall-less ruins of a gaol constructed in 1860/61. After driving around in circles a couple of times, we found our way out of Robe to head off to Mt Gambier.

Somewhere between Millicent (a vast pine forest area) and Mt Gambier, we noticed the Tantanoola Caves tourist sign so we just had to check it out. Tantanoola Cave is an ancient sea cave in a cliff face. It is one of South Australia's most beautiful caves, filled with a spectacular array of formations in one large dolomite cavern. The formations have developed over thousands of years. In 1983, National Parks and Wildlife SA lowered the entrance of the cave and laid gently sloping paths, making this Australia's first wheelchair access cave. Unfortunately, we missed the 3pm tour and couldn't afford to wait an hour for the next tour. We satisfied ourselves with a walk in the surrounds before driving on to Mt Gambier.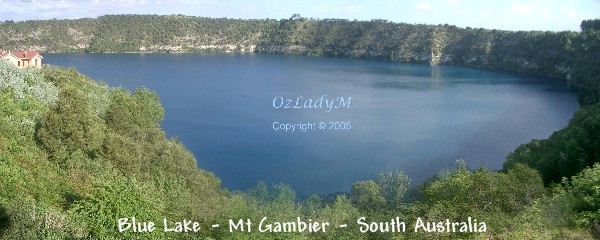 We had visited Mt Gambier about 14 years ago (pre-digital camera days) so it was on our "must see" list on this trip, especially the Blue Lake. The lake is in an extinct volcano which last erupted around 5,000 years ago. The crater is approximately 5 kms. around and the lake has a varying surface area of around 70 hectares. The water level is about 20 metres above sea level and 30 metres below the level of Mount Gambier's main street. It has a capacity of 36,000 megalitres (8,000 million gallons) and is South Australia's 3rd largest water storage area. Myths about it being bottomless have been disproved, and it has average depth of 77 metres and a maximum of 197 metres. The Blue Lake is one of Australia's natural phenomenons changing colour each summer from an ordinary grey to a brilliant blue. It is one of 3 lakes located in the crater of Mount Gambier.
One of the unsolved mysteries of our time is the reason why the Blue Lake changes colour from a drab grey to a vivid blue each November to March. Scientists and laymen have proposed many theories about this over the years. One suggests the water picks up a blue dye as it works its way through the porous limestone base; another, that microscopic organisms come to the surface as temperatures rise. The most likely theory is that light is scattered by calcium-carbonate which saturates the lake. As the temperature rises at the surface level it causes them to precipitate out as extremely fine particles of a similar wavelength to blue light. This causes a scattering of light at the blue end of the spectrum, making the lake appear blue in much the same way as the sky appears blue by suspended particles in the atmosphere. Whatever the reason, it is a fascinating experience to observe the change, which happens over a few days in late Nov. to early Dec.
At the Adam Lindsay Gordon Lookout we went down a flight of stairs to go through the tunnel under the road to the Blue Lake viewing platform. Several photos later, we returned to the Lookout carpark and viewed the Adam Lindsay Gordon Monument, erected in 1887 to commemorate the scene where Gordon daringly rode his horse over the fence onto a narrow ledge above a 70-metre sheer drop of Blue Lake then turned his horse and repeated the jump back on the road. Gordon was not only a remarkable rider but also a poet of renown who is honoured by a place in Poet's Corner, Westminster Abbey in London, making him the only Australian poet with the honour. Financial troubles finally led him to shoot himself at Brighton, Victoria on June 24th 1870, aged just 37 years.

We then climbed up the lookout tower of the Rook Wall for a view of the Blue Lake. The construction of the Rook Wall was begun on 27 November 1918, just 16 days after the end of World War I with the voluntary participation of over 1000 men and women, members of the Big Working Bee. More than 800 men volunteered as labourers and 300 women prepared donated refreshments throughout the day. By sunset, most of the work had been completed including a new stone wall up to four metres high and more than 200 metres long. Additional work was carried out in March 1919 and the lookout was the final construction completed in November of the same year. The wall is named after Arthur Rook, chairman of the Mt Gambier and District Progress Association who co-directed the project and died in 1919 before the wall was completed. How's that for great team work? That was enough information and sight-seeing for the day so we left Mt Gambier and crossed the state border back into Victoria to spend the night at Portland.
We checked into the slightly dearer William Dutton Motel (one of two Budget chain motels there) as the Admella Motel had no vacancy. What a bonus for me to find that the William Dutton Motel offers smoking rooms as an option! It was definitely worth the $77 (off-peak rate) as the room had all the mod cons of a 4-star accommodation. As we were both feeling lazy about getting changed and dressed to dine out, we opted for a takeaway meal of fried fish, potato wedges, pineapple fritters and potato cakes. To compensate for eating all that greasy tucker, we bought a small fresh red papaya for our dessert that night. Then we settled in to watch a couple of movies from home.

The next morning, on our way to Cape Nelson for a look-see at the historic Cape Nelson Lighthouse, we spotted a creature smack in the middle of the bitumen road. As we got closer to it, we saw to our amazement that it was a koala! My MOTH pulled over to the side of the road while I hastily grabbed my camera to take a few photos of this errant marsupial while "chasing" it into the bushland where it belongs. Last seen it was ambling sluggishly along the side of the road and thankfully was nowhere to be seen when we returned from the Lighthouse.


Anyway, back to a short history of the Cape Nelson Lighthouse – it is a round bluestone tower painted white, which was officially lit in 1884, believed to have replaced an earlier square wooden tower built in the 1870's. In 1971, the light was converted to run off 240V mains power and in the event of a power failure, a diesel generator was also installed. Today, the light has a range of 22 nautical miles and the white light is approximately 850,000 candlepower, standing 250 metres (820 ft) above sea level. The tower has 129 steps to the top and stands at 32 metres (105 ft) high.



Several clicks of our cameras later, we departed from there and made a quick stop to see the Codrington Wind Farm on our way to Port Fairy for lunch of fish and chips at Wisharts at the Wharf, that had glowing reviews of offering the best Fish & Chips in the South West. Frankly, we were both disappointed and mutually agreed that it was nowhere near as good as the Fisherman's Basket meal from the little seafood shop at Kingston S.E.

We journeyed on, following the Great Ocean Road, stopping here, there and everywhere to view the various rugged rocky outcrops including Bay Of Islands, Bay of Martyrs, The Grotto, London Bridge (renamed London Arch after the 'bridge' partially collapsed in 1990), The Arch, Loch Ard Gorge, the Blowhole and Thunder Cave.


As the skies began to darken with threatening rain, we gave The Twelve Apostles a miss. [A little bit of history about the Twelve Apostles – these rocky outcrops were originally named the 'Sow and Piglets', the 'Sow' was Muttonbird Island with the 'Piglets' being the smaller surrounding rocks.] No regrets on missing it as we had re-visited the site since one of the 'Apostles' shuddered before imploding in on itself on July 3 of this year.
It was almost sunset by the time we got to Apollo Bay to rest for the night and to our dismay, the popular Waterfront Motor Inn had no vacancy. All was not lost however, as we remembered another Budget motel a few kms away. We spent the night at Skenes Creek Lodge Motel situated on a hillside, overlooking magnificent Apollo Bay on the Great Ocean Road. As there was no restaurant on- site, we had to drive back to Apollo Bay for yes, another TV dinner from the supermarket there! The TV reception was not real flash so again we spent the rest of the evening watching movies. The next morning, I wandered around the motel garden taking photos of the beautiful plants that have been lovingly tended by the motel owner while my MOTH loaded our gear back into the Landcruiser. When we planned our trip, we had intended to do a spot of fishing on the return journey but unfortunately, the weather had not been promising, even for die-hard anglers like us. We therefore shelved the idea and went all out just sight-seeing instead.

Grabbing a tourist information leaflet from the motel room, we made Hopetoun Falls our next destination. Hopetoun Falls is off the clearly sign-posted Aire Valley Road. The carpark is directly above the falls and we could hear the roar of water as it pounds over the cliff to the Aire River. The path to the falls begins with a steep section to the valley floor where it passes through a glade of tree ferns to the foot of the falls. Going down for the "45 mins. return walk" was pretty exciting and a breeze, compared to the return steep climb back but we made it okay.

Next on the agenda was Beauchamp Falls, one of three waterfalls in the vicinity, also off the Aire Valley Road at Beech Forest and supposed to be the most spectacular even though it is the longest walk (3 km return). It was a fair hike from the carpark, following the trail that took us through the bush before reaching a fire access track which took us down to the Aire River. From there we followed the river before reaching the steps cut into the embankment which lead to the base of the waterfall. It took us about 40 minutes to get down to the falls and a good hour of slow walking with several rest periods to get back to the carpark. Man, was I puffing! It was definitely worth the aching legs that we ended up with though. After a feed of a banana each to recharge our batteries, we jumped, or should I say, dragged and heaved ourselves, into the car to check out the Otway Fly Treetop Walk.

The Otway Fly Treetop Walk is a unique and spectacular walk among the giants of the rainforest high up in the Otway Ranges that opened on Sep 8th 2003. The Fly itself is the longest and tallest elevated walk of its kind in the world, made from more than 120 tonnes of steel. It varies between 25-45 metres (82-148 ft) in height and is over 600 metres (2000 ft)in length. A 45 metre high lookout can be ascended via a spiral stairway through the under storey to emerge amongst the crowns of the giants of the forest, whilst the springboard cantilever bounces precariously high over picturesque Young's Creek. The walk is a 1.9 kms (1.2 miles) round walk starting from the Visitor Centre and takes approximately 45 minutes to 1 hour to complete. Entry fee was $17 p.p. so having paid to get in, we set off, not really knowing what to expect. We read the info leaflet and I was not particularly happy to read in bold print the warning: "DON'T GET A SHOCK, THE WALKWAY IS MEANT TO ROCK." We ambled along, slowly becoming a bit more confident as we went. My MOTH climbed up the spiral stairway to the lookout but my legs felt like jelly so I declined to do the same. Instead I ventured on my own to one of the centilevers but I almost disgraced myself when three yahoos decided to jump up and down on the adjoining cantilever causing the whole contraption to groan and rock real hard. It was so scary to think that the only thing between certain death and I, was a man-made steel contraption held by a few steel cables! After this incident, I couldn't get back on terra firma fast enough.

By the time we got off the Fly, we were rather tired and dreaded the thought of walking further so we got a ride back to the Visitor Centre on the courtesy buggy. During our conversation with the driver, he was most surprised to learn that we had tackled the walks to both waterfalls prior to coming to the Fly. He reckoned we must be a pretty fit couple but little did he know how our legs were aching! We hobbled back to the carpark and into our car to start the drive home as there was little else to see and besides, our time away was fast running out.

We drove home via Colac to check out the Floating Island Flora and Fauna Reserve (5 ha), located in Lake Pirron Yallock which contains a number of small islands that support scrub, reeds, tussock grasses and eucalyptus saplings. However, their notoriety rests mostly in their capacity to change position quite rapidly (some estimates shifts of up to 20 metres in a few minutes). One theory about the development of the lagoon is that it was originally a peat swamp which developed in a depression thought to have been created by an ancient lava flow. It flooded each winter and dried up in the summer. In the centre was an island of peat on which potatoes were grown. In 1938 the peat caught fire and smouldered for several months, lowering the level of the swamp and the island. Then, in 1952, especially heavy rains caused the swamp to fill to a particularly high level. The peat broke away from the basalt floor, complete with its vegetation, and began to float. The seasonal swamp was then turned into a permanent lagoon as the result of nearby roadworks and the clump of peat broke into a series of islets. Wind is thought to be the cause of their motion although another theory suggest that currents are caused by the influx of ground water which, being a different temperature, creates a differential that causes some impetus to occur.

We agreed to stop by the little motel-cum-roadhouse we remembered from our last visit many years ago, that was across the road from the reserve and indulge in a hot meat pie each. You can well imagine our utter disappointment to see the old roadhouse was no longer operational. It was vacant and had been badly vandalized and burnt out since we don't know when. Oh well, at least the floating island should still be there, we thought, as we made our way through the overgrown path towards the island. It was there alright, except it was not the floating island that we remembered. Everything was overgrown and it looked like the island had decided to join the mainland. Needless to say, we didn't stay long and were soon on our way home, with a stopover at Winchelsea to get our meat pies. Desiring a home-cooked meal after so many takeaway dinners, we bought a couple of thick and juicy T-bone steaks and our dinner that evening consisted of medium-done steaks with black pepper mushroom sauce and broccoli in garlic butter – indeed a feast fit for a non-vegetarian king!
All in all, this has been a truly memorable 3,100 km (1,926 miles) road trip and at least two million footsteps p.p. We are already looking forward to seeing more of our own country in the near future.