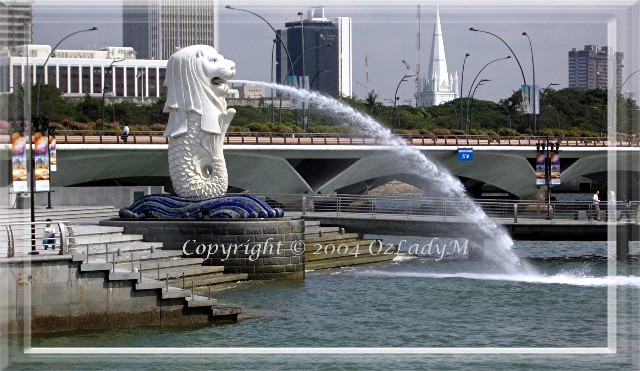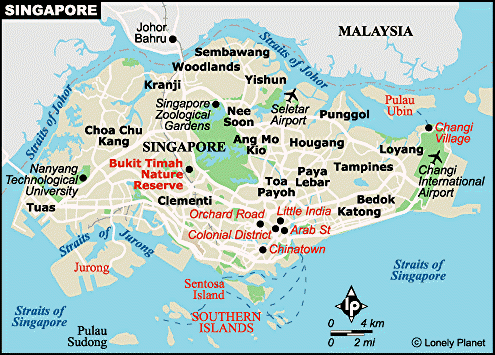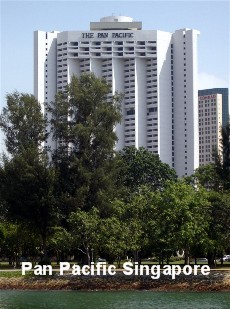 After at least two months of deliberation and procrastination, it was mutually decided that Singapore would be our destination for this year's vacation. My M.O.T.H. (Man Of The House) has not been back in Singapore since 1983 and found it hard to believe that I could get lost in the very island that I was raised in! I, on my part, was eager to see my island city again with my partner in life. Not wanting us to be cramped in economy seats, MOTH booked business class return air travel and not wishing to impose on my brother, arranged for accommodation at the Pan Pacific Hotel at Raffles Boulevard, Marina Square, for the duration of our holiday. Yay!!! As our departure date got closer, my excitement mounted 

 – at the mere thought of living the life of the rich and not having to cook for twelve whole days was a mini-dream come true. As a measure of my excitement, my suitcase was packed 10 days before the trip – rather unusual for me who have always been a last minute packer.
THU SEP 2
Driven to Melbourne Airport by our elder daughter, Sharon, at about 4pm, to board a Qantas flight to Sydney for a connecting flight to Singapore on Gulf Air. Enjoyed a scrumptious dinner on board Qantas, arrived in Sydney, jumped into the shuttle bus to the International Terminal and boarded Gulf Air – totally hassle-free. Much to my delight (I love aeroplane food), we were served yet another dinner of our choice – Seafood meze tasting plate, grilled prime rib-eye fillet, fine wine, dessert of fresh fruit salad, Arabic pastries and freshly brewed coffee at the end of our meal. Not long into viewing the second in-flight movie on our personal monitors, supper was brought around – I chose a smoked salmon roll, cheese and crackers and enjoyed a Bourbon and Dry before settling in for a bit of a shut-eye.

FRI SEP 3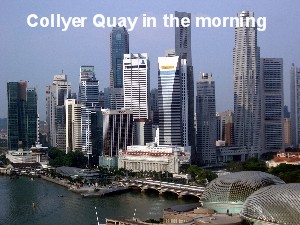 About two sessions of forty winks later, we woke up to the aroma of coffee brewing and sat up to a very yummy breakfast of orange juice, delicious slices of pineapple, cantaloupe, honeydew melon and grapes and a hot breakfast of Potato frittata, beef bacon, chicken chipolatas and herb grilled tomato. My MOTH had the Waffle stack with berry and banana compote and natural yoghurt instead, with croissants and coffee to finish off this hearty breakfast. Hey, I could get used to this lifestyle really easy, I tell you. Shortly after, we landed in Singapore at sparrow fart – 4am local time on Sep 3rd.
My nephew, Ridhwan, and lovely niece, Aisyah, were at Changi Airport to greet us, armed with some local currency and travel cards (for buses and trains – SMRT – Singapore Mass Rapid Transit). From there it was off to the hotel where we were upgraded to a deluxe room with a balcony on the 25th floor with magnificent harbour views when a mix-up occurred with our length of stay. We were happy with the upgrade of course and eagerly went up the glass elevator on the outside of the hotel which provided us with a lovely view of a part of the city instead of staring at the usual boring elevator walls. As soon as the porter appeared at the door with our luggage, my MOTH decided it was time to study the inside of his eyelids while Aisyah and I yakked on the balcony until it was time for her to head off for work.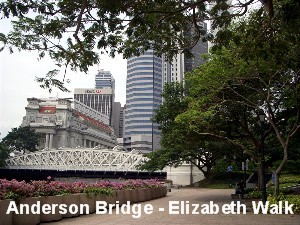 Not long after her departure, my MOTH awoke from his shut-eye and a refreshing shower later, saw us changed from jeans and jumpers into shorts and t-shirts. Like a couple of excited kids, we headed off for our first adventure on foot – to locate money changers in Collyer Quay. I reminisced as we sauntered along Queen Elizabeth Walk and eventually made our way across Anderson Bridge, passing The Fullerton Hotel which used to be the General Post Office of my youth. Alas, much to our disappointment, the magic of Change Alley of old was no more – gone were the days when we had to jostle a throng of tourists eager for bargains, hailed with cheery greetings of "Hello Sir, Madam, anything for you today? Any shoe for you? A Tiger (beer)?" From Change Alley we crossed over to the waterside via the Aerial Plaza and checked out Clifford Pier – no longer the pier as I remembered, where young and old would drop their lines in hopes of catching a fish or two while tongkangs operators (bumboats) plied their passenger services.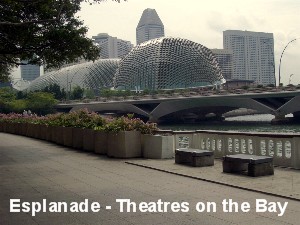 On our way back we walked past the Merlion and a busload of camera-clicking tourists. By this time, we were both perspiring profusely but gallantly we pushed on towards SunTec City Mall, resisting the oh-so-tempting thought of jumping into an air-conditioned cab. We walked past the Esplanade -Theatres on the Bay – a rather unusual architectural design that somehow reminded me of the thorny, spiky durian. Once we reached our destination some half an hour later, we wandered around all over the 5 towers before eventually locating one of the food courts for a bite of lunch.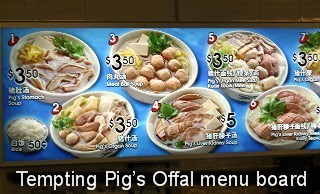 No, we did not partake of any pig offal despite the exotic menu as we don't eat pork but settled for beef & noodle dishes instead! Went back to the air conditioned comfort of our hotel room for a bit of a siesta before meeting up with Aisyah at the City Hall MRT Station (our agreed rendezvous point for the most part of our stay) at 5pm, for a Korean BBQ Steamboat at a restaurant in Simei (Chinese meaning 'Four Sisters') for our first dinner in Singapore with my family.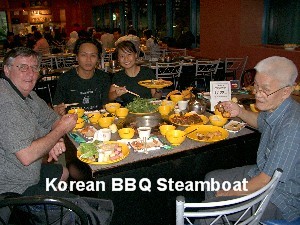 Bearing in mind that this was the first time the two men met as brothers-in-law, I was delighted to see that they got on very well indeed! We enjoyed a long leisurely dinner with a seemingly endless supply of prawns, calamari (squid), chicken, beef, tofu, vegetables, etc., cooked in the delicious "Tom Yum" stock or grilled right there in the middle of the table. After the all-you-can-eat BBQ Steamboat, we were amazed and somewhat amused to see Brother eating 5 cups of ice-cream! 

 No mean feat for a slightly built guy like him, that's for sure. From there we staggered out with our full bellies and with a promise to visit Brother on Sunday, my MOTH and I got on the MRT train back into the city and our hotel. By this time, we were more than ready for a nice hot bath and a good night's sleep but not before going out on the balcony to take in the night view of the picturesque waterfront all aglow with bright lights and oh so alive with Friday night revellers. For us however, sleep beckoned invitingly…
SAT SEP 4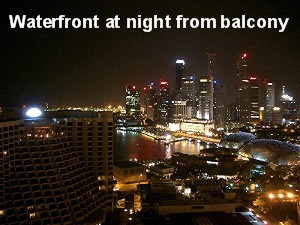 Had a buffet breakfast of fruit juice, "prata" (Indian 'roti') and curry, fresh tropical fruit and coffee at the Summer House restaurant of our hotel before venturing once again to explore the surrounding areas to kill some time before our rendezvous with Aisyah and her friend Romy at noon. By the time we met up with them our bellies were growling impatiently so Romy led us to a "kopi tiam" (coffee shop) restaurant for a yummy feed of Seafood Laksa and other local favourites. Then it was off to shop for a few watches before a leisurely walk to the bus depot in Rochor Canal Road and our next destination – across the Causeway to Johor Bahru (Malaysia). What a trip that was, starting off with weighing the pros and cons of a bus trip or a taxi ride. We were in favour of paying S$8 pp and taking a taxi but the queue was pretty long and there was a bus waiting for passengers at S$2.40 pp so a spontaneous decision was reached to hop on the bus. A decision we would later regret…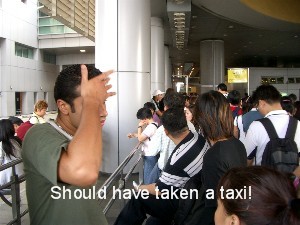 Approximately half an hour later, we arrived at the Singapore side of the Causeway where we all trooped out of the bus to get the Exit visas stamped in our passports. From there we joined the queue to get back on our bus. Easy enough procedure, right? Not! While our busload of travellers were getting our visas stamped, a zillion other tour buses had also arrived so if you could imagine a stadium full of people after a ball game, you'd get the picture – people EVERYWHERE – heading in all different directions and each making a bee-line for what each fervently believed to be the correct direction! After battling the crowds, and about an hour later, we managed to pile back into our bus and it was onwards to Johor Bahru!
There we had to get the Entry visas into Malaysia duly stamped on our passports – easy enough for international passport holders like my MOTH and I but we had to wait a fair while for Aisyah and Romy to get theirs for their Singaporean passports. After impatiently twiddling our thumbs and ignoring a couple of beggars hovering in the area outside during our wait, we re-grouped and wandered around Johor Bahru. We couldn't help but notice and compare the standard of cleanliness, both visual and olfactory, between JB and Singapore. Stepping out of super-clean and tidy Singapore into a city of chaos was a bit of a shock to our system, to say the very least. We eventually located an air-conditioned shopping centre where I purchased a handbag and a couple of t-shirts.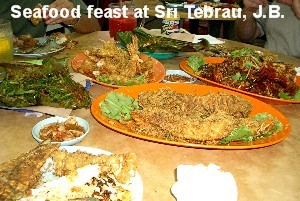 When the time was right, according to Romy, we made our way to Taman Sri Tebrau Hawkers' Centre where we sat down to a veritable feast of Cereal Crayfish, Crispy Fried Cereal King Prawns, Sambal Barbequed Skate (Stingray flaps), Chilli Mud Crabs, Sambal Sotong (Squid, calamari), Fried "Kang kong" (Water convolvulus/Water spinach) in Sambal and steamed rice. For drinks, we had our choice of various freshly squeezed fruit juices. All four of us ate and drank our fill for the princely sum of less than 165 Malaysian Ringgit (approx. AU$80). Indeed a feast fit for a king! After this superb dining experience, it was time to think of making our way back. This time, we unanimously decided to jump into a Singapore-bound taxi at 10 Malaysian Ringgit pp. and literally sailed through the customs and immigration checkpoints without even having to step out of the taxi.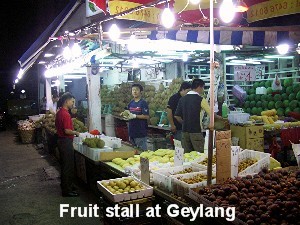 It seemed a pity to retire early on a Saturday night, so from Rochor Canal Road, we went to Geylang, famous for selling the best durians in season, for an authentic Asian 'dessert'. Of course we chose the best variety – the superb "D24". My MOTH could not be persuaded to sample even a bite of durian, considered "King of the Fruit" throughout South East Asia, but he was happy to try a few mangosteens and some duku (ping-pong ball sized fruit with light brown skin and off-white sweet flesh) washed down with an ice-cold "Tiger" (brand of beer) while the three of us fed our faces.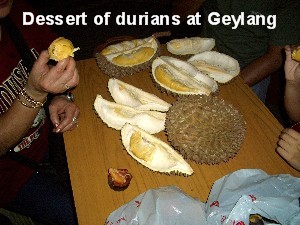 After eating our fill, we then followed Romy the jay-walker and as he gustily shouted out, "Let's go, let's go, let's go!", we risked life and limb, dodging and weaving through the heavy traffic with quite a large number of fellow jay-walkers to get to the other side of the busy road. Afterwards, we sauntered through a seedy red-light district nearby for a bit of a sticky-beak at the ladies of the night in action, before taking a bus back to City Hall where we parted company with Aisyah and Romy. Twenty years ago, we would probably have headed off to a night spot to party hard but not now, though – SLEEP above all else for us, so it was back to the hotel, eventually getting there after back-tracking a couple of times when we took a wrong turn or two.
SUN SEP 5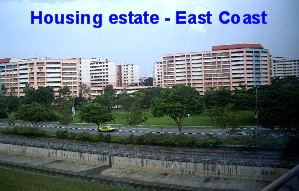 As soon as we finished breakfast, we strolled over to City Hall and caught the train to Pasir Ris MRT Station to meet up with Aisyah at 11am to spend some time with my brother and his family. Brother had a delicious home-cooked lunch of Indonesian Rendang, Sambal King Prawns and various goodies waiting for us and shortly after lunch, we went to Joo Chiat Complex near Geylang to do what else but shop! Eventually and with my MOTH's blessing, I succumbed to temptation and bought myself a gold bracelet and a pair of ear-rings.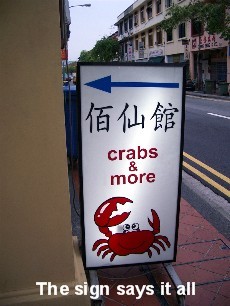 Adorned with my newly acquired jewellery, we then headed for our next destination – to an Indian coffee shop restaurant in Duku Road for a feed of murtabak, delicious mutton soup and pratas. On the way along Joo Chiat Road, we passed several bars, massage parlours and restaurants. We couldn't help but notice a sign board advertising "crabs & more" outside a restaurant adjoining a massage parlour! The mind boggles…
Keeping in line with the Indian theme, we jumped into a taxi after the Indian meal and went to the super-duper Mustafa Centre in Serangoon Road. Frankly, I have never seen so many Indians (mostly guys) in one place at the one time!!! Apparently, they are mostly contract workers who congregate in "Little India" on weekends, just to hang out and exchange news of the week. Mustafa Centre was simply amazing – everything you could possibly think of could be purchased here – from souvenir trinkets to million-dollar gold and diamond jewellery, from batteries to top of the line electronic equipment. We mutually agreed that no serious shopping would be undertaken that night but we would definitely return the next day for a more leisurely look around. Time to call it a day so back to the hotel to rest our full bellies, weary legs and tired eyes.
MON SEP 6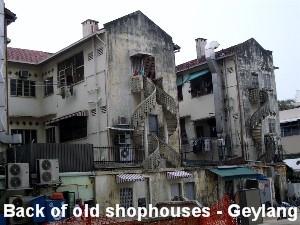 After breakfast, we again wandered over to Collyer Quay as our supply of Singapore currency was fast running out. From there the MOTH and I managed to find our way to Little India by MRT train and followed the curry aroma on foot to Mustafa Centre – a much more pleasant walk in broad daylight, albeit a tad sweatier. Spent several hours there with my MOTH checking out personal DVD players and other equally exciting guy "toys" while I looked at two floors of jewellery. By the time I finished admiring the exquisite collection on display, the front of my shirt was soaked with drool! Of course leaving the centre empty-handed would be a sin, so I lashed out and bought a simple but unique two toned gold ring. My MOTH, being a more discerning shopper, resisted temptation and did not buy a DVD player after all. Instead, we made our way to Geylang, to the Joo Chiat Complex to shop for clothes for our grandkids and failing in that attempt (too pricey), we hopped on a double-decker bus to Changi Village to say 'G'day' to a couple of shopkeeper friends there.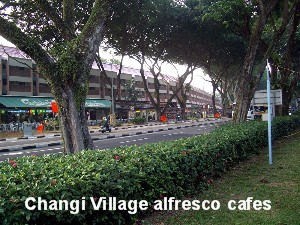 At Hock Lee Shoes, Jeremy plied my MOTH with a couple of beers while he tried on a pair of hand-stitched Italian shoes and claimed them to be the most comfortable pair of shoes he'd ever worn, so money exchanged hands there and then. Then it was a short saunter over to see my old friend George at George Photo where I bought several re-prints of photos of Changi Village as I remembered it from my childhood days. Bought some souvenirs there while waiting for Aisyah and Romy to join us for dinner at the food court there. We parted company immediately after that to head back to our hotel to await the arrival of Deej and his travelling companion, Anna, to check into the hotel. Deej had left Melbourne a month earlier for a holiday in Thailand, Kampuchea, Laos, then across to Beijing, Shanghai and Hong Kong before coming to Kuala Lumpur and Langkawi with a few days in Singapore to coincide with our holiday plan. Anyway, we got back to the hotel only to receive an sms message that they had checked in minutes earlier and receiving no reply from us, they went out to check the nightlife so it was a quiet night watching TV for us 'oldies' that night.
TUE SEP 7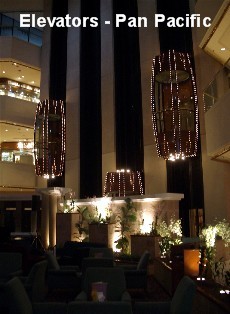 Eventually met up with Deej and Anna at the Summer House restaurant at breakfast. Deej wanted to check out the view from our balcony before going to Mustafa's for a "look-see" so we all headed for and got into one of the glass elevators. As the doors of the fancy glass elevator closed on us, the most powerful stench of the previous occupant's fart hit our nostrils! We held our breaths as long as we could but by the time the doors opened, Anna had turned green and we all had tears in our eyes! Boy, whoever it was, I'm pretty sure must have shat in his/her pants! Room and balcony view checks over, we went back downstairs, jumped in a taxi and spent the best part of the morning at Mustafa Centre with the girls 'ooh-ing' and 'ahh-ing' in the jewellery section while the boys checked out all the fancy "toys" that they couldn't afford to buy. Into another taxi – this time to Orchard Road to say 'G'day' to my jeweller friend who plied us with tea and mooncakes while she unsuccessfully tried to persuade my MOTH into parting with some big bucks on the diamond-encrusted jewellery in her store.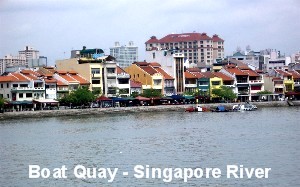 We left Shaw Centre in a cab to take us to Boat Quay for a farewell drink as Anna was leaving for Australia in a few hours' time. Deej and I each had the famous Singapore Sling (S$15 each), Anna had a Daiquiri while the MOTH settled for a Tiger beer. With a mini snack serve of 4 fried chicken wingettes, 4 sticks of satays, 4 small spicy beef sausages and a few potato wedges, we were handed the bill for S$95! After picking me up off the floor, we caught another taxi back to the hotel and parted company with Anna. Another taxi took us to East Coast Park Lagoon Hawker Centre, to Aisyah and Romy, to enjoy a super delicious AND cheap feast of Chinese Rojak, Satays, Scalded Cockles and chili sauce, young (green) coconut drink, and freshly squeezed fruit juices of our choice, right by the scenic lagoon. A far cry from the exorbitant lunch at Boat Quay, that's for sure!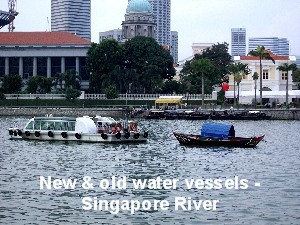 From there we visited Brother for a couple of hours before going to Changi Village to check out the transvestites' haunt there. Being a weeknight, it turned out to be a rather quiet night with only a handful of "bapok" (Malay for 'transvestites') sashaying around the alfresco coffee shops. A couple of them could so very easily pass as supermodels with their ultra long legs and svelte bods… until they speak, of course. Anyway, seeing as there was little chance of the joint livening up, we finished off our respective drinks before parting company with Aisyah and Romy who left on Romy's motor-bike while we and Deej took a taxi back to our hotel. We were fortunate to get a chatty cab-driver who obligingly made a detour via Toh Avenue so we could look at the bungalow we used to live in back in the 70s. It had since been bull-dozed down and in its place stood a HUGE mansion! However, it wasn't a complete waste of time as the old shops there were still standing and trading, just as we remembered…
WED SEP 8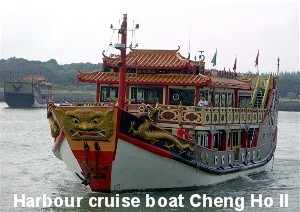 After our usual hearty breakfast, we hopped on the courtesy bus for the harbour cruise on board the Cheng Ho (named after the famous Chinese Admiral-Explorer of the 15th Century), departing from Clifford Pier. We had a leisurely two and a half hours' cruise, complete with incessant Chinese opera music that they were playing in between the guide's commentary, which got on our nerves a bit.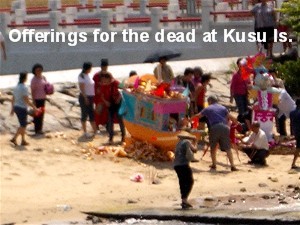 The Cheng Ho made a short stop at holy Kusu Island (Chinese for Turtle Island) or Pulau Tembakul (Malay for Peak Island) – legend has it that a magical turtle turned itself into an island to save 2 shipwrecked sailors – a Malay & a Chinese. Each year during the ninth lunar month (falls around Sept to Nov according to the Lunar Calendar), thousands of Taoist devotees flock here for their annual Kusu Pilgrimage to pray for health, prosperity, luck and fertility. During this short break, yours truly committed a 'no-no' when she video taped the interior of the Da Bo Gong (Merchant God or God of Prosperity) Chinese temple there. Oops! And where were my MOTH and S.A.H. (Son and Heir)? They had noticed the "NO CAMERA" signs and hastily exited the temple premises. Luckily for me, I wasn't caught so I got away with a "highly prized" 10 sec clip of the temple interior!
Deej decided to put his gym workouts to the test and sprinted up the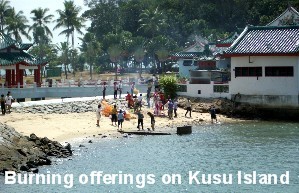 152 steps snaking up a rugged hillock to check out the three "Kramats" (holy shrines) of Malay Saints – a pious man (Syed Abdul Rahman), his mother (Nenek Ghalib) & sister (Puteri Fatimah) who lived in the 19th century. Many devotees visit the "Kramats" to pray for wealth, good marriage, good health and harmony. The shrines are also popular with childless couples who would pray for children. We old farts, being less energetic, were content to enjoy the sea breeze on the flat ground level. Deej emerged a short time later from the other side of the hillock, hardly puffing. We then made our way back to the Cheng Ho after throwing a few coins into the wishing well and a last look at the turtles at the temple. Back on board the Cheng Ho and on with the harbour cruise, passing several picturesque islands and numerous ships in the busy harbour before we disembarked back at Clifford Pier amid an afternoon tropical shower.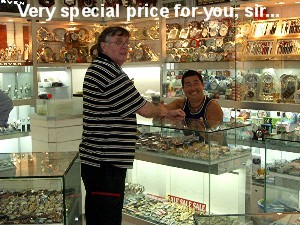 With not much time to spare, it was back to the hotel in the courtesy bus and then it was straight to City Hall MRT Station to rendezvous with Aisyah for lunch and a watch store where Deej bought himself a nice watch. Then it was on to Chinatown which was all decked out for the Mid-Autumn Festival with mooncakes and lanterns galore. We did a bit of shopping there, mainly for gifts to take home, before making a mad dash back to the hotel to drop off our goodies. Once again, it was time to feed our faces – this time it was off to Little India where we met up with Romy for the best Briyani and Curry in town.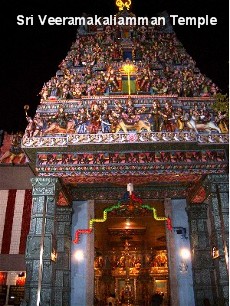 Walking along Serangoon Road after our dinner, we saw one of the oldest temples in Singapore, (supposedly built by Bengali labourers in 1881), the Sri Veeramakaliamman Hindu temple, all lit up and bustling with devotees. This temple is dedicated to the Hindu Goddess, Kali, the consort of Shiva. She is known as the Goddess of Power and the name "Veeramakaliamman" means "Kali the Courageous". The temple caters to the Hindu Indians in Singapore, dating back to their forefathers who arrived as migrants, when its presence answered their need to feel secure in a new land. Naturally, out came our cameras and a few photos were quickly snapped when there was a lull in the night traffic. We continued on, passing various shops trading in mainly Indian goods along the way, until we got to where Romy had parked his motor-bike. Having said our goodbyes and with our full bellies screaming for some quiet time out, we took a taxi back to the hotel for a couple of after dinner drinks in front of the TV. No rest for Deej, though – understandably, he wanted to spend his last night in Singapore checking out the night life in the Boat Quay area, so with curry breath and a pocketful of money, he wandered off. Oh to be young and so full of energy again…
THU SEP 9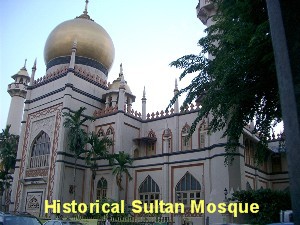 Soon after breakfast, MOTH & I went gallivanting to Funan IT Mall to window shop for a personal DVD player before doing more pricing at Sim Lim Square where the eventual purchase was made. Excitedly clutching his new "toy", my MOTH and I managed to find our way to Bugis Junction to meet up with Aisyah. We went to MacKenzie Rex Restaurant for a delicious feed of noodles before heading off to the Malay Village in Geylang to buy a specifically requested framed Muslim holy scripture for my daughter, Nina. We met up with Deej back at our hotel before getting into an old English cab to get to Zam Zam Restaurant in Arab Street for an oft-remembered favourite dinner of Murtabak, Curry and Briyani. Yummy! Then we walked across the road to give our cameras a work-out, taking photos of the historic Sultan Mosque before we parted company with Aisyah and Romy. The three of us then went back to the hotel to get Deej's luggage.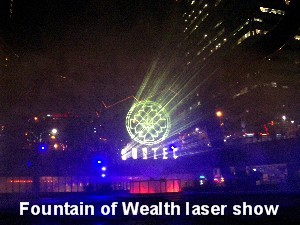 After seeing Deej off in a taxi to the airport for his flight home via Bangkok, my MOTH and I went on to the Fountain of Wealth at SunTec City for the nightly laser show, which was truly awesome, despite being sprayed by the water from the fountain! It was rather refreshing actually, as it was another balmy night in Singapore.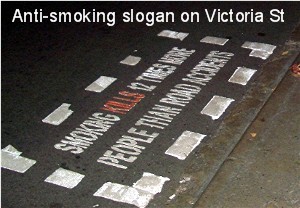 As the night was still young, we ventured on to Bugis Street to check out the night market, where I purchased a couple of classic movies on DVD – Cleopatra and Sayonara, and several souvenir t-shirts. Although greatly tempted by the array of tropical fruit on sale, I resisted the urge to overload my stomach so I just drooled. By this time, we were tired of jostling with the crowd in the busy alleys so decided it was time to call it a night. My MOTH, a reformed smoker, could not resist pointing out an anti-smoking slogan painted on the road near a pedestrian crossing, so out came his camera for a couple of photos. We then made our way to the MRT station at Bugis and it was back to our hotel with our tired legs screaming for a rest.
FRI SEP 10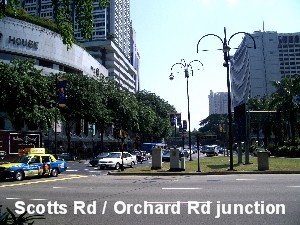 Today, after our routine hearty breakfast, we checked out Orchard Road, lingering when we get to air-conditioned stores and speeding up when we were in the sweltering heat outside. We were disappointed to see so many changes in what used to be familiar territory back in the 80s. Hotels that we remembered from long ago have had extensive renovations and name changes beyond recognition. Sighing now and again as we reminisced about the way it used to be, we walked almost the whole length of Orchard Road right up past Tanglin Road before doing a turn around to walk back down Orchard Road, stopping to enjoy an iced coffee at The Coffee Club, while waiting for Aisyah to join us for lunch. What we got was not exactly what we had expected, not the kind that we get in Australia, i.e. icy cold coffee with soft serve ice-cream, served with lashings of whipped cream and a dusting of cocoa powder on top. Their version of it was very strong coffee, so strong that you could stand a spoon in it, with a few drops of milk and a few grains of sugar! Man, it was so strong that my eyes almost bugged out! 

 Now fully charged on caffeine, I just had to keep on the move so we made our way to a giant book sale a little way down – proved to be a bad idea – the sale was conducted under a huge tent so we barely managed one aisle of books and sweaty bodies before beating a hasty retreat to the lesser heat outside.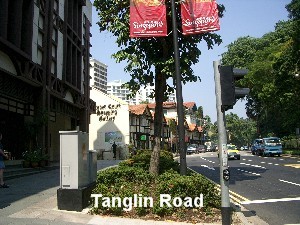 We re-traced our steps back to The Coffee Club to find Aisyah waiting for us so it was off to lunch at a nearby food court before taking a taxi to the Botanical Gardens. Naturally, in keeping with my interest, we made a beeline for the National Orchid Garden to be awed by the oh-so-beautiful specimens growing profusely everywhere. Unfortunately, in the excitement, both my MOTH and I failed to take note of the individual names of the various orchids, so the beautiful photos have to remain nameless.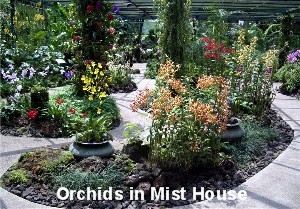 After doing the Orchid Garden walkabout, we quenched our thirst at the courtyard inside the compound before doing a quick lap of the remaining surrounds but I failed to see any familiar nooks and crannies (and monkeys) of the good old days. No wonder there were no peanuts for sale! With very little fuel to rekindle feelings of nostalgia, I soon lost interest in venturing any further so it was mutually decided to end the tour. To escape from the persistant heat, we went to the taxi stand and headed off for an early dinner before parting company with Aisyah with a date the next day to go to Sentosa Island. My MOTH and I window-shopped for a while in SunTec City Mall before retiring to our room to rest up for the morrow.
SAT SEP 11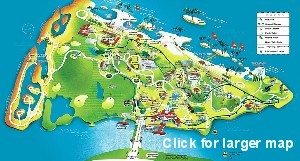 Met Aisyah at City Hall after breakfast and she guided us to HarbourFront to meet up with Romy for our planned trip to Sentosa by cable car. The island of Sentosa, or Pulau Blakang Mati (meaning 'the island behind which lies death' in Malay, taking its name from an outbreak of malaria which wiped out the population of Bugis pirates who inhabited the island during the 18th century), as it was originally known, first started out as a fishing village, then used as a British military fortress in the mid-20th century until 1967 when it was handed back to the Singapore government. In 1968, the Government decided to develop the island into a holiday resort for both local visitors and tourists and invited the public to give the island a new name. "Sentosa" was finally chosen to portray the island resort (meaning 'peace & tranquillity' in Malay).
While waiting for Romy to show up, we enjoyed a Starbucks coffee each and I eventually succumbed to temptation and had a feed of "Nasi Lemak" (rice cooked in coconut milk, served with sambal and ikan kuning or ikan bilis) from a cafe nearby – mmm… it was as good as I remembered. When his lordship (Romy) finally made his appearance, many minutes later, we made our way to the Cable Car Station at HarbourFront Tower 2.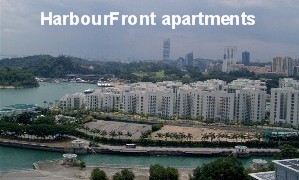 Being a fine Saturday, there was a pretty good crowd of tourists and locals all heading in the same direction as us. The cable car ride was excellent, affording breathtaking views of the city, the busiest port in the world and a glimpse of the southern islands of Singapore and the Indonesian Riau Archipelago. Upon arrival, we immediately set off exploring the little island, first going down about a thousand steps to check out the huge Merlion landmark. The Merlion is a very tall structure (approx 37 metres/121 feet high), with 320 scales sculpted from glass-reinforced concrete, representing the half-lion and half-fish creature of the Singaporean legend. What used to be free admission is no more – it now cost S$8 per person to see it all, – a walk through a cave of legendary sea creatures and mythical mermaids, a short animated movie of the legend of Singapore, (Lion City), then up the elevator to the head of the Merlion for a wonderful 360′ panoramic view of Sentosa, Singapore's city skyline and the surrounds before going down a few flights of stairs to the mouth of the Merlion and more spectacular views. I guess it wasn't a very pricey experience after all. At the end of the little 'tour' we were told to put our token coin into the mouth of the 'Merlion cubs' contraption in the foyer, to get a little surprise souvenir coupon. My MOTH threw his token coin in and received a coupon for a souvenir luggage tag for his effort but I declined, preferring to keep the actual token coin as a souvenir instead.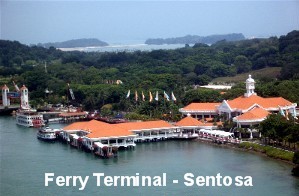 We exited the Merlion and caught the free monorail service to check out the Underwater World but after gasping at the exorbitant admission price (S$17.30 per adult) we beat a hasty retreat and headed for Fort Siloso where again, what was once free, now cost S$8 per adult! Not being much into history, we mutually decided against entry there. Besides, we have seen it all in the past and despite obviously new additions to the historical exhibits, I must confess I don't get terribly excited looking at cannons and weaponry of old. Time to quench our thirst and settle the worms in our bellies so we got on to another monorail to take us to Palawan Beach. There we had late lunch of fried chicken wings at Warung Pantai (Malay for 'Beach Cafe') with delicious fruit freezes to quench our thirst. We then sallied forth to check out the Southernmost Point of Continental Asia – a peninsula that becomes an island at high tide and only accessible by a rickety rope bridge. I am not the most co-ordinated person at the best of times so I allowed the rest of the crowd to go ahead of me before wobbling inelegantly like a drunken sod across the swaying bridge. We went up one of the wooden tower structures to take in the surrounding views before once again crossing the bridge back to Sentosa. I was still swaying as we once again boarded the monorail to the Sentosa Orchid Garden. As expected, there were orchids galore and once again, our excitement got the better of us and we overlooked the various names of the beautiful blooms!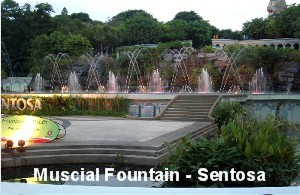 So as not to miss getting good seats for the "Magical Sentosa Show" at 7.40pm, we by-passed other island attractions and headed for the Musical Fountain at about 6.45. We were not as early as we thought as the best seats had already been taken (the really keen folks must have been sitting there since lunch-time, I'd say) but we were happy to get fairly good seats anyway. While killing time for the laser show to begin, we were entertained by the Singapore Polytechnic Youth Orchestra. By the time the sound, light and laser extravaganza began, there was standing room only in the large open air "theatre". What an awesome show it was – approx 35 mins of pyrotechnic extravaganza with motion pictures combined with live action, computer generated images, laser animation and fireworks – all used simultaneously to inter-morph with the "dancing" fountain waters. Simply breathtaking…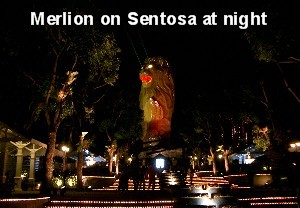 A few clicks of the cameras later, we made our way in semi-darkness, back up the zillion steps to get to the Cable Car Plaza for the cable car ride back to mainland Singapore and into a taxi for our last pigging out session of satays at a hawker centre not too far from our hotel. We parted company with Aisyah and Romy and another taxi ride saw us back at the hotel. My MOTH and I mutually decided against tripping the light fantastic as originally planned, in favour of a lingering bath and resting our weary feet.
SUN SEP 12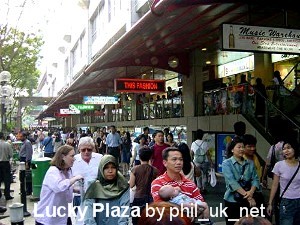 Our last full day on this island republic was spent doing a spot of shopping in Orchard Road. No, no more jewellery, just a couple of books and a few last minute souvenirs. As we had plenty of time to kill before meeting Aisyah and Romy for lunch, we ambled along leisurely checking out the various shopping plazas. We got to Lucky Plaza and for a wild moment, we thought we had somehow been magically transported to a giant chook (chicken) farm in the Philippines! We later learnt that the Lucky Plaza is one of the rendezvous points where most of the Filipina women (more than 65,000 are employed as housemaids in Singapore) meet every Sunday. It's like a huge hen party with all the women talking and clucking simultaneously in their native tongue, Tagalog. Despite our hurried exit from the plaza, our ears were still buzzing for at least 20 minutes afterwards.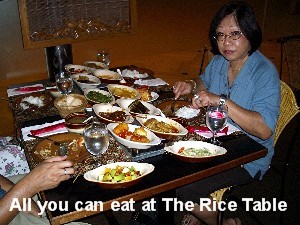 As arranged, we met up with Aisyah and Romy for a farewell lunch at the Rice Table in the International Building in Orchard Road. We enjoyed a great variety of Indonesian fare – Krupuk (prawn crackers), Soup, Sayur (vegetables), Satays, Rendang, Chicken Curry, Apple Salad, Otak, etc. After eating our fill, we staggered out of the cosy restaurant and went to pay my brother a last visit. I impulsively decided on getting a hair cut at a salon nearby leaving my MOTH and Brother to a bonding session. After a tearful farewell to my Singapore family, 

 my MOTH and I took a taxi back to the hotel to start packing our gear and a brief siesta before going to Orchard Road for our last night in town.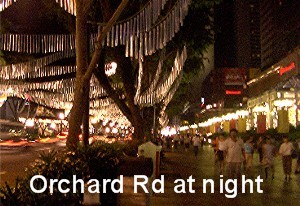 My MOTH surprised me by an unusual display of sentiment, expressing a desire to dine at the restaurant where we had our very first dinner date, so many moons ago, at Jack's Place in Orchard Road. After a luxurious bath, I slapped on some war-paint, put on my glad rags, dabbed some perfume on, stepped into my dancing shoes, and with my MOTH dressed in his Sunday best and new Italian hand-made leather shoes, we set off arm in arm, recapturing the romance of when we first met. 

 Our request to be driven to Jack's Place in Orchard Road was met with a bewildered look on the taxi-driver's face but he nonetheless did his best by dropping us off to where HE thought the restaurant was. By the time we eventually located Jack's Place, it was 10.26pm and our hearts sank when we found the entrance door locked. Hearing the door being vigorously rattled brought the manager running out and after glancing at his watch (the restaurant closes at 10.30pm on Sunday nights), he unlocked the door and upon hearing our story, he invited us in and got his staff to stay behind to serve us. As we did on our first date, we ordered an entree of escargots and garlic bread and a main course of thick, juicy steaks served on a sizzling hotplate with fresh vegetables. We were certainly pleased that the dinner was as good as we remembered.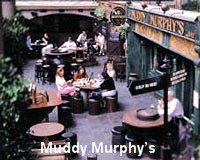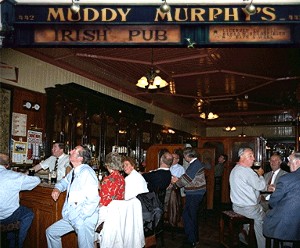 We then enjoyed a romantic stroll down Orchard Road, making our way to Muddy Murphy's Irish Pub at the Orchard Hotel Basement Arcade for a few drinks and some live entertainment. Incredulous as it may sound, the entire two-storey 500m� site was designed and built in Dublin (yes, the one in Ireland), dismantled, then shipped to Singapore and re-assembled and installed at its current location by 15 specialist Irish Pub fitters!. Our anticipation died a sudden death when we were told that the live entertainment had just finished for the night as the pub shuts at midnight on Sunday… We had a drink each and amused ourselves watching a few Sarong Party Girls (SPG – A pejorative term describing local girls who will only go out with Caucasians.) at play, flirting with the half-tanked Expatriates who were still standing. It was back to the hotel for us and after finishing our packing, we watched a movie on TV before a final night's sleep on the king-sized bed.
MON SEP 13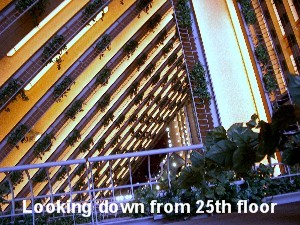 An early wake-up call at 6.30am roused us up from sweet slumber and it was then a matter of getting dressed to go to breakfast for the last time there. I must say we were very impressed by the prompt and excellent services provided by the Pan Pacific Hotel's friendly staff. I reckon they only employ psychics there, speedy ones at that! How else can you explain the magical and immediate appearance of staff members to fulfill our requests for ice and various incidentals? We will definitely return to the same hotel on our future visits. But I digress… Back after our breakfast, we went out to the balcony and had one last lingering look at the harbour, bathed in the glorious morning sun.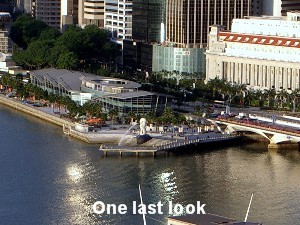 With a regretful sigh that our holiday had come to an end, we went downstairs with our luggage and into a taxi to take us to Changi International Airport for the flight back to Melbourne, via Sydney. At the airport, we checked our bags in, claimed our GST refunds and purchased duty-free cigarettes and alcohol before going upstairs to the Premier Lounge to wait for our boarding call. We didn't take advantage of the various amenities provided though, didn't need a shower, nor wanted to risk falling asleep in the massage armchairs. Not at all hungry after the hearty breakfast earlier, we did not partake of the available complimentary snacks and beverages. I certainly was in no mood to get on the internet so we quietly sat down in the comfy armchairs and read magazines until it was time to board the plane.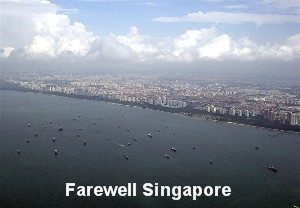 Shortly after we were airborne, drinks and an early lunch of our choice were served – my MOTH had Buttermilk waffles with banana compote and natural yoghurt while I decided on the Chicken kebab, turkey bacon with spinach frittata. Unfortunately, the entertainment system was down so the homeward bound flight was spent reading magazines in between 40 winks and eating or drinking. Before we realized it, it was dinner time – we both had the Pan-seared beef fillet, followed by chocolate truffle terrine, roasted strawberry compote and chocolate wolf berry biscotti for my MOTH, while I opted for the fresh fruit infused with ginger, with coffee and Arabic pastries to complete this delicious meal. After a smooth and uneventful flight, we landed in Sydney, sailed through customs and connected with Qantas for our last leg back to Melbourne, enjoying a light supper during the short flight. Nina picked us up from Melbourne Tullamarine Airport just after midnight, and being the super efficient and thoughtful daughter that she is, she had come over to our home earlier on with a feed of chicken curry that she had cooked, fresh milk and also turned on the heater just so we would have a lovely warm welcome home. All in all, it was a great holiday and my MOTH now understands how easy it is to get lost in tropical Singapore!